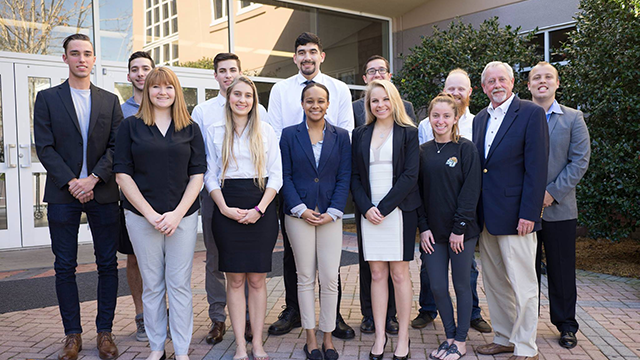 Student Opportunities
Pictured: The inaugural class of the Prince Entrepreneurship Leaders program. (February 2018)

Career Opportunities
Management is a dynamic and rewarding career arena with many emerging opportunities as more and more organizations recognize the centrality of "people management" to organizational success. Skills in problem-solving, human relations and leading change give graduates an edge in building careers in a wide range of industries, including financial services, retail firms, consulting services, technology, and government. Additionally, the self-awareness and understanding of others that are central to these studies prepare learners for future leadership engagements of all types. Many past students work in human resources functions within large organizations while others have started their own entrepreneurial ventures.
Competition Teams
The department is home to multiple experiential leadership and competition teams that allow students to hone their interpersonal skills and business acumen.
Business Ethics Case Competition Team
Prince Entrepreneurship Leaders Program
Competitors
Results
Prince Entrepreneurship Leaders Program
Jasmine Allen and Sebastian Medina

First Place

- 2018 Kickstart Weekend Daytona Beach 2018

Prince Entrepreneurship Leaders Program
Bryson Pritchard
Second Place - Bryson won $3,500 in the Collegiate Entrepreneurship Organization's (CEO) Annual Pitch Competition for his medical device design.

Business Ethics Case Competition Team
Mackenzie Nalven and Nate Smith

Fourth Place - 2018 Collegiate Ethics Case Competition at the University of Arizona
Competitors
Results

Prince Entrepreneurship Leaders Program
Thomas Oltorik

First Place - Thomas won $10,000 at the 2018 Cairns Foundation Innovation Challenge for his Quick Clip business idea.

Prince Entrepreneurship Leaders Program
Jilissa Zoltko

Second Place - Jilissa won $5,000 at the 2018 Cairns Foundation Innovation Challenge for her Smart Sleeve business idea.

Business Ethics Case Competition Team
Megan Christopher, Alex Overdijking, Nathaniel Diamond and Regis Stieghner

Second Place in Full Presentation and 1st Place in 10-minute presentation - 2018 International Business Ethics Case Competition
Prince Entrepreneurship Leaders Program
Zachary Harshbarger
Second Place - Collegiate Entrepreneurs' Organization Southeast Regional Competition
Business Ethics Case Competition Team
Will Giberson and Nate Smith
Third Place - 2017 Collegiate Ethics Case Competition
Department of Management majors must complete the School of Business Administration Experiential Learning Requirement. The ELR requires that students complete two significant experiential learning requirements as a requirement for graduation.
Internship Opportunities
Department of Management students can receive elective business course credit for completing an approved, supervised internship. Most recently, interns have worked with Frontier Communications, the Tampa Bay Lightning, the Orlando Science Center, Brown & Brown Insurance Companies and various government agencies. In previous years, interns have worked at Sea World, Enterprise Rent-a-Car, Target Stores, Marriott hotels, Dillard's stores, NASCAR and United Way.
Scholarships and Awards
Department of Management majors may be eligible for scholarships from a variety of sources in addition to the financial aid offered through the university. Each year, Stetson University and the Stetson Business School Foundation award the following awards:
Business School Foundation Merit Award for Business Administration
Business School Foundation Merit Award for Business Law
Business School Foundation E. C. Furlong Merit Award for Management
Business School Foundation Merit Award for Family Enterprise
Business School Foundation Merit Award for International Business
Business School Foundation Merit Award for the Prince Entrepreneurship Program
Chris Davies Business Endowed Scholarship
Monique Forte Endowed Scholarship
Adam Mullen Successful Student Award