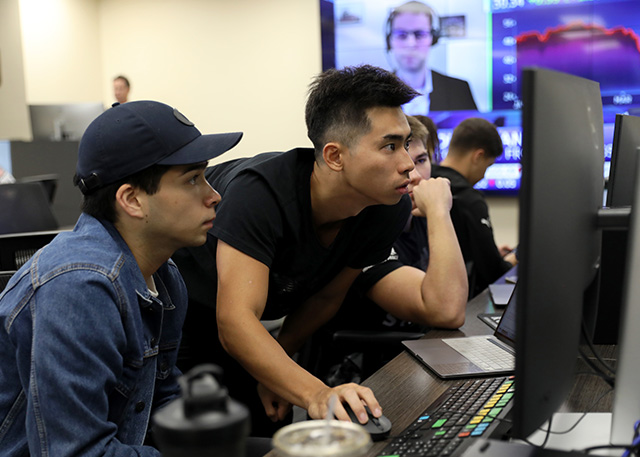 Roland George Investments Program
Students in Stetson University's pioneering Roland George Investments Program manage a real portfolio made up of $6 million in stocks and bonds. The student-directed investment program is one of the nation's oldest and arguably best in terms of dollars under management and competition results.
Roland George students develop their own investment goals, objectives and criteria for managing their portfolio. While many seasoned investors have lost significant sums over the past several years in a volatile market, the students have produced outstanding returns.
What's their secret? It's really a combination of investment discipline and Stetson University's basic philosophy of investment education. Students function as an investment management firm would, where a complete investment policy is established and revised as needed.
The Roland George Investments Program is open to select students who, for two semesters, step into the "real world" of portfolio management with real money, make mistakes, learn from those mistakes and also enjoy their victories. Individual security selections are researched using fundamental tools and data services provided by Bloomberg, Financial Wire, Morningstar, Thomson Reuters and Baseline.
Students must defend their recommendations to other students and an investments committee, dominated by students who function much like the senior strategy group of an investment management firm. Their goal is to earn a return that funds the acquisition of special systems and software for the program, as well as to meet operating expenses. Presentations are held in a corporate-like boardroom setting in the Lynn Business Center. Twice a year, student presentations are open to the greater community at RGIP Public Trustee Meetings.
Students do their research in a state-of-the-art trading room. The room includes a real-time ticker and data wall, television sets for market news and computers that allow for cutting-edge research.
Class size is limited to 20 students. Students join this two-class program in their senior year after completing an investment course. Numerous research papers, presentations and meetings are required with an open-ended class schedule.
Equity Fund Management
Equity Fund Management is an applied course in equity analysis and portfolio management. Students set objectives, strategy and selection criteria for the Roland George Growth Fund. Securities are analyzed and proposed to the trustees. Students may participate as trustees, team captains, research assistants and portfolio manager.
Fixed Income Management
Fixed Income Fund Management is an applied course, as well, in fixed income analysis and advanced topics in portfolio management. Holdings of the Roland George Fixed Income Fund are analyzed and changes are prepared based on the objectives, criteria and strategy set by the class.