Libraries
Stetson University is proud to offer three library resources available to students, faculty, staff and community members. In addition to a wealth of free knowledge, the university's libraries also feature quiet areas for study and reflection, as well as select meeting places.
DeLand Campus
The duPont-Ball Library is a modern learning center designed to support student and faculty research. The library houses an Innovation Space and the Campus Writing Center, as well as the University Archives. Computer workstations, printers, scanners, study rooms, and a 24-hour computer lab are all available to the Stetson community. The Hollis Family Student Success Center – a 5,000 square foot learning wing – is also open over 100 hours a week.
Along with traditional print resources, the library offers access to a wealth of database and online resources, government information, music CDs and scores, DVDs, streaming video, Microsoft Office software, and Blackboard and campus network access. For resources unavailable on campus, the library provides an interlibrary loan service that borrows items from other libraries.
The Innovation Space gives students and faculty access to 3D scanning and printing, and the library makes available for check-out HD camcorders, life-loggers, tablets, and laptops. Our Google Glass is loaned to students and faculty for competitive research projects.
Research assistance is provided by librarians in person and via phone, text, and e-mail. The library is open seven days / 104 hours per week, with additional hours during final exams.
Gulfport Campus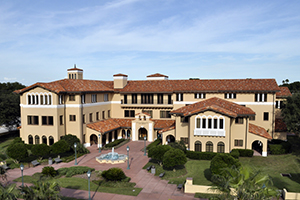 The Dolly and Homer Hand Law Library supports the research efforts of students, faculty, staff, bench and bar with collections of statutes, court reports, journals and treatises in a variety of formats. This library offers abundant study space and is open to the public.
Tampa Law Center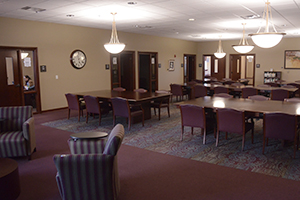 The satellite library at the Tampa Law Center spans two floors and features 16 study rooms and a core collection for law students, judges and alumni. The second floor reading room provides an environment reminiscent of traditional courthouses and attorneys' offices.