Areti Vogel
Assistant Professor of Practice in Management
As a coach of both Stetson's Business Ethics Case Competition Team and the HAT MOB Research Team, Areti Vogel, PhD, is passionate about working with students and conducting empirical research.
PhD, University of North Carolina, Greensboro
J.D., Stetson University College of Law
M.BA, IFA Paris
B.BA, Stetson University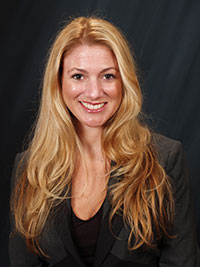 Biography
Born and raised on the west coast of Florida, Areti Vogel, PhD, practiced law for a number of years before transitioning into academia. After achieving an M.B.A. and living and working abroad, Vogel returned to the U.S., earned her PhD and returned to Florida. Vogel is passionate about identity, culture, leadership, communication and interdisciplinary research; she's also SHRM-CP certified.
More About Areti Vogel
Course Sampling
Strategic Management
Governance and Succession Planning
Negotiation and Conflict Resolution
Foundations of Family Enterprises.
Behavioral economics
Organizational identity and culture
Leadership
Communication
Family science
Business ethics
Vogel, A. T. Watchravesringkan, K., Cook, S. C., Beasley, J., Croom, R., Peterson, D., & Finkelstein, J. (2021). Design leader imitation: An interdisciplinary investigation into competitive marketplace behavior. Under review by the Journal of Business Research.
Vogel, A. T., Cook, S. C., & Watchravesringkan, K. (2019). Luxury brand dilution: Investigating the impact of renting by Millennials on brand equity. Journal of Brand Management, 26(4), 473-482.
Vogel, A. T. and & Watchravesringkan, K. (2019). Retail trend imitation: A controversy between firms of Europe and North America. International Journal of Business, 24(1), 96-111.
Croom, R. M., Vogel, A. T., Campbell, E. A., & Zambelli, L. (2019). Not afraid: Mitigating fear of failure in entrepreneurial entry decisions. Journal of Business and Entrepreneurship, 30(2), 13-27.
Vogel, A. T. and Watchravesringkan, K. (2017). Consumer evaluations of trend imitation: Brand equity, consumer attitudes and preference. Journal of Product and Brand Management, 26(5), 516-527.