Areti Vogel
Assistant Professor of Practice in Management
With experience representing firms and families in litigation as well as transactional matters, A.T. Vogel, PhD, JD, conducts interdisciplinary empirical research and serves as one of the coaches of the Hatter Management and Organizational Behavior (HAT MOB) Student Research Group.
PhD, University of North Carolina, Greensboro
JD, Stetson University College of Law
MBA, IFA Paris
BBA, Stetson University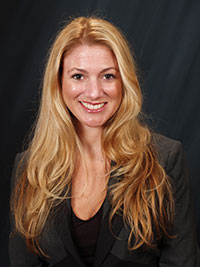 Biography
Since childhood, Vogel has had an interest in competitive ecosystems and, in particular, interpersonal dynamics and dispute resolution within that context, acting as a peer mediator for the Florida educational system until her matriculation. This experience translated into her law practice, which, prior to earning her doctorate, was targeted at resolving real and intellectual property, business, estate planning, and probate disputes, as well as medical malpractice defense. To glean a comprehensive understanding of the phenomena underscoring her cases, Vogel integrated empirical research into her practice. Today, Vogel supports families, strategic partnerships, and entrepreneurs interested in comprehensively integrating knowledge to design alternative structures at varied levels of organization and/or create conscious processes for the acquisition, use, and preservation of resources.
More About Areti Vogel
Areas of Expertise
Organizations
Consumption
Applied legal studies
Course Sampling
Strategic Management
Governance and Succession Planning
Cross Cultural Negotiation and Conflict Resolution
Principles of Entrepreneurship
Competitive ecosystems and risk management
Family and consumer science
Alternative modes of acquisition, organizational structures and conflict resolution
Applied behavioral economics and health
Identity and nonverbal communication
Real and intellectual property management
Vogel, A. T., Vogel, J., Croom, R., Nalven, M., & Oyewale, I. (2023). None of your business: An exploration of discriminatory ecosystems. In preparation; not yet submitted.
Vogel, A. T., Vogel, J., Cook, S. C., Nalven, M., & Flynn, L. (2023). Identity theft and nonverbal communication: Ecosystemic ingress and egress. In preparation; not yet submitted.
Vogel, A. T., Vogel, J., Watchravesringkan, K., Cook, S. C., Beasley, J., Croom, R., Peterson, D., & Finkelstein, J. (2023). Design piracy: An interdisciplinary investigation into competitive industrial behavior. Journal of Business Research, 164, 1-10.
Vogel, A. T., Cook, S. C., & Watchravesringkan, K. (2019). Luxury brand dilution: Investigating the impact of renting by Millennials on brand equity. Journal of Brand Management, 26(4), 473-482.
Vogel, A. T. and & Watchravesringkan, K. (2019). Retail trend imitation: A controversy between firms of Europe and North America. Inter national Journal of Business, 24(1), 96-111.
Croom, R. M., Vogel, A. T., Campbell, E. A., & Zambelli, L. (2019). Not afraid: Mitigating fear of failure in entrepreneurial entry decisions. Journal of Business and Entrepreneurship, 30(2), 13-27.
Vogel, A. T. and Watchravesringkan, K. (2017). Consumer evaluations of trend imitation: Brand equity, consumer attitudes and preference. Journal of Product and Brand Management, 26(5), 516-527.