Meg Young
Instructor
Meg Young, DBA, is a proud first-generation college graduate and faculty member. Her teaching philosophy is simple: to change the world for the better, one student at a time. Relationships matter!
DBA, Business Administration, California Southern University
Modified Ed Leadership, Stetson University
MBA, Business Administration, Stetson University, 2011
MCJ, Middle Tennessee State University/Tennessee State University
BS, The University of Tennessee-Martin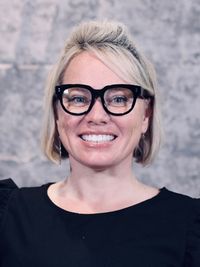 Biography
Meg Young, DBA, is an Instructor of Management at Stetson University. She has taught Professional Communications, Fundamentals of Organizations and Markets, Fundamentals of Marketing and Technology, and Teaching Apprenticeship courses at Stetson since 2017. Meg has also taught English and Language Arts classes for Volusia County Schools. Meg has a wealth of experience in educational leadership, curriculum planning, communications, business, and writing enhanced instruction.
Professor Young's communications, teaching and training journey began over 15 years ago as a student affairs professional at Middle Tennessee State and The University of Missouri. Along with a committee, she was in charge of the training process for 300+ student workers, including a two-week, 80-hour training program and additional weekly training seminars throughout the academic year. This residential academic experience and curriculum creation sparked her passion for curriculum and instruction, which she has built on throughout her teaching career.
Meg helps students master traditional learning goals for the course; however, her ultimate goal is to leave students more curious and knowledgeable than when we first started their educational journey. Becoming a global citizen, enhancing intellectual development, and personal growth and wellness are critical to this journey. She wants them to understand that there is not just one way to see things, and it is ok to question the answers.

She engages in honest discussion and reflection about what it means to be a global citizen through verbal, non-verbal, and written communication. She integrates internationalization, diversity, equity, and multiculturalism into coursework and curriculum. She raises awareness of the importance of intentionality and mindfulness in learning environments and always makes sure that I create an inclusive environment where ALL students feel safe, heard, loved, and celebrated.

Mental health, accessibility, differentiation and equity are always a huge part of the learning process; she meets students where they are and helps them meet their full potential through love, support, encouragement, feedback, crucial conversations, and accountability.

She is always striving to become more purposeful in designing courses and engaging students. She takes full responsibility for creating an inclusive learning environment in the classrooms, both virtually and face-to-face.
More About Meg Young
Areas of Expertise
Diversity and Inclusion
Queer Studies
English/Language Arts
K-12 Education
Motivational Speaking
Business Writing
Public Speaking
Mentoring
Course Sampling
Professional Communications
Career Readiness
Fundamentals of Organizations and Markets
Fundamentals of Marketing and Technology
Teaching Apprenticeships
Women in Business
Diversity and Inclusion in the Workplace
Queer Studies
Academic Writing
Business Writing
Public Speaking
Critical Thinking
Professionalism
Networking
Intersectionality in the Workplace; A Study of Diversity and Inclusion Initiatives in Producing Improved Work Cultures. Dissertation.
Chair of the Residential Life Departmental Social Justice Committee
Chair of the Residential Life Departmental Living Learning Community Committee
Chair of the Divisional and Departmental Recognition Committees
Chair of the Residential Life Departmental Training Committee
Chair of the Residential Life Departmental Recruitment and Selection Committee
Chair of the Residential Life Departmental Programming Committee
Member of the Greek Life Advisory Council
Member of the Divisional Professional Development Committee
Member of the Divisional Strategic Programming Committee
Member of the University Gender Equity Values Council
Member of the Volusia County Schools Middle Grades District-wide ELA Curriculum Committee
Advisor for Taylor Middle-High Student Government Association: Eighth and Ninth-grade houses
Advisor for Taylor Middle-High Gay-Straight Alliance Student Organization
Taylor Middle-High Lady Wildcats Assistant Soccer Coach
Member of the Africana Studies Program Committee
Member of the Domestic & Sexual Violence Collaborative Community Response Team
Member of the Fraternity & Sorority Involvement (FSI) Advisory Board
Faculty Advisor for Zeta Tau Alpha, Beta Psi Chapter
Faculty Advisor for Alpha Alpha Alpha First-Gen Honor Society
2021 Brown Innovation Fellow Focusing on Diversity, Equity, and Multiculturalism in Curriculum
Departmental Course Coordinator Professional Communications/SOBA 200 (Formally SOBA 205)