Robert Gibson
Professor of Practice in Management & Director, J.J. Master Center for Professionalism, Department of Management and Organizations
Professor Bob Gibson returns to Stetson after a career spanning over 30 years in business in the areas of operations, management, marketing, and leadership. Primarily working in a long-established family enterprise, progressing from retail management to multi-unit retail operations to marketing leadership, Professor Gibson rose to become Vice President, Chief Marketing Officer. His entrepreneurial and consulting efforts include eCommerce, medical technology, and digital marketing startup firms. Professor Gibson now shares his experience in leadership as Director of the J.J. Master Center for Professionalism in addition to his teaching responsibilities.
MBA, Florida Atlantic University
BA, Stetson University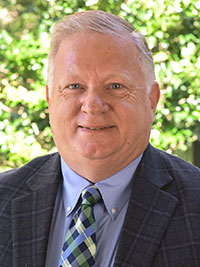 Biography
Bob Gibson, Visiting Assistant Professor of Management, is a Stetson graduate who spent nearly 20 years creating and building a modern, fully capable marketing organization for Florida's oldest (over 85 years) and largest beverage retailer. He started his business career out of college, working in retail store management, and quickly rose to the multi-unit, full P&L, regional manager position. After a very successful tenure in this operations management position, Bob took on the marketing leadership role in 1998, rising to Vice President and Chief Marketing Officer. Bob earned his MBA from Florida Atlantic University.
Some of the highlights of his career include developing and executing expertise in CRM, loyalty marketing, direct marketing through mail and email, business intelligence, advertising, PR and digital (SEO, SEM, display, and social media), and e-commerce. His work in retail store design is nationally recognized. Among other awards, Bob won the Market Watch Leader Award that honors the best beverage retailers.
Bob is married to an elementary school principal, Tracey, whom he met at Stetson. They have a daughter who is a graduate of the University of Florida and a son who graduated from Florida Atlantic University. Bob is a Scoutmaster of a Boy Scout troop and volunteers regularly at the local and national levels. Bob is a football fan, often spending Saturdays at Hatter games or watching college football. Sundays are for the Miami Dolphins (when you can find them on TV) and following his fantasy football leagues. Off-season, he enjoys baseball and the Orlando City Soccer Club.
Not one for long walks on the beach, Bob prefers SCUBA diving. An avid movie fan (especially science fiction) and reader (fiction), Bob also enjoys the History Channel, HGTV, MotorTrend Channel, and crime dramas like NCIS and Bosch. Bob says that he "suffers from endless curiosity."
Bob is thrilled to be back at Stetson University to fulfill a lifetime ambition of sharing his business, professionalism, and marketing experience with future business leaders.
More About Robert Gibson
Areas of Expertise
Executive Leadership
Strategy Development
Branding and Advertising
Marketing Research
Community Relations
CRM/ Direct Marketing
PR Digital/Social Media
Project Management
Agency Management
Business / Marketing Technology
Coaching/ Mentoring
Agency Management
Business Technology
Coaching/ Mentoring
Multi-Channel Retail
Small Business Operations Management
Course Sampling
The Marketplace and Consumers
Professional Communications
Entrepreneurship
Managing Innovation
Organizations and Markets