Daniel James Scott
Assistant Professor of Practice in Entrepreneurship and Director of the Joseph C. Prince Entrepreneurship Program
Daniel brings 20 years of technology entrepreneurship industry experience into the classroom through experiential teaching.
MS, Entrepreneurship in Applied Technologies, University of South Florida
MBA, Entrepreneurship & Leading the Customer-Driven Organization, University of South Florida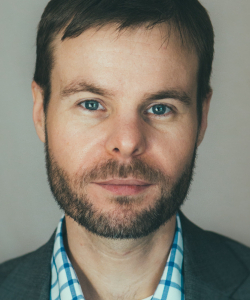 Biography
Daniel James Scott was the first Florida CEO to have ever received a prestigious International Stevie medallion. The impact of his work has also been honored with the U.S. Small Business Administration 50th Anniversary State of Florida Business Advocate of the Year, Tampa Bay Technology Forum's 10th Anniversary "Technology Leader of the Year," and as Association for Small Business and Entrepreneurship's first-ever "Entrepreneurship Educator of the Year."
Daniel co-founded six companies, leading several of them to successful exits. His companies have raised over $20MM in outside capital and have appeared twice on the Inc 5000 list.
Daniel also co-founded the Global Accelerator Network (GAN), Rowan University's Cannabis Commercialization program, and the University of South Florida's Entrepreneurship program.
You may recognize Daniel from his previous gig as iHeartRadio's on-air tech expert, multiple book contributions, or such media coverage in Business Insider, CNBC, TechCrunch, Wall Street Journal, Washington Post, and many more.
More About Daniel Scott
Areas of Expertise
Entrepreneurship
Innovation
Leadership
Strategy
Technology
Venture Capital
Course Topics
Managing Innovation
Launching Your New Venture
Boermeester, S. & Scott, D.J. (2017). Tampa Bay: Floridas Tech Hub & Florida's Largest & Fastest-Growing Tech Hub in Innovate Tampa Bay. Global Village.
Liguori, E. & Scott, D.J. (2016). From Nothing to Great in The Startup Student: Practical Advice on How to Succeed as a Student Entrepreneur. Entrepreneurship Education Project Press.
Jackson, W.T., Scott, D.J., Schwagler, N. (2015). Using the business model canvas as a methods approach to teaching entrepreneurial finance. Journal of Entrepreneurship Education. 18(2): 99-112.
Britton, B.C.J., Jackson, W.T., Morrow, J., Scaff, M., Scott, D.J., White, R.J. (2014). Understanding community entrepreneurship building: A two-year reflection on Tampa Bay 6/20. Journal of Business and Entrepreneurship. 25(2): 169-174.
Kumra, A. & Scott, D.J. (2014). Play the Student Card in Confessions from an entrepreneur, Volume 2: How to be a successful college entrepreneur. Silver Thread Publishing.
Parrish, J., Scott, D. J. (2007). Building the Ultimate Business Plan. University of South Florida.