Information for Choral Union Members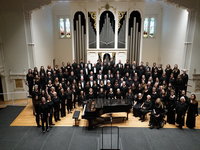 Schedule
All rehearsals - unless otherwise noted - are held at Feasel Rehearsal Hall in McMahan Hall on Stetson University's DeLand campus. McMahan Hall is located at the corner of Woodland Boulevard and Michigan Avenue. Rehearsals run from 7:15 to 9:15 p.m. unless otherwise noted.
Choral Union community members must attend at least 12 of the 13 rehearsals, including the final rehearsal. Additional absences may result in not performing in the concert.The final rehearsal may not be the one you miss if you need to miss a rehearsal.
Fall semester rehearsals:
Mondays, 7:15-9:15 p.m.
August 23 - November 22, 2021 (excluding Labor Day, September 6)
Fall concert: Requiem, KV 626; W. A. Mozart (repertoire)

Tuesday, November 23, 2021, at 7:30 p.m.

Stetson Baptist Church 1025 W. Minnesota Avenue, DeLand, FL
Spring semester rehearsals:
Mondays, 7:15 - 9:15 p.m.
January 10 - April 18, 2022
Spring concert: The notebooks of Leonardo da Vinci; Jocelyn Hagen and Andrea Clearfield: Farlorn Alemen
Tuesday, April 19, 2022, at 7:30 p.m.
Lee Chapel, Elizabeth Hall, Stetson's DeLand campus
Dues
Singers from the community are asked to pay $25 in dues per semester. They can be paid online or at rehearsals with cash or check payable to Stetson University.
Registered students of Stetson University do not pay the dues whether or not they are registered for the Choral Union. If a student is taking any courses at Stetson University, they do not pay dues.
Scores
The fall 2021 Choral Union scores will be available for purchase at the first rehearsal (see schedule above). The price will not exceed $20 per singer. Every singer must have original, published copies for all rehearsals and performances. (For a community member, the total semester fee is $25 dues plus $20 music purchase = total $45.) For registered Stetson students, the only fee is the $20 music purchase.
Score Markings and Rehearsal Recordings
Score markings will be given to you at rehearsal.
Resources