Dan Johnson
Adjunct Professor of Music, Percussion
Dan Johnson is passionate about developing musicianship skills and performance technique on a wide variety of percussion instruments in many styles of music. He works with advanced college students in ensembles and private instruction as they progress towards their senior recitals and graduation, but he has experience working with young students, so the college students leave knowing how to work at many levels in the professional world.
MM, Jazz Studies, University of South Florida
MM, Masters Performance Certificate in Percussion Performance, University of South Florida
BA, Music, Rollins College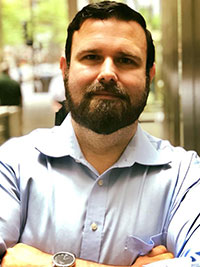 Biography
Dan Johnson has performed and taught at many levels throughout Florida. He is equally at home performing with advanced professional ensembles at Central Florida's world-class theme parks and in working with an elementary school percussion group. He is an experienced music arranger and has given numerous clinics to instrumental ensembles, and he teaches the importance of individual responsibility in ensemble performance even as he develops a student's solo performing capabilities.
Johnson has worked as a free-lance performing musician for many years with professional ensembles, including South Town Fever, The Beatniks at Disney's Animal Kingdom, various performing groups at Universal Orlando, as well as classical music organizations like the Bach Festival Orchestra of Winter Park, which draws musicians from all over the world.
In academia, he has taught percussion at Wesley Chapel High School, South Lake High School, St. Lucie West Centennial High School, Eau Gallie High School and Viera High School. He worked with many ensembles and solo performers as a faculty member at Seminole State College and at Rollins College, his alma mater. He founded and ran his own percussion school, Brevard County Percussion, before getting into his college teaching career. His entrepreneurial leadership and broad performing and teaching career benefits students at Stetson University in performance and music education, and he consults on many solo and ensemble projects, including the Hatter Drumline, while managing a large battery of professional percussion equipment with his student leadership team.
More About Dan Johnson
Areas of Expertise
Percussion Performance Practice
Percussion ensemble and jazz studies
Percussion for Athletic Bands
Music Education Methods for Instrumentalists
Course Sampling
Private Percussion Instruction
Percussion Ensemble
Drumline
Percussion Methods for Music Education Students
Jazz Combos
Chamber Music Coaching
Percussion Studio Teaching
Freelance Performing
Bach Festival Society of Winter Park Orchestra, percussionist
Brevard County Percussion, private business serving 75 percussionists weekly