Timothy Rosenberg
Assistant Professor of Saxophone
My goal is to help develop musicians with large vocabularies and a focused passion for musical endeavors. At Stetson University, we will develop the student's technique with careful attention paid to the details of hand and finger movement. We will also develop the student's performance abilities by studying a range of music from different eras and styles. Students will be encouraged to perform often and also attend performances by their peers, the music faculty and guest artists. Students will learn to give and receive feedback so that we can all grow and learn together.
DMA, Michigan State University, 2010
MM, Michigan State University, 2008
BM, Ithaca College, 2005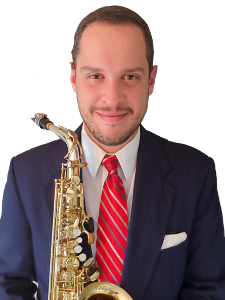 Biography
Timothy Rosenberg enjoys a national career performing with several notable ensembles, including the Hippocrene Saxophone Quartet, the Brevard Symphony Orchestra and the Binghamton Symphony Orchestra. He has also performed with the H2 Quartet, the Hyperbaton Ensemble and the Cayuga Saxophone Quartet. He can be heard on Intersecciones on the Ashes Records label and Times & Spaces on Blue Griffin Records. He is the adjunct professor of saxophone at Stetson University and the Course Director for A&R at Full Sail University. He has previously served on the faculty of Bethune-Cookman University and Ithaca College. A New York native, Timothy is an alumnus of Michigan State University and Ithaca College.
More About Timothy Rosenberg
Areas of Expertise
Saxophone performance
Saxophone pedagogy and repertoire
New music performance
Jazz
Music business
Course Sampling
Applied Saxophone
Chamber Music
Jazz Improvisation
Promote the saxophone by performing and recording exciting music for the instrument.
Increase the repertoire for the saxophone by commissioning works, premiering new works, programming rarely-performed works and transcribing works for the saxophone.
Foster the development of young musicians through teaching in one-on-one and classroom settings.
Promote music by people from under-represented groups through performing, lecturing and teaching.
Help students find a path into a music career that will fulfill them intellectually and sustain them financially.
Intersecciones, soprano saxophone with the Hippocrene Saxophone Quartet, From the Ashes Records
Drastic Measures, producer, Zephyr Saxophone Quartet
Times & Spaces, baritone saxophone with the H2 Quartet, Blue Griffin Records
Beyond the Red Line: Winners of the Walter Beeler Composition Prize for Wind Ensemble or Concert Band, baritone saxophone with the Ithaca College Wind Ensemble, Mark Custom Recording Services, Inc.
Saxophone Journal. May/June 2011, Volume 36, No. 4. Creative Teaching Techniques: Teaching Through Transcriptions.
Michigan State University. DMA Document. December, 2010. Interpreting the Music of William Albright: A Surrealist Approach.