Dunwoody Mirvil
Assistant Professor of Trombone
My teaching approach combines practical concepts attained through my experience in performance with sound instruction geared toward students of all skill levels and proficiencies. I incorporate this by focusing on developing each players skills and techniques while encouraging musicality through performance. This initiative is also integrated by utilizing various teaching methods to meet the needs of each student while infusing theory, history, and stylistic techniques.
DM in Trombone Performance, Florida State University
MM in Trombone Performance, Florida State University
BS in Music Education, Florida A&M University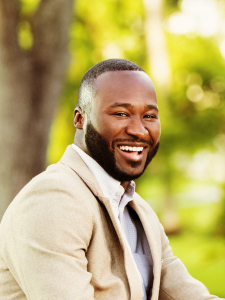 Biography
Dunwoody Mirvil is an Assistant Professor of Trombone at the School of Music at Stetson University. Prior to his appointment at Stetson, Mirvil was Director of Trombone at Florida Memorial University (Miami, Fla.) and Assistant Professor of Low Brass at Southeastern University (Lakeland, Fla.), a position in which he instructed students of trombone, euphonium, and tuba. His experience as an educator also includes a term as Director of Bands at Amos P. Godby High School in Tallahassee, Fla., and consistent work as a resident clinician.
As an active performer, Dr. Mirvil is currently second trombonist of the Colour of Music Festival Orchestra. His performance resume includes several ensembles throughout North Florida and South Georgia, including the Tallahassee Symphony Orchestra, Sinfonia Gulf Coast Orchestra, Albany Symphony Orchestra and the Tallahassee Winds, in which he was a guest soloist several times. His work as an accomplished soloist includes performances with The Jazz Ambassadors United States Army & Field Band as well as The Maneuver Center of Excellence (MCoE) Army Brass Band of Ft. Benning, Ga.

On a global stage, Dunwoody has performed on multiple occasions at the International Trombone Festival, appearing with the Cramer Choir, Southeast Trombone Symposium Professors Choir, and the Lift Every Voice Trombone Choir, an ensemble comprised of select minority trombone professionals and professors across the U.S. He has also performed as a featured soloist with the theatrical stage production, DRUMLine Live! during its 13-city tour of Japan.

Dunwoody's research interests center on equipping educators and students with practical techniques to overcome common challenges of the trombone. He demonstrated a commitment to this by co-authoring a chapter on trombone pedagogy in Teaching Instrumental Music: Perspectives and Pedagogies for the 21st Century (August 2023), a textbook published by Oxford University Press as a resource for prospective and current music educators nationwide. Additionally, his treatise, entitled Dr. Nathaniel O. Brickens: His Pedagogy, Career, and Influence on Trombone Performers and Educators, is cited in the International Trombone Association Journal Vol. 50, Issue #3 (July 2022) and being used by several trombone professors as a blueprint for developing and maintaining a reputable trombone studio.

Dr. Mirvil has also presented clinics and masterclasses throughout the United States. Most notably, he has given presentations at the Midwest Band and Orchestra Clinic, the Florida Music Education Association's Professional Development Conference, the Georgia Music Education Association's Professional Development Conference, the 22nd Annual North Carolina Trombone Festival, and countless other venues. He is set to share his presentation entitled Dotting the Is and Crossing the Ts: Developing the Effectual Habits of an Intentional Trombonist at the Louisiana Music Educators Association's Professional Development Conference in November 2023.

Dunwoody is an adjudicator for the Florida Bandmasters Association, a member of the International Trombone Association, Florida Music Education Association, Phi Mu Alpha Sinfonia Music Fraternity of America, Inc., Kappa Delta Pi International Honor Society for Education, and a McKnight Fellowship recipient. Dr. Mirvil is also an endorsed Performing Artist for Conn-Selmer, Inc., and has two signature mouthpieces with Giddings Mouthpieces.


For more information about Dunwoody Mirvil, please visit his website

Social media information:
Facebook: Stetson University Trombone Studio
Instagram: @stetson_trombone_studio
More About Dunwoody Mirvil
Areas of Expertise
Trombone Pedagogy
Trombone Performance
Trombone Choir
Brass Pedagogy
Chamber Ensemble
Music Education
Course Sampling
Applied Trombone
Trombone Choir
Brass Techniques
Aural Training
Equipping music educators and students with practical techniques to overcome common challenges of the trombone
The integration of music performance in an educational setting.
The effects of Hip Hop on American culture.
Pedagogies for Teaching Trombone Chapter 41. Teaching Instrumental Music: Perspectives and Pedagogies for the 21st Century, Oxford University Press (August 2023)