Jessica Speak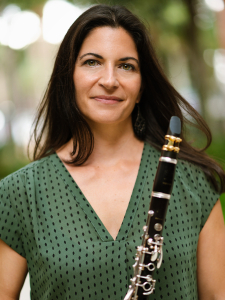 Adjunct Professor of Music, Clarinet
I believe our journey in music brings many experiences. Some of these experiences are what we hoped for and some are not. Regardless, each one opens an opportunity for growth. I want my students to feel their journey in this way and always practice self-compassion. We are lifelong learners and music and musicianship are an endless source of exploration. It is my goal to instill the love of lifelong music-making in my students' lives.
MM, clarinet performance, SUNY Purchase College, 2005
BM, clarinet, Stetson University, 2002
DMA, Florida State University 2020
Course Sampling
Applied Clarinet
Chamber Music
Clarinet Choir
Pedagogy for Woodwinds, Brass and Percussion
Areas of Expertise
Contemporary Techniques for the Clarinet
Clarinet Pedagogy
Clarinet Performance
Chamber Music
Pedagogy for Winds and Percussion
Clarinet Choir
Functional Keyboard
Orchestral Excerpts for Clarinet
Biography
Jessica Speak has been on the faculty at Stetson University since 2012. She teaches applied clarinet, pedagogy for winds and percussion, orchestral excerpts, functional keyboard, conducts the clarinet choir and coaches woodwind chamber music. She also performs regularly with area ensembles, including the Bach Festival Orchestra, Orlando Contemporary Chamber Orchestra, Southern Winds Symphonic Band and the Walt Disney World Orchestra. She maintains a private studio and presents master classes and serves as an adjudicator for various events throughout Florida.
Dr. Speak has a special interest in contemporary music, especially works incorporating extended performance techniques. She performs regularly as a soloist, presenting new and adventurous works. She is a founding member of The Sunshine Clarinet Quintet and 421 Duo; both groups have commissioned and premiered new compositions. An ardent advocate for new music in the Central Florida area, she serves as president of the Orlando Contemporary Chamber Orchestra, where she coordinates operations and fundraising efforts to grow the organization and keep them performing new compositions written by active composers and arrangers.
Jessica received her DMA in clarinet performance from Florida State University, her MM in clarinet performance from SUNY Purchase College and a BM in clarinet performance from Stetson University. Her primary teachers include Deborah Bish, Ayako Oshima Neidich and Lynn Musco. In addition to her love and commitment to music, performing, collaboration and teaching, she serves as a broker of her family's property management company.
Research
Clarinet Pedagogy
Contemporary Music
Unaccompanied Clarinet works of Eric Mandat