Aaron Witek
Assistant Professor of Music/Trumpet, Coordinator of Brass
I have many goals when teaching my students, all of which serve to produce musicians who are well-rounded musically, professionally and personally. Through my teaching, I strive to instill a lifelong love of and respect for music by creating a diverse performance curriculum that is both educational and challenging.
DM and MM, Florida State University
BMEd, Crane School of Music at SUNY Potsdam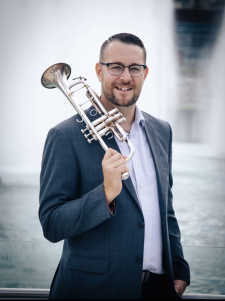 Biography
Aaron Witek is assistant professor of trumpet and coordinator of brass and percussion of the School of Music at Stetson University. Prior to his appointment at Stetson, Witek was assistant professor of trumpet at Ithaca College (2018-22) and the University of Louisiana Monroe (2013-18), where he was also a member of the faculty ensemble in residence, Black Bayou Brass. Witek is sought out as an adjudicator and has adjudicated at the International Trumpet Guild Conference (ITG), National Trumpet Competition (NTC) and USBands. He currently serves as a brass pedagogical consultant for the Cadets Drum and Bugle Corps and was previously the assistant brass caption manager.
As an active performer and educator, Witek has given recitals and clinics throughout the U.S., China, Australia and Bangladesh; including the ITG Conference, International Women's Brass Conference and Music Education Association Conferences in Florida, Louisiana, New York and Texas. Dr. Witek can be heard on Scenes from the Bayou, The OXtet Does Hindemith, and later this year, his first solo album, Premiere.
As a noted author, Witek has been published numerous times in the International Trumpet Guild Journal. His book entitled Gordon Mathie: The Treasured Legacy of a Master Teacher and Performer was published by WR Enterprises. In May 2018, Witek released his first publication with Mountain Peak Music entitled Solo Duet Training for Trumpet and is contracted to write two more books for the publisher.
Witek's students have had great success, including being division finalists at the Music Teachers National Association Competition, International Trumpet Guild (ITG) Scholarships, and solo Semifinalists at the National Trumpet Competition (NTC). Trumpet ensembles under his direction have been semifinalist and finalist at NTC, including second place recipients.
Witek earned his D.M. and M.M. degrees from Florida State University, and a B.M.Ed. degree from the Crane School of Music at SUNY Potsdam.
Aaron Witek is proud to be a Yamaha Artist and a Monster Oil Performing Artist.
For more information about Aaron Witek and the Stetson University Trumpet Studio, please visit www.aaronwitek.com
Social media links:
More About Aaron Witek
Areas of Expertise
Trumpet performance
Trumpet pedagogy/repertoire
Brass pedagogy
Trumpet ensemble
Chamber music
Course Sampling
Applied Trumpet
Chamber Music
Brass Ensemble
Books:
Practical Transposition for Trumpet, Mountain Peak Music (Projected Summer 2023)
Solo Training for Trumpet, Mountain Peak Music (Projected summer 2023)
Solo Duet Training for Trumpet, Mountain Peak Music (2018)
Gordon Mathie: The Treasured Legacy of a Master Teacher and Performer, WR Enterprises (2014)
Journal Articles:
Coauthor with Angela King, Benefits of Participating in Collegiate Marching Band, International Trumpet Guild Journal, January 2022, p. 67
Introduction to the Marching Arts, International Trumpet Guild Journal, October 2020, pp. 69-72.
Cross Training Fundamentals, Taiwan Trumpet Association Journal, October 2018, pp. 20-25
The Use of Active Listening to Help Improve Your Playing, International Trumpet Guild Journal, June 2015, p. 58