Tammara Phillips
Visiting Assistant Professor of Music, Flute
I believe that while one can learn a piece of music and the tools necessary for a successful performance, we must realize that we are human, and mistakes are possible. My students learn that while a performance with no mistakes is desired by all musicians, one does not require every note to be perfect in order to give a musically pleasing performance. Each student will strive to give the best musical performance possible through good tone production, thorough knowledge of musical phrasing, appropriate style and character according to the time period, and the use of each individual's own musical ideas and past musical experiences. Students will naturally strive for the best achievement in all aspects but will not become an inflexible player who can play everything written on the page with no individual ideas, heart or musicality.
DM, Florida State University, 2006
MM, James Madison University, 2000
BM, Stetson University, 1997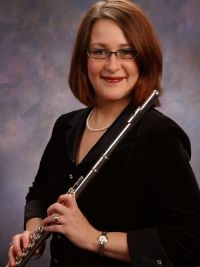 Biography
Tammara K. Phillips is a Visiting Assistant Professor of flute at Stetson University in DeLand, Florida. She received a Bachelor's of Music from Stetson University, a Master's of Music from James Madison University, and a Doctorate of Music from Florida State University. Prior to her appointment at Stetson, Phillips served on the music faculties at Bethune-Cookman University, Carl Sandburg College, Daytona State College, Eastern Florida State College, Florida State University, Seminole State College, and Western Illinois University.


Phillips is a founding member of the baroque flute ensemble, Traverso Colore, comprised of past and present students from Florida State University. An avid baroque flute player, Phillips was awarded 3rd Place in the 2009 National Flute Association Baroque Flute Artist Competition during the convention in New York City and was awarded a performer's spot in the 2017 National Flute Association Baroque Flute Masterclass Competition, in which she performed for master teacher Jed Wentz during the convention in Minneapolis.

As a member of Traverso Colore, Phillips, along with her colleagues, has created several transcriptions of popular Renaissance and baroque-era pieces for the ensemble. The baroque flute ensemble genre, with its limited amount of repertoire, was a catalyst to begin a Traverso Colore Transcription Series, published by Alry Publications in 2019, in hopes that this will encourage other baroque flutists to explore new repertoire. Phillips has created transcriptions for many pieces, including Corelli's Christmas Concerto, Handel's Arrival of the Queen of Sheba, and Vivaldi's "Spring" movement from the Four Seasons. Volume 3 of the Traverso Colore Series was selected as a finalist in the 2020 National Flute Association Newly Published Music Competition. The members of Traverso Colore met in June of 2018 to record several pieces from the transcription series, and will soon be releasing a CD.

In addition to teaching at Stetson, Phillips has also served for many years on the board of the Florida Flute Association (FFA) as Program Chair, Vice-President, and President, and completed her current service to the FFA in January of 2023 as Chairman of the Board.

Phillips maintains an active performing and teaching career in central Florida. She regularly serves as a judge for FBA events such as All-County and All-State auditions and the State Solo and Ensemble festival. In addition, she is often called as a substitute flute and piccolo musician with the Orlando Philharmonic Orchestra.
More About Tammara Phillips
Areas of Expertise
Flute performance and pedagogy
Piccolo performance and pedagogy
Early music performance and pedagogy
Flute ensemble/choir arrangements
Course Sampling
Applied Flute
Chamber Music
Flute Pedagogy
Flute Choir
Baroque Flute
Woodwind Techniques
Flute pedagogy
Flute history
New music
Early music
Handel, G.F.; Schein, Johann Hermann; Bach, J.S.; Philidor, François Danican. Baroque Quintets. Traverso Colore, Volume 1. Arranged for 5 flutes by Karen McLaughlin Large and Tammara K. Phillips. Seattle, WA: Alry Publications, 2019.
Corelli, Arcangelo. Concerto Grosso, Op. 6, No. 8. Traverso Colore, Volume 2. Arranged for 7 flutes by Tammara K. Phillips. Seattle, WA: Alry Publications, 2019.
Handel, G.F.; Lasso, Orlando di.; Gabrielli, Andrea. Baroque Quartets. Traverso Colore Volume 3. Arranged for 4 flutes by Tammara K. Phillips. Seattle, WA: Alry Publications, 2019.
Hodkinson, Sydney. 2012. Tracks 14-19 on Woodwind Odyssey. Veritate Winds. North Avenue Studios 74600, compact disc.
Zwilich, Ellen Taaffe. 2002. Ellen Taaffe Zwilich. The Florida State University Orchestra. Koch International Classics KIC-CD-7537, compact disc.
Phillips, Tammara. "A Performance Guide to the music for flute and piano by Philippe Gaubert." 2006. Doctoral Treatise. The Florida State University, College of Music, Tallahassee, Florida.