Kristie Born
Visiting Lecturer
In the end, people don't remember what you accomplished as much as they remember how you treated them.
D.MA, chamber music and accompanying, University of Miami
M.M., piano performance, Peabody Conservatory of the Johns Hopkins University
BM, piano performance, Peabody Conservatory of the Johns Hopkins University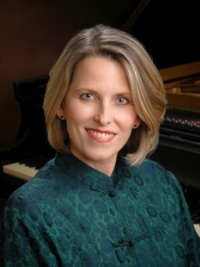 Biography
Pianist Kristie Born has performed a wide range of solo, chamber and large ensemble music. At age 16, after winning first prize in the Ruth Schmidt Piano Competition, she made her solo debut with the Hollywood Philharmonic, performing Beethoven's First Piano Concerto. Tim Smith, in a review in the Ft. Lauderdale Sun-Sentinel wrote, "...there was in her playing an often arresting communicative quality." While studying abroad, she presented solo and chamber recitals in Eppingen, Freiburg and Karlsruhe, Germany. As an orchestral pianist, Born has performed in Tchaikovsky Hall and the Moscow Conservatory in Russia. She has worked as vocal coach and pianist in Kofu, Japan, Rome and Levanto, Italy, Gothenburg, Sweden, and Salzburg, Austria.
An active proponent of contemporary music, Born has premiered the works of several composers, most notably, 3 Ponteios (em miniatura), para flauta e pian by Paolo Costa Lima at the 2004 Florida Flute Festival in Daytona Beach and Faded Anecdotes: Five Images for Solo Piano by Syd Hodkinson, a piece he composed for her, at Stetson University's Sounds New Composer's Series in 2011. In collaboration with tenor Stephen Ng, she presented works by Berklee College of Music composition faculty in the Concerts at Berklee series. Her recordings, A Soft Florida Rain and Songs of Perfect Propriety, feature American composers Kari Juusela and Seymour Barab.

Born received her bachelor of music and master of music degrees in piano performance from the Peabody Conservatory and holds a doctorate in chamber music and accompanying from the University of Miami. She pursued further studies at the Manhattan School of Music and the Musikhochschule Freiburg.

Since 2005, Born has been a member of the faculty of the Stetson University School of Music, where she teaches classical piano, coordinates functional keyboard, coaches the Stetson University Opera Theatre, and collaborates with faculty, guest artists and students in recitals.
More About Kristie Born
Course Sampling
Accompanying
Functional Keyboard
Opera
Contemporary classical music, focusing on vocal literature
"Solo Vocal Chamber Music: A Review of Three Works," South Central Music Catalog (SCMB) Refereed Journal of the College Music Society's South Central Chapter; edited by Nico Schüler; Texas State University