Join the Choral Union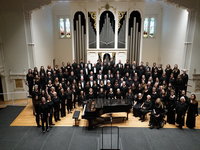 Stetson University Students
Stetson University students have two options for participation in the Choral Union:
Option 1
Join for no course credit as a community member, and all community member requirements will apply. One simply attends the Choral Union as a community member even though they may be a Stetson University student with all of its attendance privileges. See below for requirements for members of the community to maintain membership in the Choral Union.
Option 2
Sign up for the Choral Union for course credit under the current course and credit value (MUSE 305). In this case, attendance and punctuality, music purchase, concert attire, preparation, etc., are carried out by the student for a grade. The grade is assigned at semester's end as in the case of any other course. One need not be a music major to get the university credit. The credit should count toward Stetson University core requirements under the "A" designation (creative arts in the general education designation) for non-music majors. For music majors, the Choral Union counts as a major ensemble credit toward degree requirements, scholarship requirements or both.
Members of the Community
Participation in the Choral Union is open to any community member at or above the age of 14.
No audition is required, though as a courtesy we request that you email the Choral Union conductor Sandra Peter before joining. This will give her an opportunity to answer any questions you may have and ensure that we are prepared for rehearsal with scores and seating.
The requirements for maintaining membership in the Choral Union include interest and experience in singing, attendance at rehearsals and performance in concerts, purchase of required printed music, payment of nominal dues and procuring the necessary attire for performance. Singers may join the Choral Union at the beginning of any season, but not mid-season because of missed rehearsals. The Safer Stetson safety protocols set in place because of the COVID-19 pandemic will continue to guide our efforts to bring guests to campus, as we move into the 2022-23 year.
Resources