Choral Union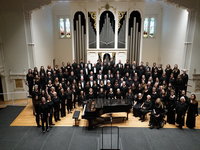 The Choral Union is Stetson University's largest choral ensemble, with participation open to Stetson students as well as members of the community. No audition is required, but punctuality and preparation are crucial. Also, the choir learns repertoire by reading notated scores, thus music literacy skills are essential. Rehearsals are held on Monday evenings in McMahan Hall on the Stetson University campus in DeLand. Participation dues are $25.00 per semester. Singers are also required to purchase their own scores, which are made available at the first rehearsal of each semester. The fee for scores ranges from $10-25.
Our singers come from many walks of life and together form a vibrant musical community. The repertoire includes works for large chorus and orchestra, pieces accompanied by organ, brass, and/or a variety of other instruments and on occasion a cappella octavos. Choral Union presents one concert each semester.
The ensemble has been conducted by Sandra Peter, D. M. A since 2016. For more information, please contact her via email.
2023-2024 Schedule
Fall semester rehearsals:
Mondays, 7:15-9:15 p.m.
August 28 - November 20, 2023 (excluding Labor Day, September 4)
McMahan Hall (on the corner of Woodland Blvd. and Michigan Ave.), Stetson University, DeLand
Fall concert: Tuesday, November 21, 2023, 7:30 p.m., Stetson Baptist Church, 1025 W. Minnesota Avenue, DeLand

Repertoire: G. F. Handel: Messiah (G. Schirmer edition)
Spring semester rehearsals:
Mondays, 7:15-9:15 p.m.
January 22, 2024 - April 22, 2024
McMahan Hall (on the corner of Woodland Blvd. and Michigan Ave.), Stetson University, DeLand
Spring concert: Tuesday, April 23, 2024, 7:30 p.m., Stetson Baptist Church, 1025 W. Minnesota Avenue, DeLand
Repertoire: Broadway! (back by popular demand! Titles/Composers TBD)
Concert Ticket Information
For the most current information on concerts and performances, visit Stetson's music calendar. Tickets for general admission seating are available online. The price of admission is $15 for adults, $5 non-Stetson University students; all Stetson University students, faculty and staff receive free admission with their university ID.
Resources
History
The Choral Union is comprised of Stetson University students and members of the community. Its primary role is to serve as the university's symphonic chorus, though octavo and a cappella works occasionally complement their repertoire. The Choral Union has performed many times with the Orlando Philharmonic Orchestra and the Stetson University Symphony Orchestra, and Stetson's Chamber Orchestra. Past repertoire includes:
Bach, J. C. | Magnificat in C Major, W. E22
Beethoven | Fantasia in C Minor (Choral Fantasy), Op. 80
Beethoven | Mass in C Major, Op. 86
Bernstein | Chichester Psalms
Brahms | A German Requiem, Op. 45
Brahms | Schicksalsleid, Op. 54
Brahms | Nänie, Op. 82
Britten | Rejoice in the Lamb
Clearfield, A. | Farlorn Alemen
Fauré | Requiem, Op. 48
Forman | The gift to sing
Gabrieli, G. | Jubilate Deo
Hagen, J. | The notebooks of Leonardo da Vinci
Handel | Judas Maccabaeus, HWV 63 (excerpts)
Handel | Messiah, HWV 56
Haydn | Mass in C Major, H. XXII: 9 (Missa in tempore belli)
Haydn | Mass in D Minor, H. XXII: 11 (Missa in Angustiiis)
Haydn | Te Deum in C Major, H. XXIIIc: 2
Lauridsen | Lux aeterna
McDonald | Make me an instrument of thy peace
McDowell, Cecilia | Magnificat
Mendelssohn, F. | Symphony No. 2, Op. 52 "Lobgesang"
Mozart | Coronation Mass in C Major, K. 317
Mozart | Requiem Mass in D Minor, K. 626
Mozart | Missa brevis in F Major, K. 192
Pinkham | Christmas Cantata
Poulenc | Gloria
Rossini | Cum sancto Spiritu (Petite messe solennelle)
Rutter | Gloria
Schubert | Mass in G Major, D. 167
Schumann | If you love for beauty (Liebst du um Schönheit)
Stravinsky | Symphony of Psalms
Thompson, R. | Frostiana
Vaughan Williams | Fantasia on Christmas Carols
Vaughan Williams | Festival Te Deum
Vaughan Williams | Five Mystical Songs
Vivaldi | Gloria, RV 589
Vivaldi | Magnificat, RV 610
Wilberg | Light dawns on a weary world
20th Century Broadway including selections by Eubie Blake and Noble Sissel, George and Ira Gershwin, Richard Rodgers and Oscar Hammerstein II, Leonard Bernstein, Stephen Sondheim, Meredith Willson, Cy Coleman and Dorothy Fields, Galt McDermott, Stephen Schwartz, Charlie Smalls, Charles Strouse, Duke Ellington, Jerry Herman, Andrew Lloyd Webber, Lucy Simon, Joe "Oliver" King, Jonathan Larson, Stephen Flaherty and Lucy Ahrens.
The Choral Union has been conducted by Bob Rich, Duncan Couch, Alan Raines, Peter Durow, Milburn Price, Andrew Larson, and Sandra Peter. Guest conductors include Ann Small, Anthony Hose and Timothy Peter.