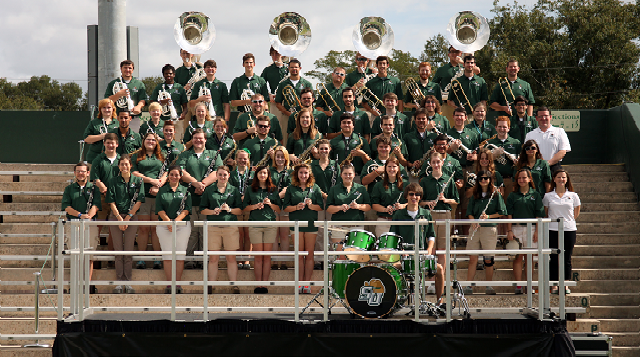 Hatter Band and Pep Band
Hatter Band and Pep Band
The Hatter Band (football band) entertains fans, supports the team, and provides the "soundtrack" for all Stetson Football home games.
The Pep Band (basketball band) is a crowd favorite that also entertains fans, supports the Hatter's, and performs for Stetson Women's and Men's Basketball home games.
These ensembles provide an opportunity for student musicians to participate in an exciting extracurricular activity in support of the university.
Both the Hatter Band and the Pep Band are open to all Stetson students with prior experience on the following instruments:
Piccolo/Flute
Clarinet
Saxophone
Trumpet
Mellophone/Horn
Trombone
Baritone
Sousaphone/Tuba
Drum-Set
If you are interested in becoming a member of the Hatter Band or the Pep Band, or to receive further information, please contact Dr. Douglas Phillips, Director of Bands, [email protected].