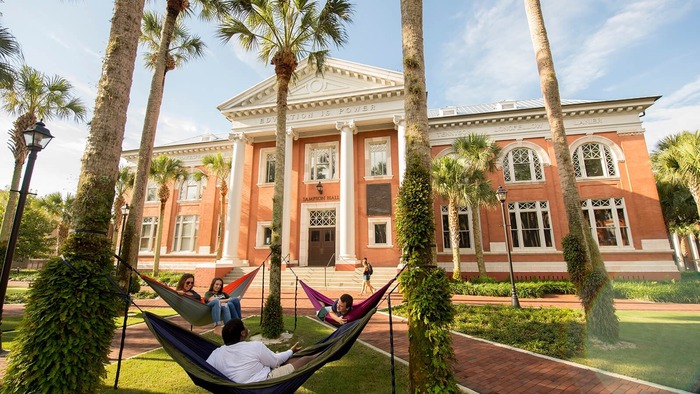 Student Resources
This page provides information and tips intended for full-time, degree-seeking international students at Stetson University.
Student Success
Student Success is a group of administrative offices that offer resources, information and services to empower you to achieve success and significance at Stetson University and beyond. Their goal is to help you to grow as a student and as a person. They help students find ways to become civically and academically engaged critical thinkers with the confidence and abilities to meet their goals and realize their aspirations.
Cross Cultural Center
All students graduating from Stetson University are prepared to be "at home in the world" with a greater understanding of their own complex identities, a developed sense of empathy and respect for others' identities and experiences, and a fully incorporated sense of social justice. The Cross Cultural Center achieves its mission by helping students to develop cultural competencies for success and significance in alliance with other dynamic individuals in this ever-changing world.
duPont-Ball Library
The duPont-Ball Library provides countless resources to expand knowledge and research, empowering the university's students to succeed academically. Our students consult with librarians for assistance in research and scholarly projects, broadening Stetson University's dynamic learning environment.
Student Development and Campus Vibrancy
The Office of Student Development and Campus Vibrancy collaborates with students, faculty and the community to create an atmosphere that engages students. The office will connect you with leadership opportunities, campus organizations, fraternities and sororities ("Greek" social organizations), Hatter Productions (Stetson University's student-run event planning committee), Market Day, off-campus fun, and numerous other opportunities to get involved.
Center for Community Engagement
Learning through engagement with local and global communities is deeply embedded in the university's mission, values and character. The Center for Community Engagement provides a wide variety of opportunities for students to work with members of the community to build capacity and make a difference in communities near and far. Its mission is to develop, implement and promote lifelong commitments to social responsibility and social justice throughout the world.
Department of Residential Living and Learning
The Department of Residential Living and Learning is committed to providing a healthy, inclusive and safe environment that encourages the development and personal growth of all students.
Other On-Campus Resources
Refer to the Campus Life and Student Success portal for a comprehensive guide to student resources and services.
All international students who live on campus are automatically assigned a campus mailbox number. You will go to the campus's post office, and show your student ID, then the staff will give you the four-digit number and mailing address format.
All mail should be addressed in this format:
John Doe
421 N. Woodland Blvd.
Unit ####
DeLand, FL 32723
#### is your four-digit mailbox number. To avoid delays, make sure to put your mailbox number on all incoming mail and packages.
It is not a good idea to keep large amounts of cash in your dorm room or apartment or to carry it with you all the time. So, it is recommended to set up a local bank account on your arrival.
Banks near campus
*It is recommended to make an appointment before heading to the bank.
Documents needed to open an account
Your valid passport with an F-1 visa
Your I-20
A letter of acceptance from Stetson University
Stetson student ID card
Proof of residence, such as an official letter or bill mailed to your U.S. address
A wire transfer is an electronic money transfer from a bank account in one country to a different account in a another country. They are a secure and fast way to send and be sent funds. If you would like to pay your Stetson bill with a wire transfer, please contact the Student Accounts office for the information you will need to make the transfer.
Sending money
You need:
Your account number
The recipient's name
The recipient's bank name and address
The recipient's bank identifying code
The recipient's bank account number
Any additional information your bank requests
Receiving money
You need to give the sender:
Your name
Your bank name and address
Your bank identifying code or SWIFT number
Your bank account number
Any additional information the sender's bank requests
Wire transfer tips
Be aware of monetary exchange ($20, £20, and ¥20 are all different amounts of money)
Be aware of transaction fees
Avoid making typos
Avoid sending cash more often or more quickly than necessary
Since rates are constantly changing, students are encouraged to search the internet for the latest updates and promotions to find the best deals. Here are some examples of plans you can choose from to suit your needs.
International students who want to obtain a Florida driver's license or identification card (ID card) must go to a DMV office with the following required documents:
Your valid passport with an F-1 visa
Your I-94 (retrieve this online: I94 - Official Website

)

Your I-20
Two proofs of residence.
Valid driver's license from your country. If you plan to get a Florida driver's license and you already have a driver's license from your home country, make sure to bring it. You may be exempt from the Drug and Alcohol Traffic Awareness (DATA) course and other DMV required tests.
It is recommended to make an appointment online at any DMV office. Find out more information at Non-Immigrant - Florida Highway Safety and Motor Vehicles website.