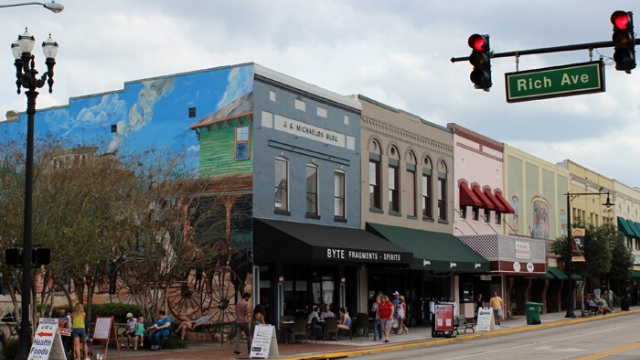 Life in DeLand
Surrounding Areas
Stetson University sits just north of the beautiful historic downtown area of Deland, Florida. Mixing old charm with modern eclectic stores and monthly festivals of all types, the downtown area is an exciting place for students to visit and spend their time. Deland is also lucky to be surrounded by an array of state parks and nature preservation areas open to the public for camping, biking, running, swimming in the springs, or just general recreation.
Directly east of Deland by about 20 minutes is Daytona Beach. On the weekends, students like to carpool with friends to the beach for some hours enjoying what the Sunshine State has to offer. South of Deland by about 50 minutes is Orlando. Known as "The City Beautiful", home to Walt Disney World, Universal Studios and Islands of Adventure, SeaWorld, host of the professional NBA basketball team, the Orlando Magic and a hot spot for concerts and events of all types, Orlando is truly a vibrant city with much to offer for students on the weekends.
What is listed above only catches the tip of the iceberg of all the possibilities for entertainment at Stetson. For more information on Deland and its surrounding area, please explore the links listed below.
Safety in the U.S. and DeLand
Studying abroad can be a fun and safe experience, but it is important to realize that you are subject to the laws and customs of another country.
Although most trips abroad are trouble-free, being prepared will help you to avoid the possibility of serious trouble. Become familiar with the basic laws and customs of the United States before you travel. Remember, reckless behavior while in the United States can do more than ruin your experience, it can land you in jail! To have a safe trip, avoid risky behavior and plan ahead.
In addition to the information we make available to you online after you are admitted to the university, it is critical that you arrive in DeLand to attend the International Student Orientation. Attendance is mandatory and will ensure you have information on the U.S., Stetson University and life in DeLand -- all to keep you safe, as well as aid in your transition to Stetson University and life in the U.S.