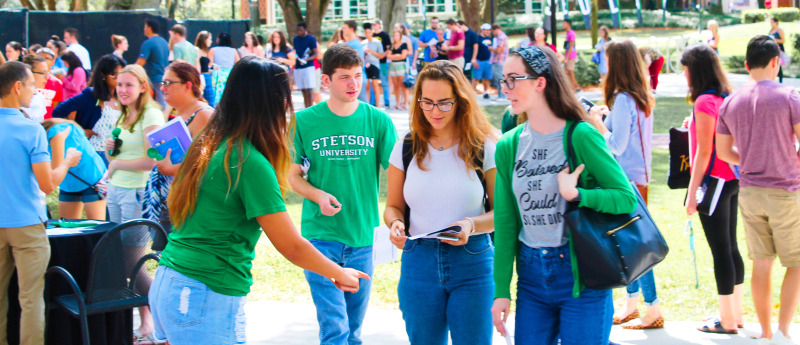 Student Employment
Another way of satisfying your financial aid requirement is to apply for employment on campus through the Student Employment Program. Working on campus will provide international students a great opportunity to not only build professional skills, and interact with other students, employees, and the community, but also investigate possible career paths.
Find a job on campus
Search for a job on Stetson Career Website
Select the green HatterJobs "Student/Alums" button
Log in under "Current Students: Single Sign-On"
Select "Jobs and Internships" followed by "Search" from the left menu
All student employment positions should appear.
Select the position that you may be interested in
Follow job-specific application instructions.
Steps to get a Social Security Number
International students who are employed in the U.S. must apply for a Social Security Number (SSN).
Get an official job offer letter, printed on letterhead. Remember, international students can only work on campus unless they have been authorized for CPT or OPT.
The letter typically comes from the Student Employment Office. They will inform you when the letter is ready to be picked up. Please bring the letter to WORLD for a DSO (F-1 students) or RO (J-1 students) signature. Once WORLD has signed the letter, you can start gathering the required materials to apply for your SSN.
The required documents include the following (we recommend calling the Social Security Office at (800) 772-1213 to confirm that you have all the required documents before going to their office):
a. Your valid passport with an F-1 visa
b. Your I-20
c. Your I-94
d. Completed social security application
e. Proof of employment (the signed letter)
Take all of your documents to the Social Security Office and apply for your SSN. Make sure you receive a receipt of the application.
Once you receive the official receipt of the application from the Social Security office, you will need to set up an appointment with Stetson Student Employment to complete the federal employment paperwork.
CPT Employment
If you want to participate in an off-campus internship, you may be eligible for Curricular Practical Training (CPT). In order to qualify for CPT, your practical experience must be an integral part of your curriculum. At Stetson, this means that your off-campus internship/practical training must fulfill one of your major or degree requirements. You must complete at least one full academic year of study before you are eligible for CPT.
If you meet the eligibility criteria for CPT, please fill out the following three forms:
Once these forms are completed, please contact WORLD to schedule an appointment to apply for CPT. You cannot begin working until you receive the work authorization from WORLD.
OPT Employment
OPT stands for Optional Practical Training. It is essentially work authorization, allowing you to work for a US employer. Upon graduating, international students qualify for up to 12 months of OPT, assuming they did not use any pre-completion OPT. If you used pre-completion OPT, you will need to subtract it from post-completion OPT (for example, if you used 3 months of pre-completion OPT, you now have 9 months left for post-completion OPT).
If you studied an approved STEM-based major, you may qualify for a 24-month extension. We will first apply for the regular 12 months of OPT. After you have a job and have been working, we can put in a request for the STEM extension 90 days before your OPT runs out. You can see a list of the government-approved STEM majors here: DHS STEM Designated Degree Program List.
To qualify for OPT, you must work at a job directly related to your major. It takes approximately 3 months to get OPT approved, and you will not be allowed to work until you receive your employment authorization card. Many students choose to apply early to start working soon after graduating.
**Note: You do not need a job offer yet to apply. However, once OPT is approved, you must start working within 90 days. You are allowed up to 90 cumulative days of unemployment during your 12 months of OPT. If you exceed 90 days of unemployment, your OPT will end and you will be required to leave the country.
Steps to applying for OPT
If you are within 90 days of graduation (or it has been less than 60 days since you graduated) and you would like to apply for OPT, you can start by gathering the following documents:
Once you have gathered all of these documents, you can submit your OPT application online: I765 - Official Website