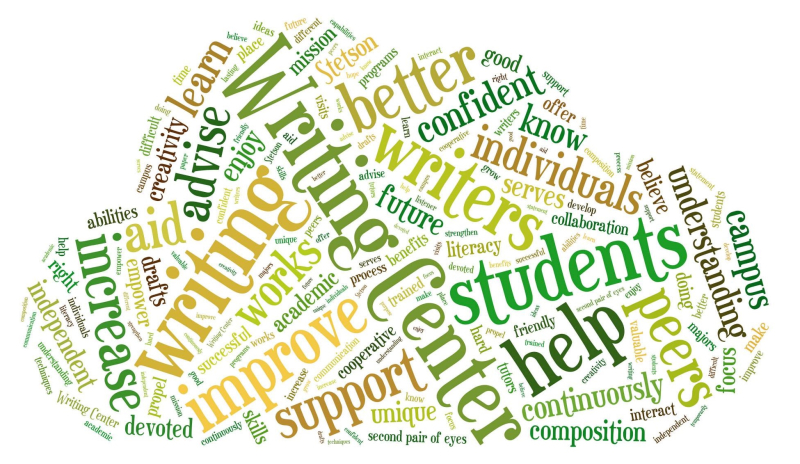 Writing Center
The Stetson University Writing Center offers free tutoring in writing to all Stetson University students, staff, and faculty. Our friendly, trained peer tutors help writers across campus with any type of written work, at any stage of the writing process.
Appointments
While you can visit the Writing Center without making an appointment, we strongly suggest that you make an appointment before visiting in order to guarantee that you'll be seen by a tutor. Appointments may be made via Stetson SSC. Appointments must be made at least 10 hours in advance.
These step-by-step instructions will explain how to make and cancel appointments in Stetson SSC.
Syllabi Blurb
The following is a brief description that explains what students can expect when they visit the Writing Center. Instructors are encouraged to copy it into their syllabus for this semester.
Visit the Writing Center! Peer tutors can help at any point in your writing process, from brainstorming to revising. Although peer tutors are trained to identify and explain patterns of errors to students, tutors do not write, edit, or grade papers. The peer tutors at the Writing Center can be most helpful if you do the following:
Formulate: come prepared to the session with specific writing issues to discuss
Focus: be engaged in the session by playing an active role in discussing your paper with the tutor
Follow through: take notes during the session and make changes afterward
The Writing Center is located on the first floor of the duPont-Ball Library and is open noon to 10:00 p.m Monday through Thursday, noon to 3:00 p.m. on Friday, and 3:00 p.m. to 6:00 p.m. on Sunday. We also have two satellite locations in the Lynn Business Center (RM 209) and in Sage Hall (Natural History Museum). Our hours are listed on our website.
We suggest that you make an appointment online 24 hours in advance via Stetson SSC. Walk-ins are welcome, but be prepared to wait if we are busy.
Writing Center sessions last about 45 minutes. After the session, a peer tutor will write a session report on Stetson SSC that will be visible to you and your instructor. Email any questions about the Writing Center's services to writingcenter@stetson.edu.
Contact
"Like" us on Facebook and follow us on Twitter @SUWritingCenter and Instagram @stetsonwritingcenter for the latest announcements, updates and news!
If you have any questions about our services, or would like to request a class visit or workshop, please email us at writingcenter@stetson.edu.
Announcements
Friday, Oct. 18. Writing Center tutors, Emma Knowles, Brendan Dunlop, Morgan Hambleton, and Alissa Garguilo, will present their research at the National Conference on Peer Tutoring and Writing in Columbus, OH.
Sunday, Oct. 20. - National Day on Writing. Celebrate with us by telling us #whyyouwrite either on social media or on our glass wall in the Writing Center
Thanksgiving Break - The Writing Center will close Tuesday, Nov. 26, at 5:00 p.m. and open again on Monday, Dec. 2, at noon.
Locations
Main Location: the first floor of the duPont-Ball Library
Business Satellite: LBC Room 209
Sage Satellite: Natural History Museum
Tutoring (Fall 2019)
Main Location:
Monday to Thursday: noon to 10 p.m.
Friday: noon to 3 p.m.
Sunday: 3 pm to 6 p.m.
LBC Satellite:
Monday and Tuesday: 11 a.m. to 2 p.m.