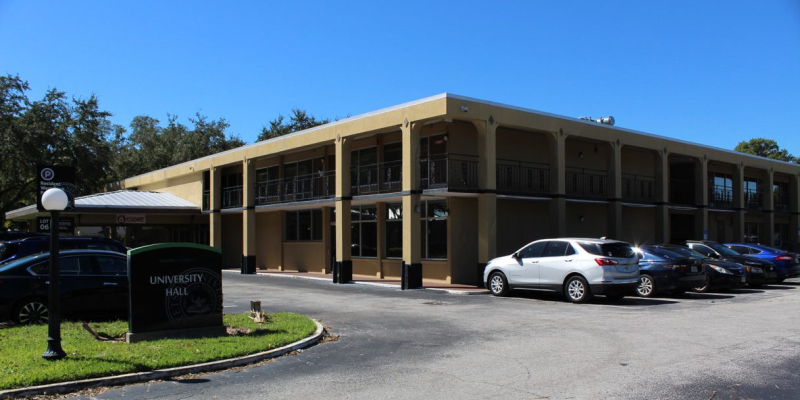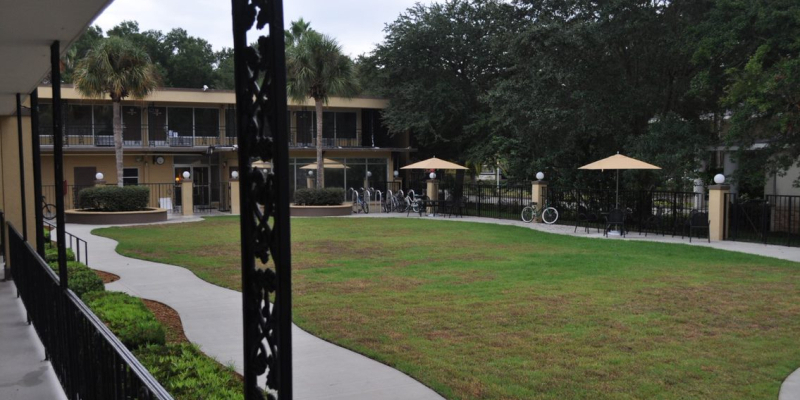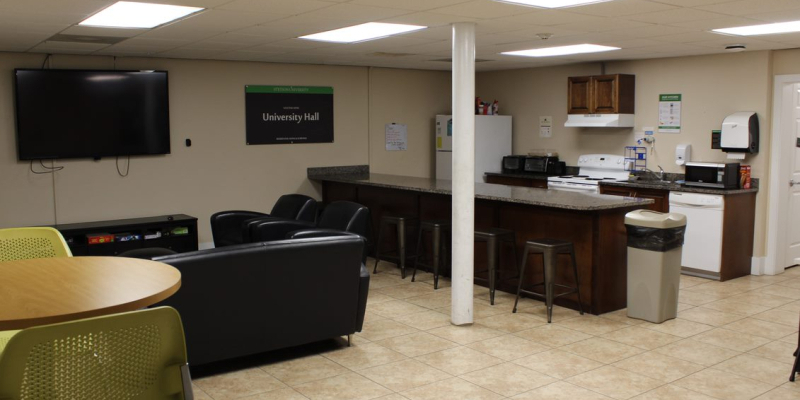 University Hall
Built-in 1964, located at the corner of West Pennsylvania Avenue and North Woodland Boulevard, University Hall opened as a residence hall in 2013 and features 58 two-person rooms with private bathrooms. Common areas include a lounge with a kitchen and laundry facilities. University Hall is a gender-inclusive and animal-friendly housing option with a spacious courtyard for animals to run off-leash. University Hall has resident assistants on each floor that help students by providing opportunities to develop deep and meaningful relationships not just with their roommates, but with members of the entire building. University Hall is also home to the Residential Living & Learning Main office, which can be accessed through the building's main entrance. University Hall is directly across from Emily Hall.
Physical Address: 644 N Woodland Blvd, DeLand, FL, 32720
Approximate Capacity: 116
Amenities and Features
Room Amenities
Layout: Coming Soon
Room Rate Type Available: Shared Suite/Private
Rooms come with self-loftable XL twin bed, dresser, desk and desk chair
Built-in closet/bureau

The closet does not have a door but, a curtain rod with hooks can be hung

Utilities included: electricity, HVAC, water, sewer, trash, recycling, and Wi-Fi/internet and Ethernet
Does not require key cards for room access
General Amenities
Full community kitchen with television, sofa chairs, refrigerator, microwave, cabinet storage, oven, and stove.
Outdoor community spaces with seating and grilling space
Outdoor drink and snack vending machines
Fenced animal recreation area
First-floor centralized Laundry room facilities
Parking Location: West Zone, Lot 06
Special Options
Animal-Friendly housing
Gender-inclusive housing
Staff
Building Supervisor: Residential Life Coordinator for Area 3
Four Resident Assistants
Live-in professional staff member
Other Details
Open for Winter Break Housing: No
Elevator: No
Who Can Live Here?
University Hall is an option for first-year and upper-division students. This community is open to any gender and mixed-gender rooms are available upon request.
Meet the Resident Assistants of University Hall.
University Hall FAQ
Our resident housing system including applications, room, roommate info, and much more.
Login
We are here to assist with any questions, maintenance requests and roommate issues.
Help