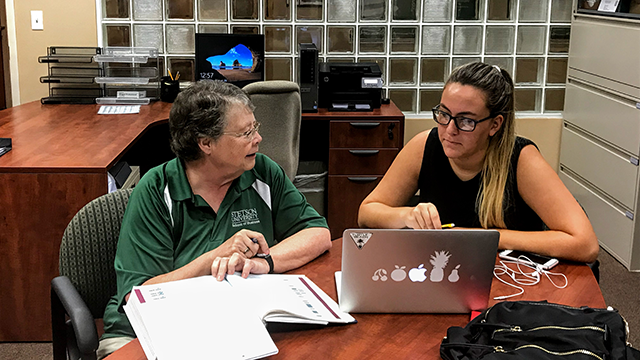 About Us
Mission
The mission of the M. E. Rinker, Sr. Institute of Tax and Accountancy (Department of Accounting) is to offer an intellectually challenging undergraduate and graduate education that facilitates the development of our students as successful accounting professionals. The focus of the Institute's educational programs is excellence in teaching in a rigorous, yet supportive learning environment that provides an academic experience infused with experiential learning, engagement with the profession and relevant technologies.
Accreditation

The Stetson University School of Business Administration is an accredited member of AACSB International—The Association to Advance Collegiate Schools of Business. AACSB Accreditation is known, worldwide, as the longest standing, most recognized form of specialized/professional accreditation an institution and its business programs can earn and and signifies quality, relevance, connection to the business community, societal impact, and continuous improvement. Currently, less than 190 member institutions world-wide hold AACSB Accreditation in accounting.
Thank you to Our Donors!
The Institute is fortunate to be supported by an endowment funded by the late M.E. Rinker, Sr., for whom the Institute is named after. The Rinker and David M. Beights endowments partially fund the Rinker Distinguished Professor of Accounting and the David M. Beights Professor of Accounting. Scholarships for accounting students are funded by the Master Life Challenger endowment (named after the late Joseph J. Master, a legendary accounting professor at Stetson), the George Putnam Scholarship endowment, and the Stetson Business School Foundation, Inc. George and Marie Putnam Scholarship endowment. Donations to the Institute's restricted fund are used to support things such as program initiatives (i.e. Volunteer Income Tax Assistance Program), faculty development and student travel, among other things.
Alumni and benefactors interested in supporting the Institute's activities are welcome to donate.