Monica Mendoza
Assistant Professor of Accounting; Assistant Dean of Academic Services
After attending Stetson for both her bachelors and masters degrees, Dr. Mendoza became a licensed C.P.A. in the state of Florida. She has been published in quite a few professional accounting journals since then.
PhD, University of Florida
M.BA, Stetson University
B.BA, Stetson University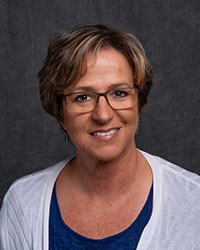 Biography
Monica Mendoza began teaching at Stetson University in 1997 for the departments of both accounting and business systems analysis. She received both her bachelor and master of business administration degrees from Stetson University and her doctorate from the University of Florida. She is also a licensed CPA in the state of Florida. In addition to teaching, she dedicates much of her time to registration and academic advising of first-year students for both the School of Business Administration and the university in general. She has published in the CPA Journal, Journal of Business Disciplines, Business Education Forum and the Journal of State Taxation. Before entering academia, Mendoza worked in public accounting for McGladrey and Pullen in Ft. Lauderdale, Fla., and later in corporate accounting in the financial service and manufacturing industries.
More About Monica Mendoza
Areas of Expertise
Employment with an online accounting degree
MIS and AIS Course Content Synergies
Course Sampling
Accounting Systems
Cost Accounting
Introduction to Financial Accounting
Introduction to Managerial Accounting
Accounting and accounting information systems primarily in pedagogy
An investigation into the perceptions of online degrees earned as credentials for employment in public accounting firms
Multidisciplinary course coordination for accounting systems and management information systems
Brenner, V.C., Mendoza, M.M., Watkins, A.L., "Mini Cases an Efficient Teaching Tool," Business Education Forum(2013)
Brenner, V.C., Mendoza, M. M., Watkins, A. L., "Using the Case Method approach to Introduce Students to International Financial Reporting Standards," Academy of Business Disciplines Journal (2012)
Mendoza, M., "An Investigation into the Perception of Online Degrees Earned as Credentials for Obtaining Employment in Public Accounting Firms," Dissertation, University of Florida (2011)
Brenner, V.C., Brenner V.C. Jr., Mendoza, M., "New Reporting Standards for Non-controlling Interest," The CPA Journal (July, 2008)
Mendoza, M., "Capitalizing on MIS and AIS Course Content Synergies," Proceedings of the 2008 Academy of Business Education Conference
Jens, W. and Mendoza, M., "Taxing Internet Sales - The Meter is Running", Journal of State Taxation (March, 2004)
Surynt, T.J., Augustine, F., Mendoza, M., "Implementing an E-Business Curriculum: Opportunities and Issues," Proceedings of the 2002 International Conference of the Information Resources Management Association