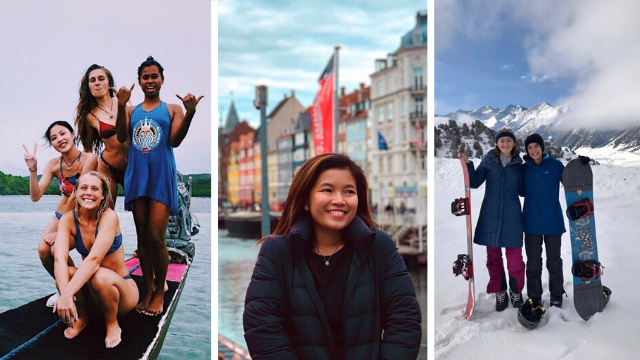 Study Abroad
Study abroad will give you the skills to lead a significant life: being a global citizen, expanding your understanding of social responsibility, engaging hands-on with the world and challenging you with high-impact academic and co-curricular experiences outside of your comfort zone. We dare you to study the world and bring it back within you for the rest of your life!
Benefits of Studying Abroad
In recent studies of students who studied abroad:
97% found employment within 12 months of graduating from college
90% got into their 1st or 2nd choice of graduate school
They are more likely to graduate on time and increase their GPA.
The personal benefits found include:
Growing independently
Expanding your network and building your resume
Gaining a better perspective of the world
Becoming more adaptable and better at handling change
Myths about Studying Abroad
It is too expensive.

There are many options through financial aid and scholarships. Some students can get their entire study abroad covered with the right planning. WORLD even has free study abroad programs.
Go to Affording Study Abroad

I can't study abroad because I don't know another language.

Most of our study abroad programs do not require knowledge of any language but English. But, for students who want to begin learning another language, there are still many opportunities through study abroad.

It is impossible because of my major or extracurricular commitment.

WORLD works hard to make sure any student can have the opportunity to study abroad. From music and education majors to those involved with Division I sports, there are options available.
Have all of your questions answered by a Peer Advisor!
Explore the different types of study abroad programs: Faculty-Led, Exchange and Affiliate.