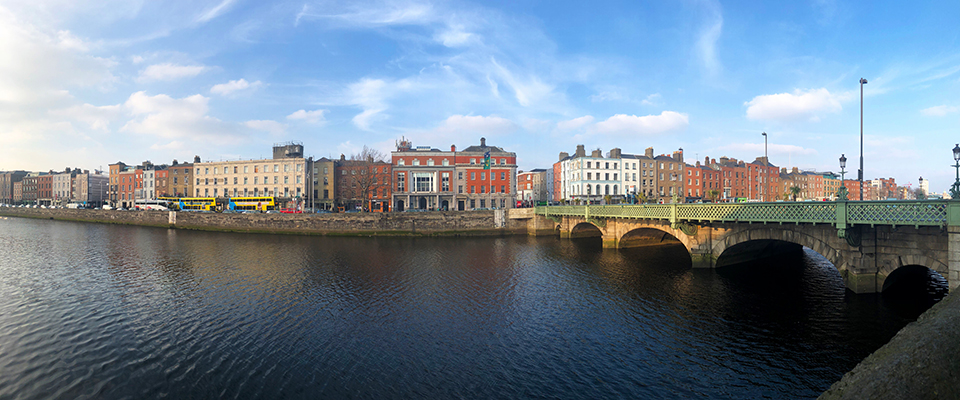 Global Gateways
Fall 2023
Experience your first semester in Dublin, Ireland! Participate in this one-of-a-kind opportunity for a select group of students.
Related programs:
Study Abroad Discovery Program
Program Overview
Global Gateways is organized for a cohort of 16 first-year students to begin their Stetson experience Abroad. You will take 16 credits abroad, including their required First Year Seminar and a general education requirement. In addition to taking classes, several cultural activities and excursions will be organized for the students throughout the semester, including
Day-long trips to Howth, Glendalough, Newgrange and Hill of Tara, and Kilkenny
Local site visits to Trinity College and the Book of Kells, Dublin Castle, Kilmainham Gaol, and the GAA Museum and Croke Park Stadium Tour
A three day/two night trip to Galway or Northern Ireland
Several local cultural events such as a theater performance, Gaelic games, Dublin food trail, and Causey Farm
You will be accompanied by a Stetson professor and will be hosted by IES Abroad. IES Abroad is a study abroad provider and is helping Stetson manage all on-site logistics for this program. They have a center in Dublin where classes are held and they have full on-site staff to coordinate student housing, activities, excursions, orientation, student health, safety and more.
Admissions Requirements
You must apply to Stetson University and submit a supplemental application for the Global Gateways Program. The priority deadline for Global Gateways is April 1, 2023, though applications will be accepted until April 15, 2023.
Students must be at least 18 years old by August 29, 2023.
Why Study Abroad?
Earn Stetson credit towards your degree requirements.
Learn to be more independent and self-confident as a global citizen.
Challenge yourself with high-impact academic and co-curricular activities.
Pay your regular Stetson tuition and use your financial aid towards your program.
Build your resume.
Small classes with a cohort of Stetson students and a Stetson faculty member allows you to easily make connections and life-long friendships with your peers.
Travel and experience a new part of the world!
Courses
Global Gateways has been designed to have students start their college experience abroad while still making progress towards their degree requirements. As a student in this program, you will come back with 16 Stetson credits, including
a Freshman Seminar: The Spirit of Travel
a General Education Course: Travel Writing (fulfills an "A" gen ed as well as a "Writing Enhanced" requirement
two electives of your choosing!
Course Descriptions
All students on the program will take the Spirit of Travel FSEM and the Travel Writing Course with Professor Nancy Barber.
FSEM: The Spirit of Travel
In this course, students will look at the relationship between travel and spirit; in other words, the relationship between outer journeys and the inner ones. Pilgrimages have long been a part of religious and cultural traditions: from sacred trips to the Holy Land, Mecca, Bodh Gaya, Lourdes, and Santiago de Compostela to secular pilgrimages to places like the Baseball Hall of Fame, the Vietnam War Memorial, or Graceland. Besides pilgrimages to one specific place, many travelers have more free-ranging objectives: for example, the Australian walkabout or the college-age rite of backpacking around Europe.
In this course, students will explore why travel is such a catalyst for spiritual growth. We focus on the ways in which travel, especially unpredictable travel outside one's comfort zone, has an effect on the spirit. Since this class will take place in Dublin, students will focus on texts with an Irish perspective—novels, films, short stories and/or essays--as jumping-off points for thoughtful insights, discussions, and writings about the spiritual transformations of travel.
ENCW 111A: Introduction to Writing Literary Nonfiction (Special Topic: Travel Writing)
In this course, students will focus on the art and craft of travel writing. We will analyze exemplary Irish travel writing and try to model some of its magic as students craft, critique, and workshop their own essays based on their travel during the Global Gateways Program. The course will include four major pieces of creative nonfiction and many journal entries.
The goals of this writing-enhanced course include the following:
To strengthen existing writing skills
To heighten understanding of travel-writing conventions
To strengthen other life tools, including critical thinking, public speaking and reading
To increase information, literacy and research abilities
To produce an archive of writing from the semester in Ireland
Students will also take two additional courses, taught by IES Abroad faculty (though students will receive 4 Stetson credits for each class taken). Students can choose two courses from the following list:
Celtic Myth and Legend in Early Ireland
This interdisciplinary course offers students an introduction to Irish heroic literature, Celtic mythology and Irish fairy tales and folklore. We will read a selection of early Irish tales from The Mythological Cycle, The Ulster Cycle, The Cycle of Finn and The Historical Cycle, exploring what literary genres our stories fit into, the significance of various recurring themes and symbols, the connections between Celtic mythology and other world mythologies and the origins of Arthurian legends as based upon Celtic prototypes. These stories offer a fascinating insight into the complex world of pre-Christian and early Christian Ireland by painting vivid portraits of life, culture and legends in pagan times. In addition to the literature aspect of this course, we will also explore insular and continental Celtic archaeology and early Irish history, both of which will enable us to place our stories within a tangible, historical framework. We will also examine legends of otherworldly beings that are particular to Ireland, such as the banshee, the leprechaun and the pooka—discussing how, over time, the mythology and pagan beliefs of early Ireland transformed into Irish folklore and superstitions.
Introduction to Irish Language and Culture
This course is divided into two distinctive parts; a beginner's course in the Irish language and a survey course of Gaelic culture. The language part of this course caters for beginners with no previous knowledge of Irish. The aim of the class is to familiarize students with aspects of the Irish language which they will come across in their daily life in Ireland including place names and people's names - For example: Students will learn how to pronounce Dún Laoghaire; why Dublin should be called Blackpool; and whether Aoife is a girl's or boy's name. The class also aims to teach students Irish that will be usable in daily interactions e.g. basic conversation, simple text messaging and tweets. Along with teaching the students words and phrases, language awareness and minority language rights will also be addressed. 'Language and culture are inextricably intertwined. In specific, concrete episodes of language learning and use we find keys to culture ... which can lead to vast insights on social organization, solidarity, power relations and hierarchy'. In keeping with this, students will learn why it is impossible to be an atheist while speaking Gaelic and about the Gaelic etymology of both American-English and Hiberno-English (English as it is spoken in Ireland) terms eg. the Gaelic origins of words such as 'cop'; shanty town'; etc.
The second part of the course is an introduction to Irish culture. It will involve a thematic case-study based survey of the traditional arts in Ireland. As the survival of Gaelic culture has been so dependent on our oral heritage, there will be a strong emphasis on oral history/tradition and role of tradition bearers and collectors. Students will be given the opportunity to familiarize themselves with traditional Irish instruments, Irish song, dance, folklore, superstitions and sports first hand.
Irish Culture Through Film
This course examines the role of film in the construction of Irish cultural identity and notions of Irishness. We will discuss key themes and cinematic representations of Ireland and the Irish and the development of cinematic genres in Irish filmmaking over time. We will explore the evolution of Ireland on film – from early representations of Ireland and the Irish by U.S. and British filmmakers to the emergence of an indigenous Irish film industry in the 1970s and 1980s to contemporary Irish film.
Students can also be considered for one of the following classes on case-by-case basis. These are 300-level courses that might be challenging for a first-year student who has not previously taken college courses.
Digital Marketing and Communication
This course explores digital marketing in the context of the wider marketing communications function and includes understanding content marketing across a variety of digital channels. It will look at structures and frameworks for developing a digital marketing strategy and will examine the development of consumer personas and the process of writing for online customer acquisition and retention. It will cover new and emerging web-based software used to develop web content and future trends in consumer mobile behaviour and consumption. This course will include guest lectures from Global Technology companies and course-related trips.
Northern Irish Troubles: 1969-1999
The purpose of this course is to examine the origins and key events of the Northern Ireland conflict up until the Peace Process and the beginnings of the transition to a Post-Conflict society. Given the nature of the conflict and its aftermath, the interpretation of many of these events remains contested between the different protagonists. This course, therefore, will look at the conflict and its relevance from different viewpoints – Republican, Nationalist, Loyalist, Unionist, the British and Irish governments. The course content also charts the changes that have taken place in competing political/ ethno-nationalist discourses, paving the way for the Peace Process and the Good Friday Agreement.
The course will also offer a special focus on issues and challenges that face Northern Ireland in a post-conflict context, including the experience of women, the growing problem of racism, as well as issues around education, culture, class and politics.
Faculty
Students on this program will be accompanied by Professor Nancy Barber.
Nancy Barber, Sullivan Lecturer in English and faculty director of the Global Gateways Program, majored in political science at Davidson College, then worked as a journalist before getting an MA in English at Stetson University and an MFA in poetry writing at the University of Florida. Barber has taught at Stetson University for 22 years and specializes in creative nonfiction. Her published articles include topics such as family business, human cannonballs, BBQ competitions, and bicycling across the U.S. In 2008, she co-wrote Meals Worth Stopping for in Florida.
Barber has taught an FSEM entitled The Spirit of Travel for over a decade. She taught Travel Writing in Stetson's Innsbruck, Austria, Program in 2013 and in Stetson's Freiburg, Germany, Program in 2010. She has extensive experience traveling and backpacking in Europe, including four different Caminos de Santiago hikes, the Tour de Mont Blanc, Hadrian's Wall Path, and the European Peace Walk in Eastern Europe. Her summers are based in England when she's not hiking, and she's looking forward to spending the fall semester teaching and directing the new program in Dublin.
Program Costs
Students on this program will pay their regular Stetson tuition and will have access to all of their financial aid (with the exception of tuition exchange and work-study). Additionally, students will be charged the housing rate for an individual room in an apartment.
Students will not have to pay for a meal plan for the semester; however, they should budget for groceries and meals in Dublin.
The tuition and housing fees charged by Stetson will cover: 16 Stetson credits, all program activities and excursions, housing, a 30-day Dublin bus pass, and international health insurance.
Students should budget separately for roundtrip flights to Dublin, meals, and personal expenses.
Estimated Budget (all numbers are approximate):
Tuition (Fall 2022 - approximate) *Paid to Stetson: $25,980
Student Life and Orientation Fees *Paid to Stetson: $400
Housing *Paid to Stetson: $5,124
Meals in Dublin: $2,000
Bus Pass (if needed beyond 30 days): $500
Passport and Visa costs: Approximately $450
Personal Expenses (individual travel and exploration, personal items, books, etc.): $2,000
Roundtrip Airfare: $1,100
Room and Board
Program housing is apartment-style and located right in the heart of the Dublin city center. It is about a 45-minute walk to the study center where classes are held. All students are provided with a 30-day bus pass and are welcome to "top up" their bus pass throughout the semester.
Students will have their own bedroom with an ensuite bathroom in a six or seven-bedroom apartment. Common areas (such as the kitchen) will be shared with their flatmates.
Meal plans are not included; however, all students have access to a kitchen in their apartments to prepare their own food, and the apartments are centrally located within Dublin city with several affordable restaurants nearby.
Vaccines
Stetson is working with IES Abroad, a study abroad provider with a center in Dublin. IES requires all program participants to be fully vaccinated against COVID-19 prior to departing for Dublin.
Travel Arrangements, Program Dates and Orientation
Travel Arrangements
Stetson will arrange an optional group flight from Orlando at the start of the program. If preferred, students who are traveling from outside the central Florida area can choose to book their own flights and meet the group in Dublin. Flight costs are separate from tuition and housing fees.
Program Dates
Early September to mid-December, 2023. Exact dates will be confirmed in Spring 2023.
Orientation
All students will attend both a pre-departure orientation and an on-site orientation in Dublin. More information about this will be sent to program participants after they are admitted.
Questions?
Contact Stetson Admissions or Stetson WORLD: The David and Leighan Rinker Center for International Learning for more information.
Request Info
Loading...
Apply