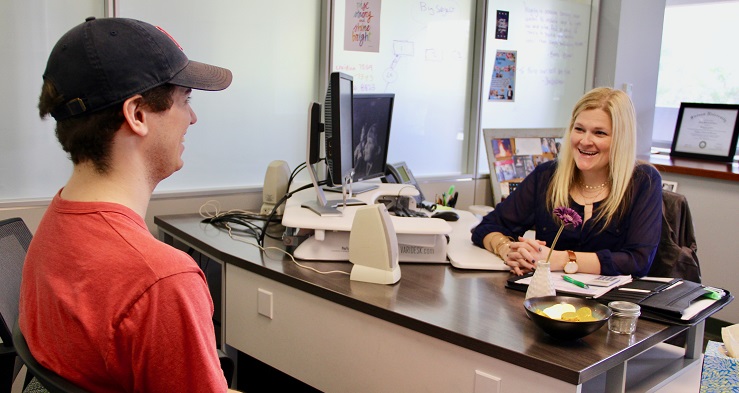 Advising Support at HFSSC
This is your story. Write well. Edit often.
Stetson University practices a Faculty Advising model for academic advising. All students are assigned to a faculty member in their area who will guide and support them throughout their academic journey at Stetson. In addition to Faculty Advising, the Advising Support Team in the Academic Success department provides supplemental advising services, advising education, and overall student support. Our primary function is supporting students and faculty throughout the advising process.
Academic Advising empowers students to tell the academic component of their Stetson story by finding out where they have been, where they hope to go, and the best way to achieve their goals. With a personalized approach to advising, students will be able to explore the class options available to them and maximize their learning experiences. This will be done all while learning to successfully navigate the Stetson environment.
Academic Advising is centrally located in the Hollis Family Student Success Center on the second floor of the duPont Ball Library.
Connect with us
For questions related to any of our services check out our FAQ, email [email protected] or call 386 822-7558.
Our Services
Students who need additional advising support beyond faculty advising season can connect with the advising team. Appointments can be scheduled via Stetson SSC throughout all fall, spring, and summer. Students, faculty, and staff can also send in general advising questions or troubleshooting concerns to [email protected]. Students are welcome to connect with our team via in-person appointments, phone appointments, or virtual appointments.
You will select your major on the Personal Data and Advising form (PDA) on the New Hatter Checklist. However, you can always change your major throughout your college experience. If you need further personalized assistance in deciding what you like or what matches your career path, the Discovery Program is available.
All incoming First Time in College (FTIC) and Transfer students will connect with us throughout New Hatter Advising prior to starting their first semester. The student will begin engaging with our team after completing the admissions process and submitting all New Hatter Checklist items. A designated member of the advising team will work with you to provide onboarding, registration, and advising prior to being assigned a faculty advisor
All First-Year students are required to complete Advising 101 in their first semester and Advising 102 in their second semester. The purpose of these labs is to prepare students for faculty advising meetings where they will have discussions about their future goals, course selection, and how to embed high-impact practices in the student's education. These labs will teach students more about the Stetson curriculum and how it impacts their specific goals. Students will also learn many of the logistics for registration such as how to view Degree Audit, use Course Search and register for courses.