Staff Directory
Stacy Collins
Director of Academic Success
Stacy Collins began her journey with Stetson University by attending for both her bachelor and master of arts degrees. She continues to be a proud Hatter in her position as director of Academic Success. In this position, she leads the department in offering various initiatives to ensure student success. Ultimately, Stacy and the Academic Success team strive to help students enhance their empowerment and agency, practice self-advocacy, learn independent academic competency, reach their educational goals while at Stetson University and graduate proudly with a degree from Stetson University.
Stephanie Potthoff
Associate Director of Academic Success and Accessibility
Stephanie graduated from the University of South Florida with her bachelor's degree in psychology and English literature. She recently earned her master's degree at Rollins College in clinical mental health counseling. In her current role, Stephanie assists students in navigating the process of establishing accommodations to ensure equal access to education for all students. She also connects students to resources on campus to aid in student success. Stephanie believes that students' development in college is an important transition in the narrative of their lives. Her work is guided by the desire to help students realize and strive for personal goals as they begin to explore and define who and what they want to be in the world. In her free time, Stephanie likes to cook, wander around Target and spend time at theme parks.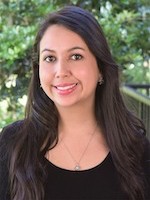 Joanne Bembinster
Associate Director of Academic Success
Joanne is a graduate of Florida Gulf Coast University where she earned a bachelor's degree in sociology and a master's degree in educational leadership. Joanne's passion for higher education stems from the transformative experience she had as an undergraduate student. In her current role, Joanne has the opportunity to connect with students outside of the classroom setting while empowering them to succeed. Joanne's background in academic advising taught her the importance of helping students navigate through all aspects of their higher education journey. As a DeLand native, Joanne is proud to be serving Stetson University and her hometown community. In her free time, Joanne enjoys DIY projects, cooking and traveling with her husband.
Courtney Grasley
Coordinator of Tutoring and SPI
Courtney graduated from the University of Central Florida with her bachelor's degree and went on to earn her master's degree from the University of Florida. Courtney has a passion for higher education and empowering students to become successful in the classroom and throughout the transition to career and post-graduate work. In her current role, Courtney coordinates tutoring, SPI and Success Coaching services available to all Stetson students. In her free time, Courtney enjoys spending time with her family, whether it be theme park hopping or relaxing by a fire pit.
Alexander is a graduate of Valencia College where he earned his bachelor's degree in Organizational Leadership and is currently pursuing his master's degree. Alexander has always enjoyed and thrived off work that involves helping and serving others. In his current role, Alexander has the opportunity to connect with students through academic advising and success coaching. He also works together with the Academic Success team to ensure that students have the necessary tools and resources to be successful. As a first-generation college student Alexander truly understands the struggles and adversity students can face when starting school. His experience has created a passion for helping students navigate their journey in higher education. In his free time, Alex enjoys outdoor sports with his friends, relaxing walks and gaming with his wife.