Success Coaching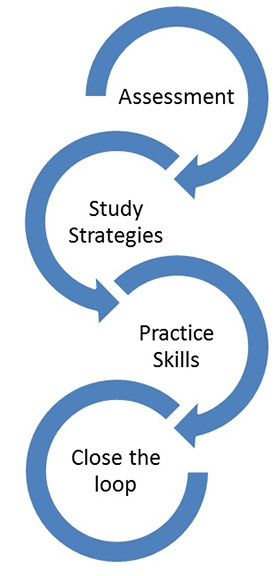 Hybrid Services during COVID-19
Success Coaching will continue to be available to all students directly in the HFSSC, over the phone sessions, or over video chat on Microsoft Teams. Students can make appointments through Stetson SSC by pressing the blue "Get Assistance" button, emailing [email protected], or calling the Hollis Family Student Success Center at (386)-822-7345.
You can access Microsoft Teams by going to the Microsoft 365 website and signing in with your Stetson email and Password. You can also download the desktop app and sign in the same way.
Additional information of our updated services can be found at the Academic Success Home page.
---
Tips for Studying for Online Finals
Success coaching is designed to aid students in achieving their maximum academic potential.
Success Coaching sessions are generally divided into four main areas: assessment, study strategies, practice skills and "closing the loop." While any academic topic can be discussed in a session, some of the main areas of interest are:
Time Management and Procrastination
Reading and Studying
Test Taking
Note taking
Classroom and Test Stress and Anxiety
Students are also encouraged to discuss any other issues they may have in order for the success coach to tailor the coaching session.
Interested students can choose from a few different success coaching options:
One-to-One Success Coaching
Students can sign up to meet one-to-one with a staff member to discuss any issues or questions he or she may have relating to academic success. For Success Coaching meetings, we are now using Stetson SSC to set up these meetings.
Instructions On How To Set Up Success Coaching In Stetson SSC
Group Success Coaching
For friends or classmates all wishing to discuss the same topic, a group success coaching session can be scheduled.
Peer Success Coaching
Peer Success Coaches (PSCs) are student leaders who have been trained through our success coaching program to work with other students in a stress-free environment to help build and refine academic skills in order to be successful. PSCs provide a unique insight as they are current students who have found ways to be successful right here at Stetson!
PSCs are also available to schedule appointments through Stetson SSC. PSCs also have a number of hours available in the Hollis Family Student Success Center for walk-in hours. Check out the PSC schedule for walk-in hours for more information.
Instructions On How To Set Up Success Coaching In Stetson SSC
Fall 2021 Hours
Monday: 9:00 a.m. - 12:00 p.m. | 4:00 p.m. - 6:00 p.m.
Tuesday: 9:45 a.m. - 12:45 p.m.
Wednesday: 4:00 p.m. - 6:00 p.m.
Thursday: 9:45 a.m. - 12:45 p.m.
Friday: 9:00 a.m. - 11:00 a.m.
Meet our Peer Success Coaches!
Kelli Kline (Lead Peer Success Coach)
What's your major? Economics and History.
What's your minor? Business law
What's your involvement at Stetson? Student Conduct Board, Dining Ambassador, Mock Trial, Resident Assistant, Office of Admissions
What are your hobbies/interests? Art history, piano performance, painting, drawing, reading, law, languages.
Maria Gaglio
What's your major? Psychology.
What's your minor? Business law.
What is your involvement at Stetson? I am a member of the student conduct board and involved in the Pre-Law fraternity Phi Alpha Delta.
What are your hobbies/interests? In my spare time I enjoy listening to music, and drawing.
After I graduate, I plan to attend graduate school and become a lawyer.
Drop By Our Table For Quick Help!
Midterm Success Workshop
These are active sessions for students to learn and practice strategies to improve academic performance. Each session includes similar content, so students only need to attend one. If a student is unable to attend a session, they are also always welcome to visit the Hollis Family Student Success Center (or virtually connect with Academic Success staff) throughout the semester during business hours (Monday-Friday, 8:00 a.m. - 4:30 p.m.) for support and to get their questions answered as they make plans for the second half of the semester.
Meeting Dates and Topics
Midterm Success Sessions

October 13, 2021 via Zoom link to be provided closer to event