Discovery Program
What you pursue and learn in college can develop your values, shape your goals, and clarify your aspirations. At Stetson University, the curriculum is designed in a way that allows students the opportunity to design a unique learning experience as they explore. The Discovery Program is a hub of active exploration and reflection with faculty, staff, and peers that can assist students in progressing successfully through their undergraduate career and even beyond Stetson.
Students who would like to explore majors prior to declaring can enroll in the Discovery Program. You will receive personalized guidance as explore your areas of interest as they relate to majors and careers. Every semester you will receive support to build a schedule that exposes you to potential majors and satisfies General Education requirements.
Discovery Program Highlights
Individual Discovery advising appointments
Specialized Discovery workshops and presentations
Virtual advising labs
Supplemental support from Career and Professional Development
For more information regarding the Discovery Program, please contact [email protected] or 386-822-7345.
To schedule an appointment, access the Stetson SSC from the Student Life tab on my.stetson.edu. Log on, select the blue "Get Assistance" button on the top right-hand side, select "Academic Services," then "Academic Success."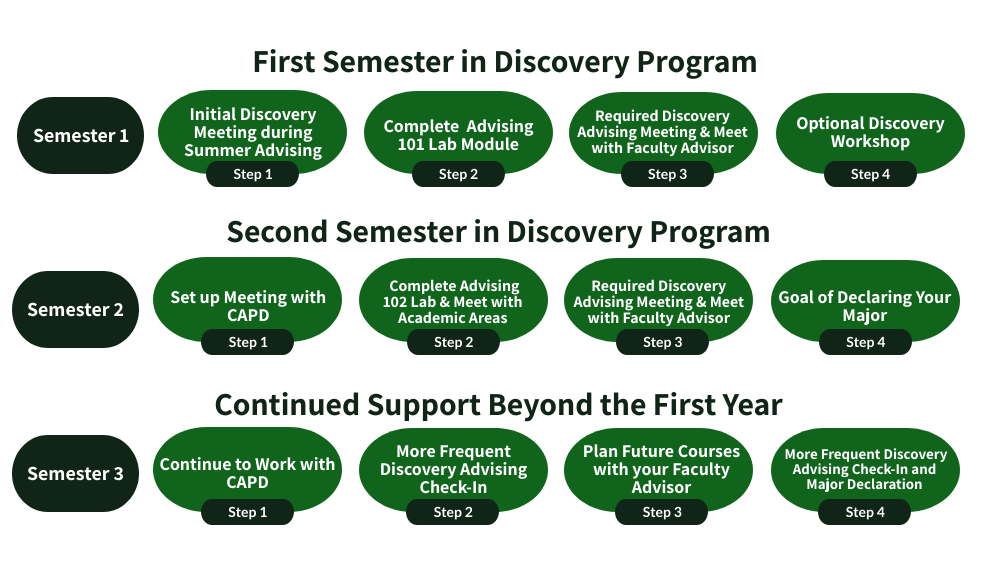 Sample Major Exploration Timelines
Step 1: Initial discovery meeting during summer advising.
Step 2: Complete Advising 101 lab module
Step 3: Required discovery advising meeting and meeting with your faculty advisor
Step 4: Optional discovery workshop
Step1: Set up a meeting with CAPD
Step 2: Complete Advising 101 lab and meet with academic areas
Step 3: Required discovery advising meeting and meeting with your faculty advisor
Step 4: Goal of declaring your major
Step1: Continue to work with CAPD
Step 2: More frequent discovery advising Check-ins
Step 3: Plan future courses with your faculty advisor
Step 4: More frequent discovery advising check-ins and major declaration
Frequently Asked Questions
Personalized guidance and mentorship through the exploration stages of major declaration. Referrals to various campus areas/ partners will aid in a holistic overview of the process.
Your first semester gives you the flexibility to explore your interests while also completing required general education requirements. Students will have the opportunity to adjust their first-semester schedule with the help of the Discovery advisor. However, this is what a first-semester schedule may look like for Discovery students.
FSEM
First course in Interest Area
Gen Ed
Elective
For those students who are undecided when they enter Stetson, the goal is that they will be able to identify and transition into their major by the end of their first year.