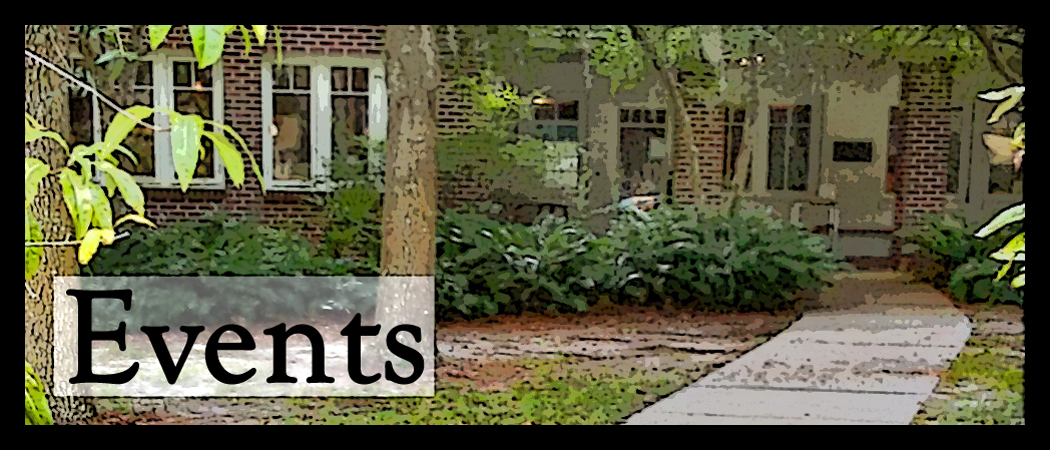 Events and News
The Gillespie has events year-round. Monthly Science Cafés feature presentations on a range of environmental topics, and monthly Science Saturdays offer hands-on educational fun for scientists of all ages.
Check out our upcoming and past events at the museum!
Spring 2021 (event recordings now available)

Dr. Ben Tanner; Stetson undergraduates Cole Orsini, Casey Ramey
"Coring 101: Everything the Armchair Geologist Needs to Know" with wetlands geologist Dr. Ben Tanner, and Stetson undergraduates Matt Fairchild, Cole Orsini, Casey Ramey, and Megan Vincent
Stetson University's environmental geologist, Ben Tanner, joined by a team of his undergraduate researchers, presented the first in the Gillespie Museum's spring 2021 Science Café series Armchair Geology. Their presentation explores the different ways that earth scientists extract sediments from the ground and provides a picture of all the fascinating information that these sediments can provide about past changes in Earth's climate. Participants travel virtually with the presenters into the field to recover sediments from a number of challenging environments around the Sandra Stetson Aquatic Center in DeLand and learn about fascinating new findings the team has recovered from >15,000 year old deposits at Wekiwa Spring.

Dr. J.P. Gannon
"How Do We Measure Tiny Mountain Streams? And Why?" with hydrologist J.P. Gannon, Virginia Tech University
J.P. Gannon, Collegiate Assistant Professor at Virginia Tech, Blacksburg, Virginia, presented the what and why of measuring "little rivulets of water, in which you can't even float!" Gannon teaches environmental informatics in Virginia Tech's Forest Resources and Environmental Conservation program. His presentation addresses how hydrologists measure these systems to quantify their health and to determine how they work—from streamflow and groundwater to stream chemistry and temperature—along with some of the fun idiosyncrasies that come along with doing this kind of fieldwork. "I hope participants come away with an appreciation of the importance of headwater streams and understand some of the interesting implications of our simple measurements," says Gannon.

Dr. Cheryl Waters-Tormey
"Structural Geology 'Easter Eggs' and Landslide Hazard Studies in the NC Mountains" with structural geologist Cheryl Waters-Tormey, Western Carolina University
Cheryl Waters-Tormey, PhD, Associate Professor of structural geology at Western Carolina University, presented ongoing research documenting patterns of geological structures in the bedrock of the Hickory Nut Gorge area of the North Carolina Appalachian mountains. Her program features field methods and research results from her collaborative work investigating slopes, outcrops, and rock formations to advance understanding of natural-hazard processes. Since outcrops are relatively rare in heavily vegetated western NC, Waters-Tormey also discusses how field-acquired data are augmented with remote sensing data.

Ethan Fagan, Llano Uplift, Texas
"Granites of the Llano Uplift in Central Texas" with geology senior Ethan Fagan, University of Texas - San Antonio
Ethan Fagan, a geology senior at The University of Texas at San Antonio, presented the fourth and final program in the Gillespie Museum's spring 2021 Armchair Geology series. Fagan discusses the origin and nature of the metamorphic core complex of the Llano Uplift in the Texas hill country, and its associated rock formations, the Streeter and Grit plutons. He presents collaborative research, led by Walter Gray, PhD, University of Texas, San Antonio, on these plutons (deep-seated intrusions of igneous rock), along with methodology for processing rock samples in a laboratory to determine their age and composition.
Spring Exhibit Events - videos

Artist Kayla Powers
Kayla Powers is a weaver and natural dyer whose studios are in Detroit, Michigan. Her work focuses on local, natural color derived from plants - foraged from and cultivated in the city. During a visit to the Stetson campus, she presented a live-streamed Artist Talk on her textile exhibit, and a Dye Demo workshop for Stetson art students, exploring local natural dye plants and demonstrating sustainable practices in creating a swatch book of botanical color. Her Naturally Dyed Textiles exhibit was on display from February 1-March 26 in the Environmental Gallery of the Rinker Environmental Learning Center (RELC) adjacent to the Gillespie Museum. See more about Powers's art on her website.

Work by renowned environmental land art pioneer Alan Sonfist was on display in both the Gillespie Museum and the Hand Art Center, March 2-April 30, in a joint exhibit called "Earth Pandemic." Sonfist's Gillespie installation Earth Monument of Florida is a geological artwork from his landmark "Corings" series, developed between 1971-2012. You can learn more about Alan Sonfist's art on his website.