Speakers - National Conference on Law and Higher Education
Jim Kessler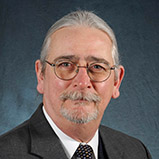 Jim Kessler's career of working with persons with disabilities covers 43 years that include public (state and federal) and private rehabilitation agencies. During the last 32 years, he has worked with various disability services in higher education in a range of areas implementing accommodations and ensuring access for individuals with disabilities on campus. The experience includes 16 years as director of the Department of Accessibility Resources at the University of North Carolina, Chapel Hill, 13 years as assistant director of the Department of Disability Service (UNC), and two years as a handicap technical specialist at the Department of Disability Services (UNC). With particular expertise in the area of accommodations for individuals with visual impairments, he has experience in all areas of disability accommodation.
He was a founding member of the North Carolina Association on Higher Education and Disability (NCAEAD) and served as president in 1996-97 and at the national level with the Association on Higher Education and Disability (AHEAD), serving as president in 2004-2006. He has made numerous presentations at national and other conferences on topics including orientation and mobility on college campuses; computers in the university environment; providing effective services for blind and visually impaired students, making commencement activities accessible; tools and strategies to adapt to changes in support during overseas travel; creating and using teams/committees for decision making; electronic text conversion; and developing professional training/certification.

He received his M.A. in Blind Rehabilitation from Western Michigan University and his B.S. in Education from the University of Louisville. He retired from UNC-Chapel Hill in 2013 and currently serves as a consultant for Salome Heyward and Associates.