Admissions
Prepare for the practice of law.
At Stetson, you will gain the real experience needed to excel in your legal career from the nation's top-ranking law school for courtroom advocacy.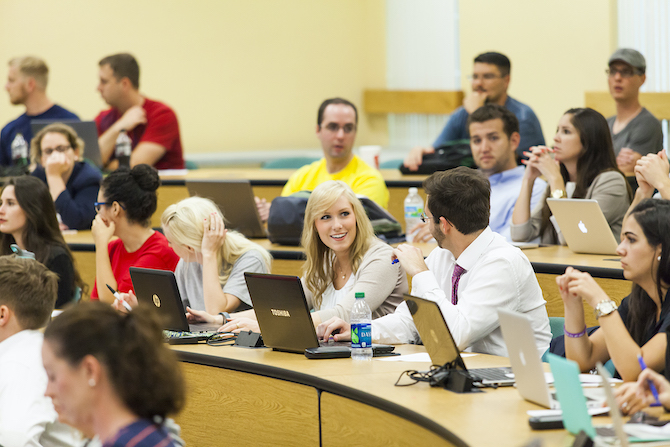 Juris Doctor (J.D.)
The Juris Doctor degree is a cornerstone of the legal profession and is required to practice law in Florida.
Master of Laws (LL.M.)
Advanced degrees for those who have already earned a law degree.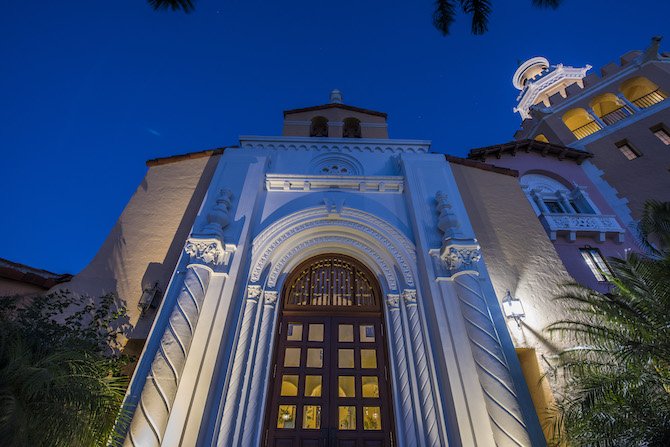 Master of Jurisprudence (M.J.)
Advanced degrees for non-lawyers who wish to obtain a greater understanding of legal systems.
Dual/Joint Degrees and Special Program
Programs for those desiring an accelerated path or seeking specialization in multiple areas.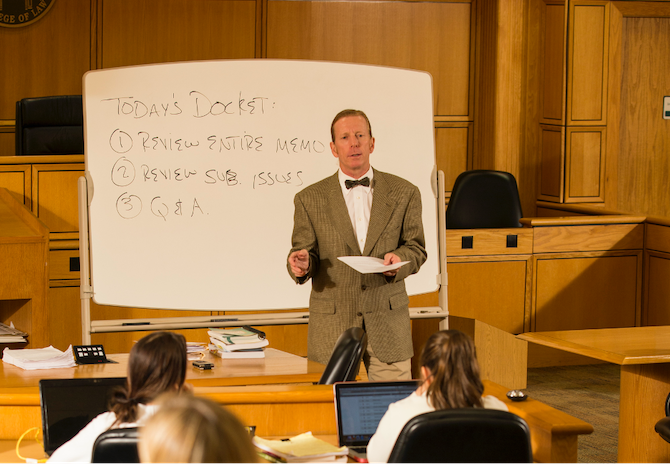 Student Demographics
760 total full-time J.D. students
168 total part-time J.D. students
5 LL.M. in International Law students
19 LL.M. in Elder Law students
7 LL.M. in Advocacy students
6 M.J. in Healthcare Compliance students
2022 J.D. Entering Class
Diversity: 29%
27 states and 6 foreign countries represented
95 colleges/universities
Age range: 20-59
Total new entrants: 306

Full-time: 252
Part-time: 54

New J.D. students receiving scholarships: 78%
LSAT and UGPA for Fall 2022 Entrants
| | 25th Percentile | 50th Percentile | 75th Percentile |
| --- | --- | --- | --- |
| LSAT | 156 | 158 | 159 |
| Undergraduate GPA | 3.28 | 3.51 | 3.72 |
Data as of August 18, 2022.
Financial Planning
Our staff can help provide information about financial planning, scholarships, tuition, and other areas related to funding your education.
Admissions Podcast Series – Real Cases
In this episode, Stetson professors Catherine Cameron and Ashley Krenelka Chase discuss
cases every 1L student should know, what to do when your clients over-share, and how to
separate the essential facts from the merely weird ones when the law and the real world collide.
In this episode, Stetson Student Wellness Society members Katie Johnson, Kayla Albritton,
and Christopher Manon talk about finding the right work/life balance, how to avoid burnout,
and the crucial difference between being "The Best" and being the best version of yourself.
In this episode, Stetson Law students Francesca Little and Logan Jackson – plus
recent Stetson grad Edson Abadia, Jr. – open their case files on their diverse leadership roles.
Plus: how Stetson has created an inclusive space for Latinx, Black, and queer students.
In this episode, Darren Kettles (Director for Admissions) and Karla Davis-Jamison (Assistant
Dean for Enrollment Management) of Stetson University College of Law open their case files on
breaking down enrollment barriers, building a school community, and reaching a diverse
applicant pool. Plus: dispelling some myths about college applications.
In this episode, Professor Stacey-Rae Simcox of Stetson University College of Law opens
her case file on civil war pardons, backlogs at the VA, and what the GI bill promises.
Plus: how Stetson Law students are already changing veterans' lives.