Inclusive Excellence at Stetson Law
Our Commitment to Justice, Equity, Diversity and Inclusion
Inclusive Community
With justice and global citizenship among our core values, we strive to create a diverse student body, staff and faculty who represent the world around us. We embrace all forms of diversity and actively foster an environment where community members are empowered to learn, work and thrive. We invite you to explore what makes up our inclusive community, including the diverse Tampa Bay, Florida metro area.
Executive Officer for Diversity, Collaboration and Inclusion
(Serving Stetson's DeLand and College of Law Campuses)
OUR Students
Stetson takes pride in recruiting a diverse student population from across the globe and fostering a personable law school community where students thrive academically and professionally and form lasting connections.
Diversity at a Glance
View Stetson Law's most recent Class Profile to learn about our diverse student community.
Student Organizations: With more than 40 student organizations, Stetson students have an opportunity to not only grow their interests and networks, but to also connect around shared experiences, identities, and passions. Explore the full list of Stetson's student organizations.
Student and Alumni Profiles
OUR Academics
Through innovative classroom instruction, student and faculty scholarship, and academic programming, Stetson Law values a comprehensive and inclusive curriculum to develop practice-ready lawyers and leaders who will serve their communities, study the complex legal and social issues of the 21st Century, and promote access to justice. Explore the full course catalog.
Diversity at a Glance
Stetson Law offers a wide variety of courses to engage students in current legal issues through a variety of J.D. concentrations, Institutes, and Centers for Excellence, including, but not limited to:
In The News
The academic achievements throughout our Stetson Law community are often highlighted nationally as well as locally and regionally.
OUR Staff & Faculty
Stetson's staff and faculty add to our vibrant campus and are integral in building a personable and inclusive community. We offer a welcoming and supportive environment where employees can share a sense of community and a commonality of purpose. Stetson is an employer of choice, attracting and retaining talented employees who are empowered to contribute their unique talents to our institutional success.
Explore Human Resources
Community Profiles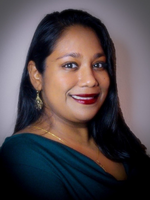 Dr. Sarah Deonarinesingh
OUR Resources & Initiatives
Stetson Law is committed to the development and implementation of proactive justice, equity, diversity and inclusion initiatives to create a learning and working environment where all have an opportunity to succeed. Through a dedicated network of departments and professionals, Stetson offers several campus resources to support students, staff and faculty.
Campus Community Resources and Diversity Network
Committees:


College of Law Diversity Committee
Key Initiatives
"And Justice for All" Exercise by 1L Criminal Law Faculty
Student Cultural Competency and Cultural Humility Sessions
Diversity Pipeline Programming
Scholarship and Mentorship Programs
Inclusive Strategic Planning
Inclusive Hiring Workshops
Employee Orientation Inclusive Community Workshops
Recognition Highlights
Recipient of the Higher Education Excellence in Diversity (HEED) Award from INSIGHT into Diversity magazine three years in a row (2020-2022)
2021-2022 Military Friendly ® School from Military Friendly Advisory Council and VIQTORY
Diversity Outreach Champion Award - National Black Pre-Law Conference (2019)
LSAC Diversity Matters Award for the Southern Region (2018)
Multiple recognitions for being among the top 25 law schools for Hispanics by Hispanic Outlook in Higher Education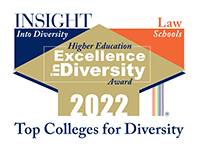 Inclusive Tampa Bay Community
Tampa Bay is home to many, with residents hailing from more than 130 nationalities. In addition to our cultural diversity, Tampa Bay is well-known for being inclusive to LGBTQ individuals and families, with the Human Rights Campaign recognizing St. Petersburg as the top city for attention to LGBTQIA issues for 2020.