English Alumni
Meet some of our outstanding alumni! Also, check out the accomplishments of talented alumni of our MFA of the Americas program – including several Double Hatters.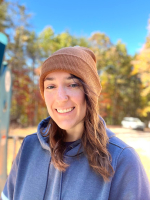 Rene Campbell '21
Rene Campbell, class of 2021, English major, graduate student
I graduated from Stetson in 2021 with my BA in English and minors in creative writing and journalism. As an English major at Stetson, I was a Sullivan Creative Writing Scholar, Sigma Tau Delta member, and was the executive editor of Touchstone, our literary and arts journal. Currently, I work as a content creator for Saxony Partners and Pereview Software. My English degree helps me in my position every day, and was a key factor in my employer's interest in my resume. My day-to-day requires me to be creative as well as technical. Whether it's writing copy for our websites, emails or social media posts, I have to make sure that my messaging is both precise and unique. The high bar for success that all of my professors in the English department had truly allowed me to become the multi-faceted writer that I am today. As I continue my education with UCF's Technical Communications M.A., I constantly find myself thankful for the strong research and critical thinking skills that Stetson's English department faculty taught me.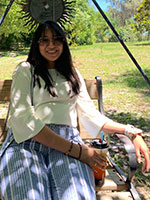 Rachaell Diaz '20
Rachaell Diaz, class of 2020, ENGL and RELS major, graduate student
I am Rachaell Diaz, first-generation student from Miami, Florida and formerly an English and Religious Studies double major. Currently, I have moved back to Miami in order to complete my master's degree in Religious Studies at Florida International University; primarily focusing on the religions of Latin America and the personal narratives of diaspora communities in the United States. I loved being an English major at Stetson due to the constant ability to grow as a writer and engage with a wide variety of texts. I believe these skills consistently help me move forward in my current position as a Teaching Assistant in FIU's English Department. This upcoming academic year, I will begin teaching Writing and Rhetoric I with a focus on multilingualism to incoming first-year students, and I am excited to incorporate some of the wonderful skills I was taught during my BA for my students.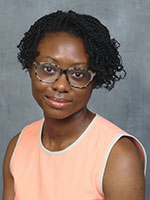 Claretta Holsey '19
Poet and Production Editor, Rona Jaffe Fellow, Global Africa Translation Fellow, University of Iowa
Claretta Holsey graduated summa cum laude from Stetson University in 2019 with a degree in English and minors in Creative Writing and French. Later that year, she entered the MFA poetry program at the Iowa Writers' Workshop as a Rona Jaffe Foundation Graduate Fellow.
Claretta studied English at Stetson because she loved the written word and aspired to have her words read. Her undergraduate experiences prepared her to write her full-length poetry thesis Good Grief for which she received a Jane Mead Fellowship at the Iowa Writers' Workshop. Too, her experiences gave her the tools to research and draft substantial project proposals, which enabled her to win a Stanley Student Fellowship Award for International Research and a Global Africa Translation Fellowship from the Africa Institute in Sharjah.
She has taught undergraduate and community creative writing workshops in Iowa City and has, at each point, followed the example of the many mentors in the English department who inspired her to pursue her creative goals. In fall 2021, Claretta will begin an MFA in Literary Translation at the University of Iowa. She is a Production Editor at Copper Canyon Press.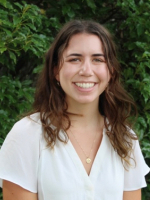 Emily Keck '22
Emily Keck, class of 2022, English major
I graduated in May 2022 and am currently a Commercial Sustainability consultant in Chicago, Illinois. My English courses helped prepare me to communicate clearly and effectively with coworkers and clients. In my role, I need to be able to look at challenges from a variety of viewpoints, and my undergraduate experiences have prepared me to think critically and openly when facing obstacles and working with clients. I am grateful for my time in the English department at Stetson, for helping improve my communication skills and expanding my worldview.
Joe Lapin '20
Joseph Lapin (Class of 2003) - Vice President of Marketing and Brand Strategy at Archer Education
As the Vice President of Marketing and Brand Strategy at Archer Education, I have been lucky enough to build a career around my core passions: storytelling, strategy, marketing, education and consumer behavior. My journey started after I earned my Master of Fine Arts in Creative Writing, and I moved to Los Angeles where I worked as a freelance journalist and wrote for publications like the LA Times, LA Weekly, Slate, and many more. I brought those storytelling skills to Archer Education, where I helped build a digital marketing company focused on creating marketing strategies and brand campaigns for top-tier higher education institutions. As I build my career as an advertising professional, I still work on my craft as an author and essayist, pursuing my dream of writing novels. My writing has been published in Narratively, Los Angeles Review, Salon, Slate, The Independent, The Rattling Wall, The Middle Gray, Sirens Call Publications' anthology Mental Ward: Echoes of the Past, Literary Orphans, Dr. T.J. Eckleburg Review and Sliver of Stone. I'm a proud Hatter, and I graduated in 2003. I blog at www.josephalapin.com.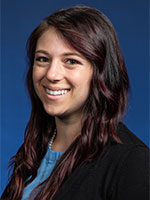 Chelsea LeNoble '12
Assistant Professor of Industrial/Organizational Psychology
As an English major at Stetson, Chelsea LeNoble, PhD, was a Sullivan Creative Writing Scholar, Sigma Tau Delta member, and contributor in The Reporter and Touchstone. She earned her Ph.D. in Industrial/Organizational Psychology from Florida Institute of Technology and, after a postdoctoral fellowship at Clemson University, she joined the Embry-Riddle Aeronautical University faculty in 2019. LeNoble was excited to return to Central Florida with her husband, Kyle (also a Stetson alumnus), and their dog, Finn. She remains connected to her creative writing roots, having published poetry in literary magazines at Florida Tech and Embry-Riddle.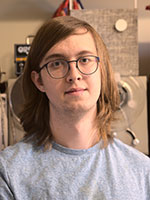 Jacob Mauser '20
Financial Crimes Analyst, Ernst & Young
At Stetson, I loved sitting up late with a few books and an idea and scouring my sources to build towards my conclusion. I not only learned the value of patience and hard work, but also gained the rhetorical and structural tools I needed to make that work truly mean something. I learned how to construct a meaningful and well-reasoned argument from diverse sources, skills I use now as a financial crimes analyst at EY, one of the largest accounting firms in the world. My work now feels a lot different from what I studied at Stetson, but the critical reasoning and writing skills I learned here will always serve me well.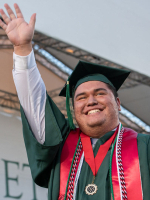 Nelson Quezada-Herrera '21
Nelson Quezada-Herrera, class of 2021, English and political science double major, political consulting
As an immigrant and a first-generation college student, I could not have asked for a better education than the one Stetson and the English department provided me. The professors in the English department are committed to seeing their students not just succeed, but also grow as individuals. Thinking critically about texts has allowed me to develop well-crafted arguments—something that I use on a daily basis in my job and in all jobs I've had. In my political consulting job, I do a lot of proofreading and writing copy for political candidates and organizations. I'm able to produce persuasive and engaging content for voters and easily catch grammar mistakes my peers make.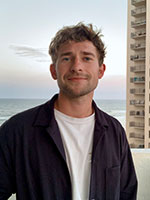 John Thompson '20
John Thompson (Class of 2020) - Current: Style & Gear Editor for BroBible.com
John is a 2020 graduate with a Bachelor of Arts in English. Originally from Kansas City, MO, John moved to Daytona Beach after graduating during COVID to pursue freelance writing. Throughout the Pandemic he worked a number of part-time jobs so he could write for clients in industries such as fashion, sports and podcasting. After a year of freelancing, he assumed the role of Style & Gear Editor for BroBible.com, a lifestyle publisher and content collective focused on sports news, culture news and gear.
Reflecting on his experiences as an English major John had this to say: "The Stetson English Department challenged me to think critically about everything within literature and beyond. My degree has taught me how to look at the world through different lenses, all the while making sure I could communicate my opinions effectively as to what I thought each time. I also discovered how to problem solve—the kind that involves fitting square pegs into round holes. My favorite part about being an English major was the close-knit community of students and faculty. Every student is eager to learn, and every faculty member is passionate in sharing their knowledge and wisdom."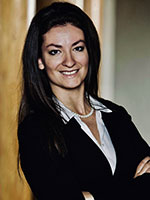 Viviana Vasiu '15
JD, Trial Attorney
At the age of eighteen, I moved to the U.S. from Romania to pursue my dream of becoming an attorney. I graduated from Stetson University as the Etter McTeer Turner Award recipient in 2015 and from Stetson Law as the American Law Institute Scholarship and Leadership Award recipient in 2018. Choosing to major in English at Stetson University was one of the best decisions I ever made for my personal development and career. The English Department at Stetson prepares you to analyze, write, research, and speak on a level that few programs and universities achieve.
The close-knit community, low student-teacher ratio, excellent faculty and writing-intensive curriculum are just a few of the key factors that actively contribute to that. The skills I learned and refined as an English major have helped me, among other things, to publish several law articles, serve as the Editor in Chief of the Stetson Law Review, and serve as a federal Judicial Law Clerk for the U.S. District Court for the Middle District of Florida. I am currently serving as a Trial Attorney in the Attorney General's Honors Program.