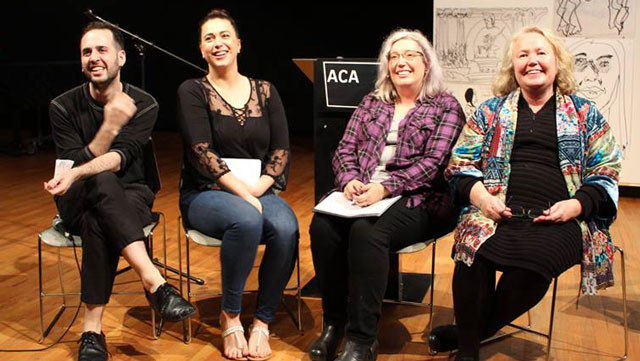 Students and Alumni
Our students arrive from different disciplines and go on to create, publish and perform in a variety of modes. From social media projects and feature journalism to poetry, prose and artists' books, we celebrate them and their accomplishments.
Amanda Ellard, 2022
Carley Fockler, 2020
Carol Ann Moon, 2018
"Orchids - April 10, 2022" | Dr. Luisa Igloria's Blog, 2022
"Elegiac Sonnet to 12 and 3" | Muddy River Poetry Review, Spring 2022
"Elegiac Sonnet to 9 cm" | Muddy River Poetry Review, Spring 2022
Interleaving: Poets in Conversation | Saint Leo Univerity, 2018
"1969 Hasbrouck Heights" | Indiana Voice Journal, 2017
"Using Archives and Special Collections Print Primary Sources to Discuss Electronic Resources' Advantages and Disadvantages" | ICERI 2018 in Seville, Spain, 2018
C.G. Myth, 2023
Delila Smalley, 2018
untitled | Bodies of Words, December Publish, Inc.
Dona Mayoora, 2023
"Visual Poetry on the Page: With, Within, and Without the Word" | International Visual Poetry Exhibit. Oklahoma, U.S.A. 2021.
The Antibodies | Collaboration with Terri Witek. The Blasted Tree Art Collective & Publishing Co. 2021
Featured work in Judith: Women Making Visual Poetry | Timlaset, Sweden, 2021
Punctum | Collaboration with Gary Barwin. Gap Riot Press, 2021. Selections also featured in Belfield Literary Review, 2021
"THE FORGIVENESS OF SCISSORS" | Collaboration with Gary Barwin. Visual Poetry Performance. Belfield Literary Review Launch event, Hosted By MoLI – Museum of Literature Ireland. 2021
"Siren" | Samakalika Malayalam Vaarika, 2021. Presented at poetry reading and discussion at 8PM DISCOURSE at Clubhouse: The Social Audio App.
WTPLive Literary Award for Neela Moonga | 2021. Interview.
"Uduppu" and Malayalam translation of poem by Yehuda Amichai | Litart Web Weekly, 2021
Malayalam translation of The Rape Kit by Terri Witek | Padabhedam, 2021
Erica McCay, 2020
Jacklyn Gion, 2018
"brine" | Two If By Sea, Vol. 1, 2020
"Las Cintas" | Sinking City, Issue 2
"O, Snap" | O, Miami Poetry Festival, Project Contributor, 2017
Jared Alan Smith, 2018
Jennifer Paccione-Diaz, 2020
"Partraits of a Puzzle in Pieces" | New Orleans Poetry Festival, 2019
Untitled Poems | Matchbook Magazine, Vol. 5
Lucianna Chixaro Ramos, 2018
Mary Duerksen, 2020
"Manifesto for Immigrants" | Crambo, 2019
Michelle Pavone, 2018
Pablo Vindel, 2019
Rebecca Renner, 2018
Richard Koethe, 2019
"Social Distancing" | The Quill, 2021
Book Review | Military Review: The Professional Journal of the U.S. Army, March - April 2016
Book Review | Military Review: The Professional Journal of the U.S. Army, Novemeber - December 2016
Rudolph J Esparza Jr., 2022
Sammie Morris, 2020
Stella Rothe, 2022
"Of Things That Fly Away" | Sigma Tau Delta's The Rectangle; Elizabeth Holtze Creative Nonfiction Award, 2021
Stephen Weiss, 2017
"A Modest Proposal" | The Write Launch, 2022
"A Curly Tale" | Evening Street Review, 2022
"Cancer" | Torrid Literature Journal, 2022
"Lady Macbeth" | Ghostlight: The Magazine of Terror, Spring 2022.
"Memento Mori" | The Roanoke Rambler, 2022
"Hammer Time" | The Penmen Review
"The Frog Pond" | Edison Literary Review, Issue 20, 2021
"Death Wish" | Five on the Fifth, 2021
"The Murmuration" | Streetlight Magazine, Issue 34, 2020
"Primum Non Nocere" | Green Hills Literary Lantern, Vol. XXXI, 2020
"Secret Garden" | DASH Literary Journal, 13th Edition, 2020
"Out of My Hands" | Off The Coast: Maine's International Poetry Journal, 2020
"Penelope's Tapestry" | The Opiate, Vol. 19, 2019
Check out more of the accomplished alumni of the Stetson English department.