General Education Writing Assessment Results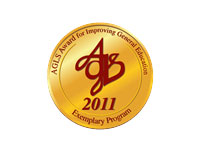 Stetson University, through the work of the General Education Assessment Committee, won the 2011 Exemplary Program Award from the the Association for General and Liberal Studies (A.G.L.S.). The award was given for outstanding work of the General Education Assessment Committee on establishing outcomes and testing them in the first wide-scale writing assessment (fall 2009). The A.G.L.S. serves colleges and universities by fostering strong general education programs. For details on this award, including criteria and an application rubric, please refer to the A.G.L.S. website.
Our outcome statement for student writing at Stetson University—the first on our list of general education learning outcomes—reads as follows:
1.1 - Writing
Students can compose and revise written texts that employ an appropriate voice to coherently express relationships between ideas from multiple sources, illustrating awareness of rhetorical context and purpose.
The 2009 writing assessment results showed that nearly 75 percent of our incoming students—and nearly 76 percent of our graduating seniors—met or exceeded our learning goals. While these results are laudable, our expectations are high. Further examination of the assessment data offers some direction. We identified several gaps in our curricular programming and the related assessment:
Students tended to lose some of their writing skill between the first and fourth years, suggesting the need for additional reinforcement of those skills by means of additional writing opportunities in the second and third years.
Assessment samples from senior students in the School of Music revealed that writing in the music curriculum can be reinforced by W.A.C. pedagogy and teaching.
Assessment samples from senior students in the School of Business Administration suggested that while an increased emphasis on case study analysis should remain the capstone expectation for seniors, additional pre-senior year writing experiences should also be incorporated systematically.
Students taking FSEM in a separate semester from ENGL 101 tended to show slightly lower results than students taking FSEM and ENGL 101 concurrently; this desired immersion is, however, currently impossible for all students because of staffing issues. We continue to work on creative approaches to staffing and curricular offerings to ensure that the effective immersion experience of Writing in the first year can happen for as many students as possible.
We have continued our embrace of writing at all levels of the learning process by offering more and more opportunities for student writing in writing intensive courses across the campus. Currently Stetson University offers more than three dozen writing-intensive courses for students eager to heighten their effectiveness at writing in all situations, an ability achieved only by careful instruction by a wide range of faculty who are experts in their respective fields. The number of writing-intensive courses continues to grow at an exciting rate.