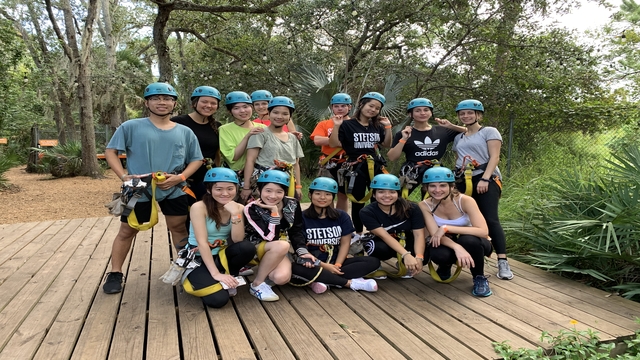 Incoming Exchange - Frequently Asked Questions
Any student who is not a U.S. citizen or a permanent resident of the United States is considered an international student. International students usually need an F1 or J1 visa to study in the United States.
A student can choose to stay either one or two semesters. If they chose to stay for only one, they are welcome to choose whichever semester works best for them.
Unfortunately, no; however, you are welcome to come to Stetson for a semester or academic year as a visiting student. Please contact the Office of Admissions for more information.
Documents Needed:
Passport
J-1 Exchange Visa
I-94 Card (Online, after a student arrives in the U.S.)
DS-2019 (for J-1 students and their J-2 dependents)
Medical Insurance
Remember to check all passport and visa procedures well in advance of your departure date. Depending on your location, rules and procedures for these documents will vary. It is extremely important that you are aware of the requirements and due dates for acquiring the appropriate documentation before traveling to Stetson. Please keep in mind that you, as the student, are ultimately responsible for obtaining the appropriate visa for the duration of your program.
Yes, apart from the regular weekends students will have vacation days dispersed throughout the semester. Those dates can be viewed in the academic calendar. Most notably, Stetson offers a four-day fall break, a five-day Thanksgiving holiday, and a nine-day spring break. All other days are singular days consisting of national holidays, Values Day, and senior research presentation days.
Stetson University Dining Services (managed by Chartwells, Inc.) knows the hectic life of a college/university student. Dining locations are near the residence halls and classrooms with hours starting at 7:00 am and ending as late as 2:00 am. They have recently implemented a food nutrition analysis program, which offers more low-fat as well as vegetarian and vegan meals, and added flexibility with meal plans, and Chartwells hopes to maintain the highest level of quality food and customer service.
While exchange students are not required to purchase a meal plan, it is strongly encouraged.
For additional information regarding your meal plan options, access the meal plan website.
Students who come from non-English speaking countries must show that they have received at least an 80 on the TOEFL IBT exam, or a 6.5 on the IELTS exam. Students who study in degree programs entirely in English or are already native English speakers are exempt from this requirement.
If you come from an English-speaking country, you may simply write "N/A" in the application question which asks for English proficiency.
Exchange students can take any classes for which they can prove that they have met the appropriate prerequisites at their home university. Approval of prerequisites will be done through the Stetson department chairs by Stetson's WORLD: The David and Leighan Rinker Center for International Learning. Incoming students are to submit a form indicating which classes interest them and WORLD: The David and Leighan Rinker Center for International Learning will verify the student's prerequisites and register them for class. Students should have backup class choices in mind in case their top choices are full, unavailable, or the prerequisites haven't been met. Stetson operates on a Unit system. A one-unit class is equal to 4 credits. Most students take around four classes per semester. All international students are required to take a minimum of 12 credits (or three units) per semester while studying at Stetson.
To search for classes, please visit our Class Schedule Search page and select the DeLand and Celebration option for a semester in which you will attend Stetson.
Students looking to take music courses (non-intro level) will most likely need to audition upon arriving on campus.
During the summer months, temperatures in Central Florida can be quite hot. In the fall, temperatures become very temperate and agreeable. Cold winter days are sparse. Even in Florida's coldest months, temperatures stay fairly moderate, with lows only dipping below freezing a handful of times. In the summer months it rains often, and humidity is very high. In the winter these trends subside and the air becomes very crisp with a majority of days having clear skies and breezy. Because Deland is so close to the coast, the temperature and humidity is lessened due to the sea breeze.
Yes, international students are allowed to work up to 20 hours per week on campus.
After you have been accepted to Stetson University, WORLD: The David and Leighan Rinker Center for International Learning will issue your form DS-2019, which you will use to apply for your J-1 student visa to the United States. You will also be provided with detailed instructions on how to apply for this visa. If you have specific questions about student visas, you can contact WORLD at [email protected].
Yes, all students must submit an immunization record. Stetson University requires proof of measles (Rubeola) and mumps immunity of all entering international students. Information about the required immunizations is available from Stetson University's Stetson Health Service.
Yes. The International Student Orientation helps students with their transition to Stetson University. All newly admitted international students are required to attend at the beginning of each academic term.
Information about the City of DeLand and the surrounding area is available on the Life in DeLand page.