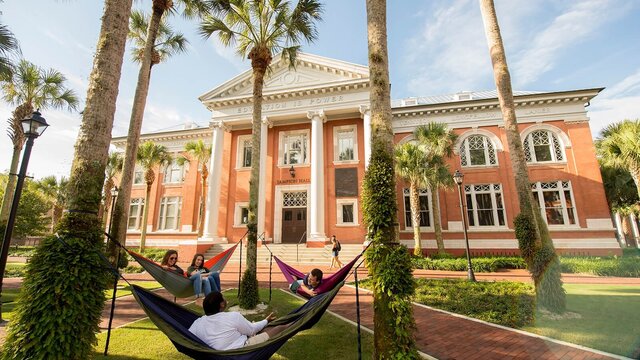 Incoming Exchange - Student Life
International Presence at Stetson
Stetson's student body currently consists of over 200 international students representing over 50 countries and this number is consistently growing. Our community prides itself on embracing international students and their cultures and making every student feel accepted on our campus.
Student Organizations on Campus
Stetson recognizes over 150 different student clubs and organizations. These range from clubs with a global focus such as the Stetson International Organization to a variety of club sports teams.
Stetson attributes much of its campus vibrancy to the large success of student clubs and organizations.
At the beginning of each semester Stetson holds an "OrgFair" for organizations to come out and promote their club. Students interested in joining clubs are encouraged to come out to the OrgFair to gather information and sign up for organizations that interest them.
Complete List of Student Organizations
Surrounding Areas
Stetson sits just north of the beautiful historic downtown area of Deland, Florida. Mixing old charm with modern eclectic stores and monthly festivals of all types, the downtown area is an exciting place for students to visit and spend their time. Deland is also lucky to be surrounded by an array of state parks and nature preservation areas open to the public for camping, biking, running, swimming in the springs, or just general recreation. Directly east of Deland by about 20 minutes is Daytona Beach. On the weekends students like to carpool with friends to the beach for some hours enjoying what the Sunshine State has to offer. South of Deland by about 50 minutes is Orlando. Known as "The City Beautiful", home to Walt Disney World, Universal Studios & Islands of Adventure, SeaWorld, host of the professional NBA basketball team, the Orlando Magic, and a hot spot for concerts and events of all types, Orlando is truly a vibrant city with much to offer for students on the weekends.
What is listed above only catches the tip of the iceberg of all the possibilities for entertainment at Stetson. For more information on Deland and its surrounding area, please explore the links listed below.