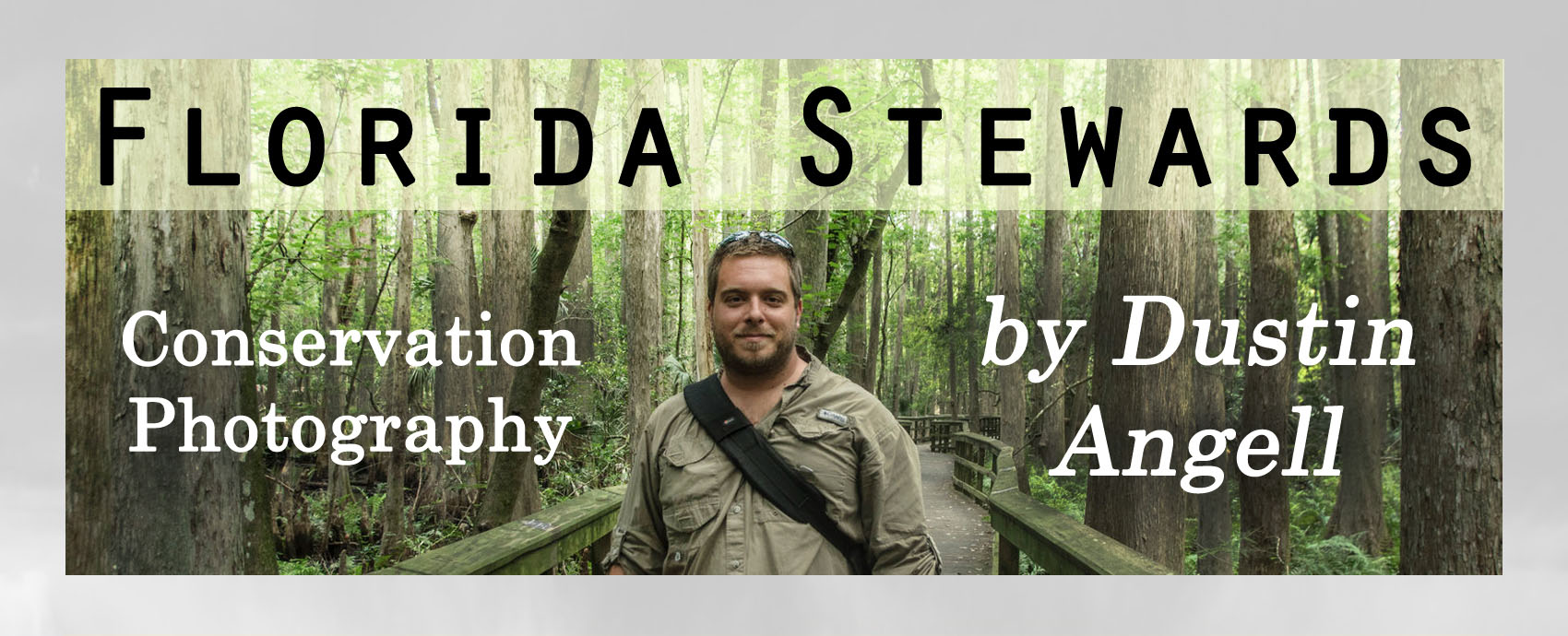 Florida Stewards
This Spring 2020 exhibit featured the conservation photography of Dustin Angell, and was the inaugural display in our new Environmental Gallery of the Rinker Environmental Learning Center (RELC), next door to the Gillespie. Florida Stewards highlighted the people working to protect the wildlands and wildlife of Florida, the biologists, land managers, artists, and others who take to the wild places, and who work to understand, protect, and live with Florida's natural wonders. Dustin's photos document the science and conservation challenges of the region by showing the people trying to solve them. The installation ran from January through March 13, 2020. (The Florida Stewards exhibit handout provides more information on Dustin's work and on the conservation photography movement.)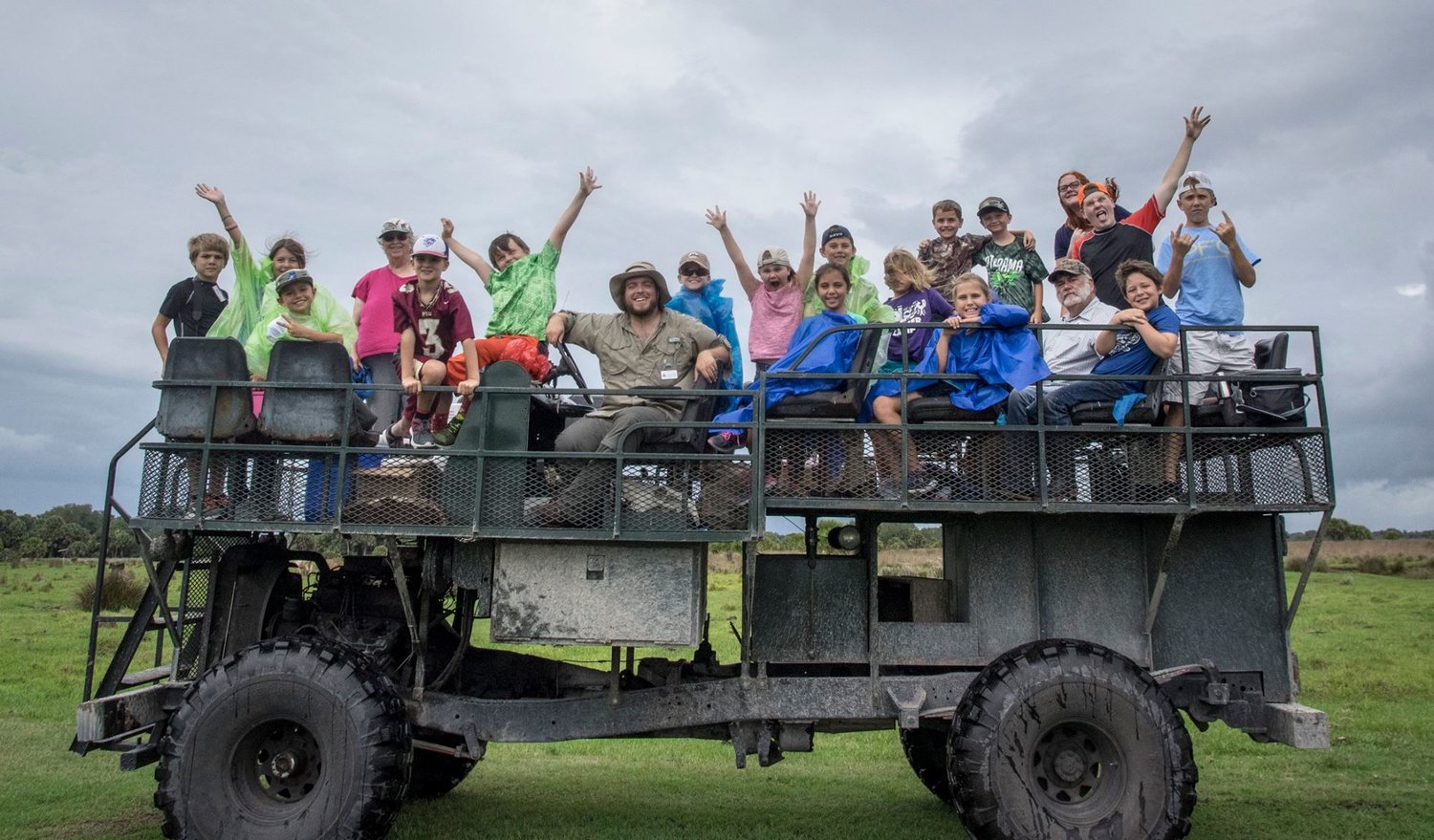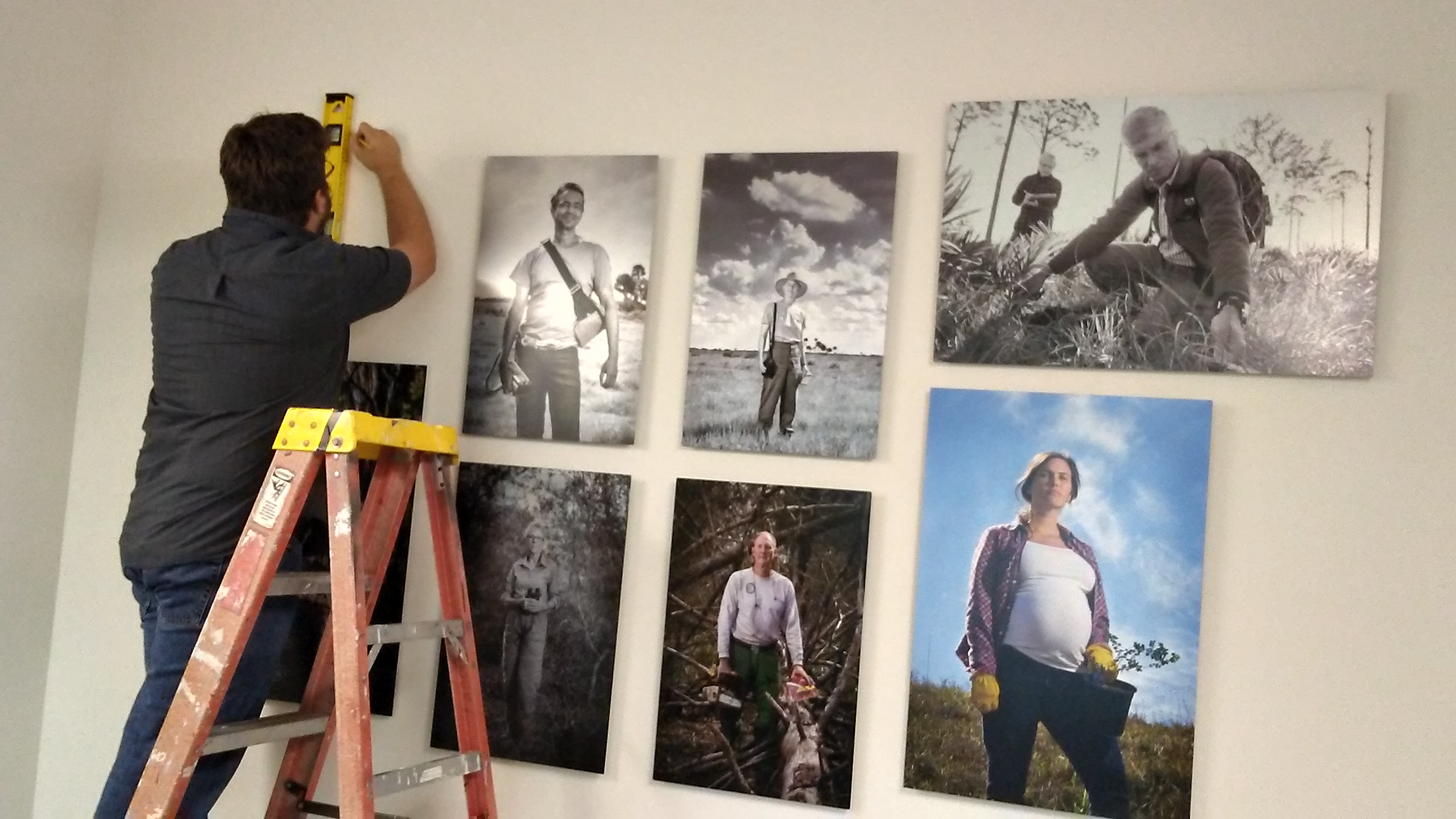 Dustin leading a buggy tour at Archbold; Dustin installing Florida Stewards in the Gillespie's new Environmental Gallery
Dustin Angell is a conservation photographer and environmental educator, living and working within the headwaters of the Florida Everglades. He is the Director of Education at Archbold Biological Station in Venus, FL. Soon after moving to Venus from Syracuse, NY in 2013, he began taking his camera to work to document educational outreach and ecological research. Conservation photography became his purpose, leading to photography shows and a photo essay on Florida grasshopper sparrows in the Spring 2017 issue of Living Bird Magazine.

Some of Dustin Angell's "Florida Stewards"
Angell's educational work has garnered recognition and led him to leadership roles throughout the state. He received the 2015 Outstanding Educator Award from the Florida Chapter of the Wildlife Society, served as president (2017-2018) of the League of Environmental Educators in Florida (LEEF), and is on the steering committee for the Lake Wales Ridge Ecosystem Working Group.

Conservation fieldwork photos by Dustin Angell
In the summer of 2019 Dustin Angell introduced an arts project, #MyScienceFuture, to campers at Archbold's Ecology Summer Camp sessions. This multi-day project used Angell's Florida Stewards photo series as a way to promote science careers. Students learned about local science and conservation, dressed up for their own photo shoots with Angell, and wrote accompanying messages for the viewers about their feelings on science and nature. The project combines photography appreciation, imaginative play, drawing, and creative writing as tools for learning about nature and science. Angell has recently been presenting #MyScienceFuture at education conferences, created a selfie-booth version for community festivals, and is planning to create a mobile version for classroom teachers to use.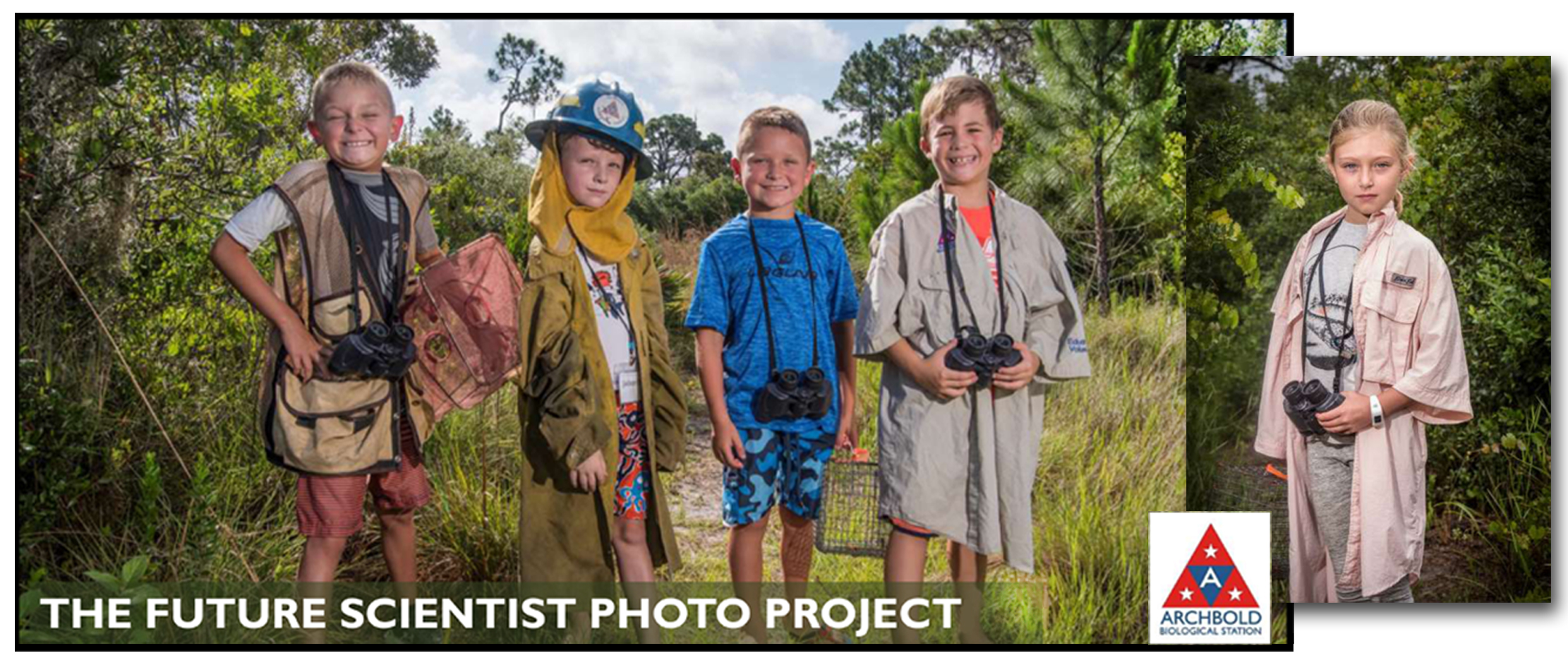 Dustin Angell's Future Scientist Photo Project
Stetson Stewards

Some of Dustin Angell's "Stetson Stewards"
While Dustin was at Stetson for the opening of his Florida Stewards exhibit, he conducted a conservation photography workshop with Stetson students and faculty, from the environmental and life sciences and from the museum. He photographed workshop participants and produced the following gallery of slides combining his images with the individuals' personal conservation messages. We are calling this project Stetson Stewards. Check it out below, and be inspired to start your own good work for the planet!
Dustin Angell's Stetson Stewards photo project, with participants from his Gillespie Museum workshop, January 17, 2020.
You can view more of Dustin's conservation photography in the album below, or at his website Dustin Angell Photography.