Agatized Coral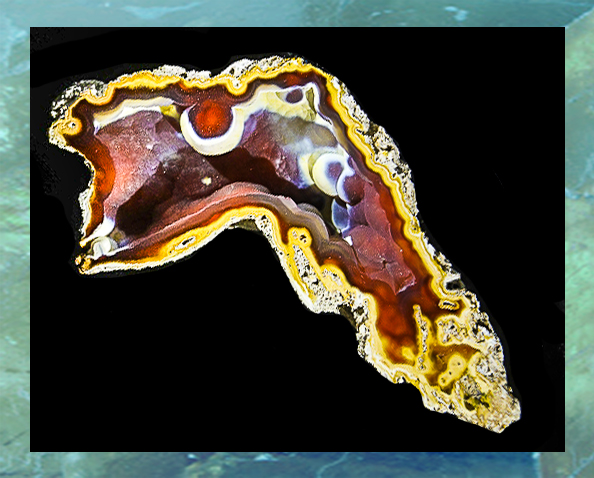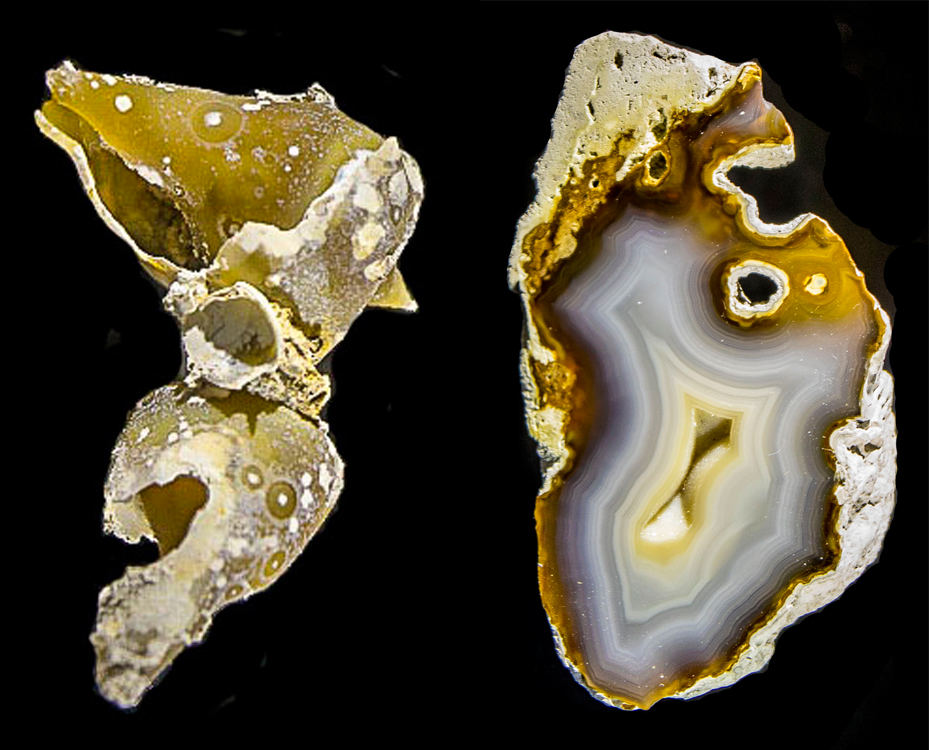 Agatized corals and other agatized marine fossil specimens
Our Fall 2019 - Spring 2020 exhibit Agatized Coral and Other Silicified Fossils was open from October 4, 2019, through May 1, 2020. It featured 140 specimens from the personal collections of renowned Florida geologists Sam Upchurch, PhD, former Professor and Chair of the Geology Department at the University of South Florida in Tampa; and Gary Maddox, a hydrogeologist for the State of Florida and co-owner of Apalachee Minerals. The installation provided an amazing opportunity to view fine specimens of agatized coral, and other examples of silicified fossils from locations in Florida and southern Georgia. A rare type of mineralized fossil consisting of a variety of fine-grained crystalline quartz called chalcedony, agatized coral was chosen by the state legislature in 1979 as the Florida state rock. These fossils can be found in several areas in the state, and are highly sought after by collectors. As specialists in Florida geology and karst systems, Professor Upchurch and Mr. Maddox have collected specimens for decades. (For more on the origins and processes which created these rare specimens, see our Florida Formations exhibit, which tells the larger fascinating story of Florida's unique geology.)
Agatized corals are fossils formed when silica from groundwater replaces ancient buried corals (as opposed to typical calcite-replaced fossil corals). They consist of void fossils that have been filled with various forms of quartz (another name for silica), primarily one called chalcedony, and, in some cases, both chalcedony and rock crystal quartz (quartz that is clear with large visible crystals terminated by crystal faces). The term "agatized" refers to the variety of translucent chalcedony called "agate," which has very small crystals (micro- or cryptocrystalline), and is characterized by banding and rich coloration, properties that are common to agates worldwide.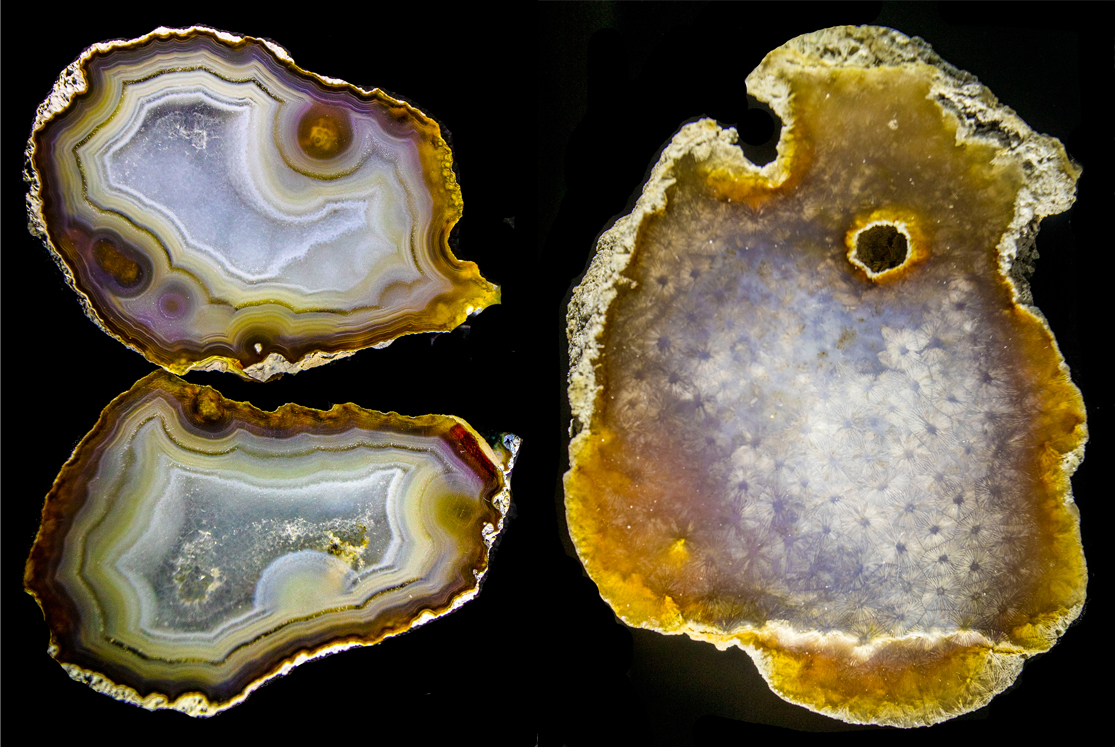 "Agatized" coral specimens on left, "silicified" coral specimen on right
All of the fossils from this exhibit fall under the technical term "silicified" because their original forms, and even sometimes their internal structures, have been replaced by "silica" (SiO2)—either in the form of coarsely crystalline, granular quartz, or the translucent variety of cryptocrystalline quartz and moganite called chalcedony. Within this broader category, there are some other historical distinctions, though, which have been used by geologists and collectors over the years. Our exhibit helped to explain this terminology while illuminating some of the important differences between these breathtaking specimens.
Following on the heels of last spring's Florida Calcite, this exhibit offered another unique opportunity to see and study a special collection of beautiful and scientifically fascinating specimens, representing decades of research in Florida's karst limestone terrain by preeminent experts in the field.
This video by Spectrum News 13 introduces the Agatized Coral exhibit. In the interview Florida geologist Sam Upchurch, Ph.D., former Professor and Chair of the Geology Department at the University of South Florida in Tampa, shows us Florida's state stone, giving us a glimpse of the exhibit's rare agatized and silicified corals and other silicified marine fossils, and discussing the local origins and distributions of these natural wonders.
Check out our online coloring pages of actual agatized coral specimens. For these and other unique downloadable museum resources, see our new Educational Resources page.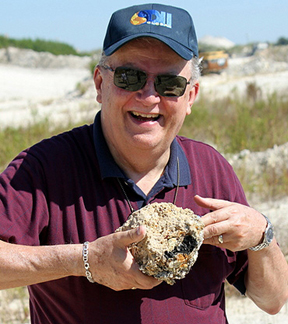 Sam Upchurch at Hernando County quarry
Sam Upchurch is a former Professor and Chairman of the Geology Department at the University of South Florida in Tampa. He became a collector of minerals and fossils when he was a teen and has been collecting for over 50 years. His expertise is in Florida karst, sedimentology, and geochemistry. In the late 1970s, he received a research grant from the State of Florida to develop a method for archaeologists to identify locations in Florida where early Native Americans obtained chert (silicified limestone) for the manufacture of tools such as spear points, arrowheads, and knives/scrapers. This method has been in use for over 30 years by local archaeologists. As part of this work, he and his colleagues discovered the mechanisms of silicification in Florida. Dr. Upchurch has continued to collect and study silicified rocks and fossils, some of which are displayed in this exhibit.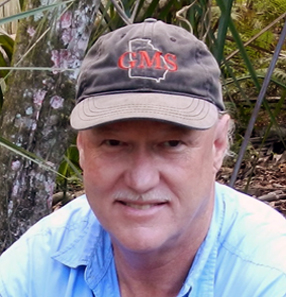 Gary Maddox of Apalachee Minerals in Tallahassee, Florida
Gary Maddox began collecting minerals in 1966 at the age of eleven. It all started when a new kid moved into his Jacksonville neighborhood from Nebraska with a small box full of colorful agates, jasper, and minerals. Having never seen anything like this before, he immediately developed a strong interest in minerals, and, from there, for geology in general. This interest was further advanced when he joined the Jacksonville Gem & Mineral Society, which provided him with the opportunity to go on numerous field trips throughout north Florida, collecting minerals, fossils, and observing Florida geology first-hand. His interest continued into college where he studied geology and environmental science. Since 1986 he has worked as a hydrogeologist for the State of Florida. In 2003, he began a commercial mining project in south Florida, collecting and preserving calcite-filled clams and other mineralized fossils, which led to dealing in mineral and agate specimens online and at gem and mineral shows as "Apalachee Minerals." (www.apalachee-minerals.com)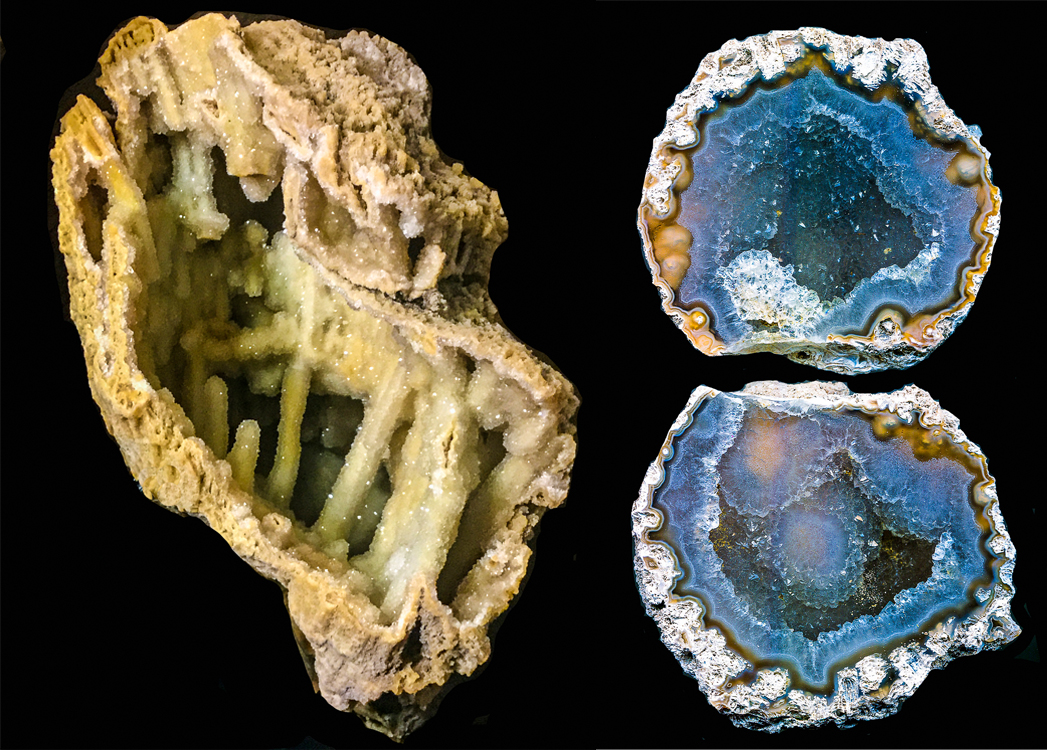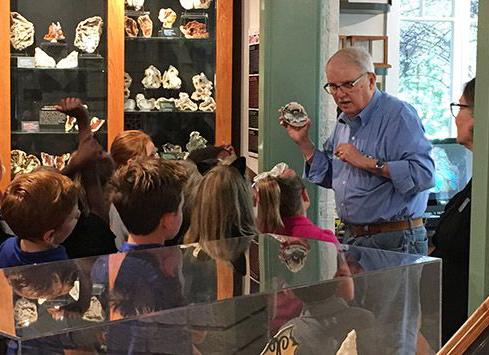 Agatized coral and agatized coral rock crystal geode specimens; Sam Upchurch talking Agatized Coral with elementary school students at the Gillespie