Board of Advisors 2017 - 18 (continued)
Peter J. Matulis '94
Executive Vice President
Profit Center Leader
Brown and Brown of Florida, Inc.
Orlando, FL
Peter J. Matulis is a 1994 Stetson graduate with a B.B.A. in finance. After working 3 years in the banking industry with First Union National Bank, Peter joined Brown & Brown, Inc., in 1997. Brown & Brown, Inc. is the nation's sixth largest insurance brokerage. After a 15+ year career as a senior sales producer in the Daytona Beach, FL office, Peter transitioned to the Brown & Brown office in Orlando, FL to lead the sales team. Following three years of record sales growth, Peter ascended to the Profit Center Leader of the Orlando office in 2016. Peter currently leads a team of 75 insurance professionals responsible for advising and maintaining risk management solutions for commercial insurance, employee benefits, and personal lines. Peter holds the Chartered Property Casualty Underwriter designation.
Peter has held positions with the following organizations: Independent Insurance Agents of Volusia County, the DeLand Housing Authority and the Volusia Echo Advisory Board. From 2003 to 2009, Peter served on the Stetson University Alumni Association Board as the Young Alumni chairperson. He participated in Leadership Stetson in 2008 and served on the Greek Alumni Advisory Board in 2010. Peter served on the School of Business Administration Board of Advisors from 2011 - 2016 and chaired the board 2013-2015.
Peter and his wife, Amy, live in Orlando, Florida. Peter enjoys running, fitness, music and sports.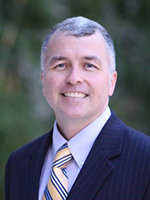 Brian D. Ray '91
Lecturer of Leadership and Ethics
University of Florida, Warrington College of Business
Army Reserve Command Chaplain
Gainesville, Florida
After serving 17 years as associate dean and director of the University of Florida, Heavener School of Business, Brian Ray transitioned to a faculty role in May 2016 to teach courses in leadership, ethics and career management. He also serves as co-director of the Poe Business Ethics Center.
Ray received his bachelor's degree in finance from Stetson in 1991. While at Stetson, he served as student body president during his senior year. He received the Outstanding Young Alumni Award from the University in 2003. Ray went on to earn an M.B.A. from the University of Central Florida, a master's degree in strategic studies from the U.S. Army War College, and a Ph.D. in university administration from Florida State University. He is also a graduate of Harvard University's Management Development Program.
In addition to his work in higher education, he serves as a Colonel in the U.S. Army Reserve. During his military career, Ray has been recognized many times for exemplary leadership and service. He is a recipient of the General Douglas MacArthur Leadership Award, one of the Army's most prestigious honors. He is also a recipient of the Lowry Award, presented annually to the top company-grade officer in the Florida National Guard. Ray is currently command chaplain for the 377th Theater Sustainment Command. The 377th TSC is the largest command in the Army Reserve with 35,000 soldiers and 500 subordinate units. As command chaplain, he directs the religious support of over 100 chaplains and 40 chaplain candidates. Ray has been awarded two Bronze Star Medals, one for service in Iraq and another for service in Afghanistan.
David Scott Rinker '91
Founder/President & CEO
Four Corners Holding Group, LLC
Wellington, Florida
Before launching his career in real estate asset management in 1993, David Rinker worked for the Jack Eckerd Corporation (Eckerd Drug Stores). A licensed real estate and mortgage broker, Mr. Rinker has acquired and managed over 60 real estate holdings on both coasts of Florida as well as in North Carolina and Tennessee. In 2008, he established the Four Corners Holding Group, specializing in buying, selling, managing and improving real estate. As company owner and president, Mr. Rinker oversees and manages the entire portfolio of holdings and purchases new properties.
John M. Scheurer '75
CEO & Chief Investment Officer
Baja Longtail Capital
Bonita Springs, Florida
John M. Scheurer is currently CEO of Baja Longtail Capital, a private investment and advisory firm.
In the past, he was President and CEO, Allied Capital Corporation. He was in the position of CEO when the company had defaulted on its privately placed unsecured debt and the stock was trading at $.73/share. He oversaw the sale of assets, restructuring of $1B in debt, reduction in expenses, reduced headcount and found and negotiated the successful sale of the company for $4.99 per share.
John was also the President and CEO, Ciena Capital Corporation; the Managing Director of Allied Capital Corporation; Management Committee Member, Investment Committee Member, Board member of a number of portfolio companies, and Head of Commercial Real Estate Investments. Prior to joining Allied Capital in 1991, he managed his own commercial real estate company, served as executive vice president of Hunter Companies, a full service commercial real estate leasing, investment and management company and spent seven years with First American Bank in Washington DC. He has more than 35 years of experience in commercial finance and real estate markets.
John is currently on the Board of Cohen Financial in Chicago, Chairman of the Planning Commission Henlopen Acres, Delaware and Advisory Board Member Stetson University Business School.
Stephanie Suggs '98, '99 MAcc
Vice President and Chief Financial Officer
HD Supply Construction & Industrial
Atlanta, Georgia
Stephanie Suggs earned her degrees from Stetson in Accounting with a strong intent to complete her education as quickly as she could. Upon graduation she joined Ernst & Young in the Audit department, climbing the ladder until she joined HD Supply in December 2006 as the Corporate Controller. Her responsibilities have increased steadily until June of 2015, where she was moved into the position of VP and Chief Financial Officer.
Stephanie and her husband enjoy travel and are avid sports enthusiasts.
Kurt Sylvia, parent
Managing Director - Wealth Management
UBS - The Palm Beach Wealth Group
Jupiter, Florida
As a select member of UBS Private Wealth Management in Florida, Kurt is dedicated to serving the specialized needs of a limited number of affluent and institutional investors to ensure the highest level of attention and responsiveness. By working with an elite group of highly trained consultants and specialists, local to Palm Beach, Florida and globally, Kurt delivers customized solutions that address a full spectrum of wealth management needs. These needs extend beyond investment management to include liability management, trust and estate planning, tax management and philanthropic strategies. This approach is based on the model of providing sound advice, access to a world-class product platform and a well-executed plan. By following this approach, Kurt has developed personalized investment strategies that can help balance income, growth and risk for each client. Kurt's mission is to help clients pursue and/or maintain their preferred future through superior levels of consulting and service.
Kurt has over 20 years of experience in the financial services industry.