Summer Innsbruck Programs
The Summer Innsbruck Programs are innovative and dynamic study abroad opportunities for business majors as well as non-business students.
As the business world becomes increasingly global, all Stetson students are encouraged to study abroad at least once. International study offers the joy of learning about another culture, the stimulation of experiencing new environments, and the ability to fulfill your Experiential Learning Requirement, all while linking a foreign culture to your academic experiences.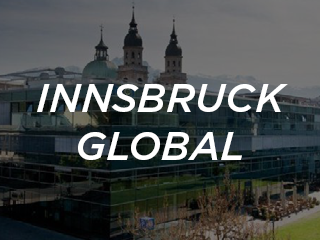 Location: Innsbruck, Austria
Dates: 2023 dates to be determined - please email [email protected] to be notified once dates are set
Hosted by Management Center Innsbruck
Month-Long Summer Session
The Stetson Summer Innsbruck Program is the perfect solution for business students who want to spend a semester abroad but are not able to while taking the courses required for their degree. This all-inclusive program, now in its twenty-fifth year, allows students to take AACSB International-approved business courses taught abroad by full-time Stetson University faculty and distinguished visitors. This year, the program includes new group excursions, including a day trip to Munich, Germany. Innsbruck is centrally located in the cool and beautiful Alps and is an ideal base to study and travel through Europe.
Dates and Deadlines
Travel Dates: June 28, 2023 - July 29, 2023
Applications to Innsbruck Classic are considered on a first-come, first-served basis. Apply early to guarantee your spot!
Courses
Courses for each session are designed to meet the needs of students. A variety of business and non-business courses are available.
Class Period 1 - 8 a.m. - 9:30 a.m.
Prerequisites
EDUC 374V-JS Educational Systems Around the World
None - Junior Seminar
MGMT 430 Advanced Leadership Development
SOBA 202, MGMT 305, or permission of instructor
FINA 320 Investments
ACCT 201 and SOBA 201 or FINA 311
Class Period 2 - 9:40 a.m. - 11:10 a.m.
SOBA 360V-JS Social Justice and the Bottom Line
None
SALS 230 Professional Selling and Communication
Sophomore Standing or permission of department
MGMT 495 Strategic Management
ACCT 201, SOBA 201, SOBA 202, SOBA 203, and STAT 301Q; OR MGMT 305, FINA 311, MKTG 315, ACCT 211 and BSAN 250
Class Period 3 - 11:20 a.m. - 12:50 p.m.
RELS 365B Mary, Max and Mozart: Religion & European Culture
None
FINA 303 Money and Financial Institutions
ECON 103S or ECON 104S
ENTP 305 Principles of Entrepreneurship
None
Pricing
Innsbruck Classic is an exceptional value. As well as having the opportunity to enroll in two courses from exceptional Stetson University faculty, you can network, travel and expand your worldview during the month-long experience.
Program Cost: $6,100 for two courses
The price includes
Tuition - two units
Lodging
Two meals per day for each class day
International health insurance
Four-week city bus pass
Not included
Airfare
Passport fees
Books
Personal travel
Personal purchases
Dinner/weekend meals
Faculty
Courses are taught by full-time Stetson faculty members and distinguished visiting professors.