Meet the Faculty
Assistant Professor of Family Enterprise and Entrepreneurship
Isabel C. Botero, Ph.D., is an educator, researcher and consultant in the areas of management and family enterprise. She obtained her Ph.D. from Michigan State University. Her areas of specialty include strategic communication processes, communication in and about family enterprises, influence processes in organizations and next-generation issues in family enterprises.
Botero has been a full-time faculty at Illinois State University and the University of Minnesota Duluth; an adjunct instructor at the University of Kentucky, DePaul University and the University of Illinois Springfield; and a visiting scholar in the College of Business and Social Science at Aarhus University in Denmark.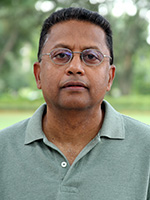 Professor of Leadership
Ram Subramanian is a professor of leadership in the management department in the School of Business Administration. Ram teaches courses in strategy at both the undergraduate and graduate level. He makes extensive use of the case method in his courses. Ram's research interests include both traditional empirical research (in various areas of strategy) as well as in the case method. In 2016, Ram was invited to serve on the editorial board of Case Research Journal, after he won an award from the journal as its "Most Outstanding Ad Hoc Reviewer."
Dr. Subramanian's academic background is in strategic management. In addition, he teaches courses in a variety of areas in the broad field of management including family business, entrepreneurship and organizational behavior.