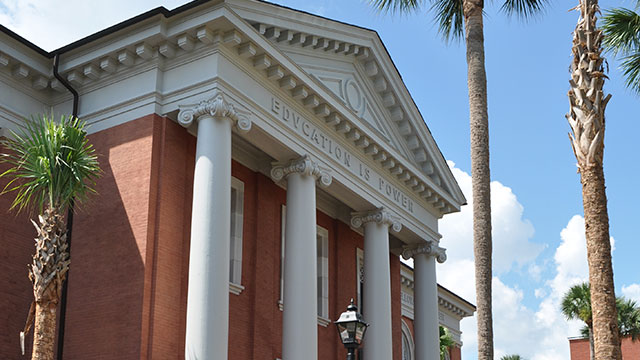 Institutional Research and Effectiveness
Mission
Serve the Stetson community by providing analytical and operational insights, information, and infrastructure to advance our university mission.
Vision
A data-informed culture of continuous improvement in which every person has the tools necessary to succeed, where decision-makers are offered wisdom and insights beyond the data, and systems and automation exist not to simply handle more load but to create more opportunities for meaningful connections in service of student learning and success.
Values
We value our role as service providers with our primary focus on supporting members of the Stetson community in achieving their goals and advancing the mission of the institution. We seek to fully understand the context of each request to provide what will be most helpful, increase data literacy, and promote self-sufficiency. We hold student learning and success at the center of our work and strive to advance equity and belonging. We recognize the importance of efficiency and strong systems while ultimately prioritizing people over process. We are proud members of the Hatter community who enjoy contributing to our spirit of kindness through attending and hosting events. We value adaptability, authentic relationships, clarity, communication, dependability and integrity.
Location
DeLand Hall, Second Floor, Rooms 212 - 218. Due to the historic nature of DeLand Hall, our offices are only accessible by stairs. Please feel free to contact us to request a more accessible meeting space.
Contact
Phone: 386-822-7599
Email: [email protected]
Staff
Colin Hilton-MacFarlane, Assistant Vice President
Jamie Bataille, Data Analyst, External Reporting
Jenni Hughes, Data Analyst, Student Life and Student Success
Jamie Vanderlip, Data Analyst, Academic Operations
Upcoming Events
September 13, 2023 – IRE 9x13 Competition

- The Office of Institutional Research and Effectiveness is excited to host Stetson's Annual 9x13 Competition on September 13 from noon to 1 p.m. in the Stetson Room. These are the final days to register. We are looking for your best dish cooked/prepared in a 9x13 dish in one of the 3 categories; starter/side, main, or dessert. We can't wait to crunch the numbers (see what we did there) and enjoy time with our Stetson colleagues. Questions? Call IRE at 822-7599 or email

[email protected]
Recent Events