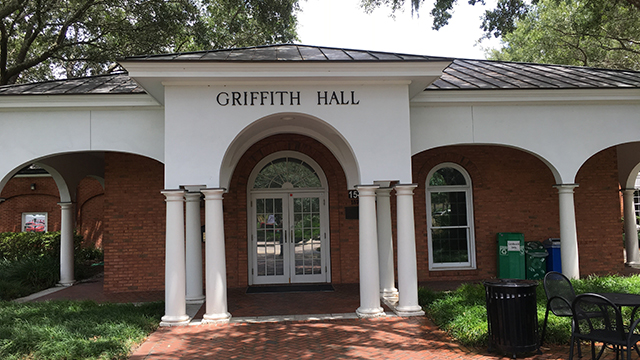 Stetson Health Service
Stetson Health Service's mission is to promote optimal health and wellness, disease prevention and provide quality health care that is appropriate, affordable, accessible and relevant. We strive to empower students to be self-directed and well-informed, and to continually improve the standards of health care.
Please take a moment and tell us how we are doing!
Free flu vaccines are available at Stetson Health Service
Flu season is starting! Stetson Health Service has a limited supply of flu vaccine available free of charge to students and employees. Call Stetson Health Service today at 386-822-8150 for your flu shot appointment!
CDC recommends these approaches to fighting influenza (flu):
The first and most important step is to get a flu vaccination each year.
If you get the flu, there are prescription antiviral drugs that can treat your illness.
Everyday preventive actions may slow the spread of the germs that cause respiratory illnesses like flu.
Try to avoid contact with sick people.
If you get sick with flu-like symptoms, stay home for at least 24 hours after the fever is gone
Cover your nose and mouth with a tissue when you cough or sneeze and then throw the tissue away.
Wash your hands often with soap and water. Use an alcohol based hand rub when soap and water are not available.
Avoid touching your eyes, nose and mouth.
Clean and disinfect surfaces and objects that may be contaminated.
For more information, visit CDC Influenza.
Important Health Update on Monkeypox
Stetson Health Service is monitoring the current monkeypox outbreak in the United States. Monkeypox is a rare disease caused by infection with the monkeypox virus.
Symptoms include fever, headache, muscle aches and backache, swollen lymph nodes, chills, exhaustion and a rash that looks like blisters on the face, inside the mouth, hands, feet, chest, genitals or anus.
This virus is transmitted from person to person through direct contact with the infectious rash, scabs or bodily fluids. It also can be spread by respiratory secretions during prolonged face-to-face contact or during intimate physical contact, such as kissing, cuddling or sex. Although monkeypox is rarely fatal, the skin lesions can be very painful, and they can take from two to four weeks to heal.
If you believe you have been infected with monkeypox, please isolate in place and contact your health care provider and/or your local health department for testing. If you have been diagnosed with monkeypox or have any of the symptoms above, accompanied by a rash, please isolate in place and call Stetson Health Service at 386-822-8150.
The American College Health Association provides a video featuring Dr. Demetre Daskalakis, Director of the Division of HIV Prevention at the CDC, sharing five things to know about monkeypox. In this video Dr. Daskalakis answers questions about what monkeypox is, how it spreads, who is at risk of getting sick, what people can do to prevent getting monkeypox, and what people should do if they experience symptoms.
Please visit the CDC-Monkeypox website for prevention strategies and additional information.
For current COVID-19 information, please visit the Safer Stetson Task Force webpage.
Is Your Insurance Accepted at Stetson Health Service?
To be sure, call the Member Customer Service phone number on the back of your insurance card. Ask them if services at Stetson Health Service will be covered and/or if Dr. Mohammed Asif is in your plan. If you have an "HMO" (Health Maintenance Organization) type insurance, ask if they have a special exception you can set up for college students going out of area. If not, see if you can switch the primary care provider to Dr. Mohammed Asif, otherwise you will need an authorization from your primary care provider each time you make an appointment with Stetson Health Service. If you have questions, call Stetson Health Service at 386-822-8150 Monday through Friday from 8 a.m. to noon and 1 to 4:30 p.m.
Affordable Care Act and College Students
If you have questions about the Affordable Care Act, please view this ACA infographic. You may also refer to the American College Health Association's Resources on Student Health Insurance.
Explore
Various forms are required to be completed and submitted to Stetson Health Service when you first enroll, either as a first-year student or as a transfer student.
University policy stipulates that all students, whether living on or off-campus, have certain immunizations or an immunization waiver on file with Stetson Health Service. This page explains exactly what immunizations are required and on what grounds an immunization waiver may be granted.
Stetson Health Service provides more than clinic hours. We strive to make students more aware of health-related issues in order to make them more self-directed and well-informed with regards to their health care.
If you're new to Stetson University, whether as a first-year or transfer student, you should start with this page, which explains everything from what you'll need to satisfy your health form requirements to what you should bring with you when you arrive on campus.
As with most colleges, all students enrolled at Stetson University are expected to have adequate health insurance to cover them while attending the university. This section explores options for students without health insurance and what to do if you're an international student.
Partnership with Advent Health
Stetson Health Service has entered into a partnership with Advent Health that allows us to offer doctor hours on campus, additional care at Victoria Park Medical Center, improvements to technology and communication of medical records with Advent Health Medical Group.