Student Research Assistants
The Institute for Water and Environmental Resilience is fortunate to have several hardworking student research assistants and interns. Student assistants help with various tasks including landscape management, research projects, event planning, social media, and day-to-day activities at the Institute. A brief description about some of their individual research interests, goals and/or current activities is described below.
Audrey Berlie
I am currently a Senior Water Challenge Ambassador for Earth ECHO International, where I am tasked with increasing the knowledge of the importance of water throughout my community. As a graduate of the Conservancy of Southwest Florida's Teen Internship Program, I have developed an interest in a variety of topics, including invasive species and wetland ecosystems. Through this organization, I also designed an independent research project about mangrove restoration and presented it to my community.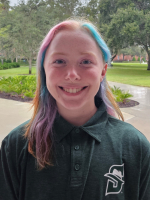 Mollie James
I am currently a sophomore majoring in environmental science. This is my first research experience; I work in collaboration with the East Central Florida Regional Planning Council to investigate the effectiveness of various adaptations to sea level rise. Our goal is to implement the widespread use of green infrastructure throughout the region. I am excited to help change perceptions of sustainability within our community.
Skyler Gipson
I am a junior at Stetson, majoring in environmental science and minoring in both chemistry and computer science. Being a research assistant at the SSAC is my first research experience, and I am interested in diving deeper into water nutrient analysis in future research experiences. I am also interested in researching wetlands ecosystems, ecosystem services, stormwater management, as well as monitoring species migration and population dynamics. My goals include understanding how human practices have affected aspects of the environment, and developing solutions to mitigate or prevent further ecosystem disruption and degradation.
Sophie Crissman
I am a senior at Stetson, majoring in Environmental Studies and an intern at Riverside Conservancy. I am doing my senior research in conjunction with my position as a Research Assistant and internship to evaluate the efficacy of oyster modules to mitigate pollution in the Indian River Lagoon. This past summer, I utilized water sondes and the AQ300 Seal Analyzer to analyze nitrates, phosphates, and chlorophyll-a concentration. I aim to use this research and my job experience to jump-start a career in conservation work.
Zoe Stuckwisch
I am currently a first year here at Stetson University majoring in Aquatic and Marine Biology. Being a research assistant at the SSAC is my first research experience, I am looking forward to being a part of all the projects currently taking place to get my feet wet and explore future research possibilities. I am interested in researching marine mammals and ecosystems, furthering my knowledge in research techniques.
Jenna Hassebrock
I am a senior at Stetson, majoring in Environmental Science and minoring in Chemistry and Public Health. I am currently doing my senior research with IWER to evaluate nutrient concentrations in two stormwater retention ponds in Volusia County using the AQ300 Seal Analyzer and an Aqua Troll 600 multiparameter sonde. The goal of this project is to create a baseline of water quality data prior to the implementation of littoral plants. I am looking forward to assisting with other research projects, as this will help better prepare for my goals of graduate level research.
Avery Brooks
Currently, I am a Stetson University freshman majoring in Environmental Science and Biology and I'm a part of Stetson's scuba, environmental, and aikido club. I'm excited to begin my research experience at the SSAC and join this team to gain research experience out in the field. During my time at Stetson, I hope to work with nearby communities to mitigate or prevent local environmental issues. My goal is to be involved in sustainability research, land degradation prevention, and pollution mitigation.
Kayleigh Alexander
Audubon Campus Ambassador
Kayleigh is an environmental science major and a senior at Stetson who was born and raised here in Florida. She's loved animals her whole life, and has fostered cats and participated in the Lyonia Preserve Scrub Jay count. Her goal once she graduates is to continue to work with animals and to work in a job that helps and protects them. She is a great fit for the Audubon Campus Ambassador program, and is dedicated to educating the public and protecting animals!
Analee Monrreal
Audubon Campus Ambassador
Analee is a senior at Stetson University, working towards a B.S. in Environmental Science with a minor in English. She has lived in Volusia County all her life, and has a love for the beautiful springs, parks and species throughout the county. She is passionate about protecting animals and helping individuals who can't voice their rights. Her current research is focused on air pollution and farm workers in Pierson, Florida, and with this research she hopes to raise awareness about the workers, their working conditions, and the environment. She is a good fit for the Audubon Campus Ambassador program because she believes it is important to protect the environment and everything within it-- and knows we can accomplish a lot if we bring that awareness to Stetson University!