Student Research Assistants
The Institute for Water and Environmental Resilience is fortunate to have several hardworking student research assistants and interns. Student assistants help with various tasks including landscape management, research projects, event planning, social media, and day-to-day activities at the Institute. A brief description about some of their individual research interests, goals and/or current activities is described below.
Audrey Berlie
I am currently a Senior Water Challenge Ambassador for Earth ECHO International, where I am tasked with increasing the knowledge of the importance of water throughout my community. As a graduate of the Conservancy of Southwest Florida's Teen Internship Program, I have developed an interest in a variety of topics, including invasive species and wetland ecosystems. Through this organization, I also designed an independent research project about mangrove restoration and presented it to my community.
Laura Jones
I am a junior at Stetson University majoring in Aquatic and Marine Biology with a minor in education. At the SSAC, I am currently doing water analysis in order to create a hydrology and nutrient budget for Lake Beresford and the surrounding groundwater. This information will be used for reports in order to best inform others on the current water quality status of Lake Beresford. In addition, I help Dr. Corie Charpentier with her research on invertebrates and light pollution in order to see if invertebrate behavior changes due to changes in light type or intensity. This could help to inform future policies on light use near marine ecosystems.
Hayley Furman
I am a senior at Stetson, majoring in Environmental Studies with a concentration in policy and economics. I have previous research experience studying nutrient runoff from animal agriculture, as well as implementing integrated pest management on mushroom farms in partnership with the organization Drawdown. I'm currently working with Dr. Tanner on a project to search for water lettuce seeds within sediment cores.
My academic goals include expanding my understanding and ability to innovate solutions to environmental issues, as well as improving my capacity for methodical and detail-oriented problem-solving. Within the IWER team, I'm excited to have the opportunity to be around people who have similar interests, and to learn from others who have had different experiences within the environmental research space. In my free time, I enjoy kayaking and free diving in the springs, camping, and expressing myself creatively.
Angelica Seracini
I am a senior at Stetson majoring in Environmental Science and minoring in Spanish. My research experience includes working with the Mote Marine Laboratory's Benthic Ecology program on red tide mitigation efforts and the monitoring of oyster populations in Sarasota Bay, as well as volunteering at the Marine Science Center in Ponce Inlet Florida in the aquarium and sea turtle departments. This past summer, I went to Clearwater, Florida to participate in field research with the Coastal Marine Education and Research Academy, tagging sharks and rays to help monitor population changes and habitat utilization of sharks in the Gulf of Mexico.
My research interests lie in monitoring marine mammal populations, red tide mitigation, and the preservation of coral species.It is an honor to be a part of the IWER team, and having the opportunity to be with people who share the same passion as I do is empowering and uplifting. I look forward to doing my part and making a positive impact for our environment! Working at IWER will give me great hands-on experience, and will help me prepare for my career focusing on marine and aquatic conservation.
Ryan Clifton
I am a Senior at Stetson University majoring in Economics and Political Science with a minor in SPREES. While I have been engaged in a variety of policy-based research, my work as part of the IWER team revolves around ecosystem service valuation. Specifically, I am assisting Dr. de Bodisco in grant research that aims to create a map linking land use types to ecosystem services and their values, allowing policy makers to inform their conservation decisions based on valuation metrics and rankings. Beyond conservation, this project holds implications for investment into green infrastructure, elucidating the value that various land use features bring to the general public. I am excited to be joining the IWER team due to the prospect of working across disciplines in order to come to optimal public policy conclusions.
Mollie James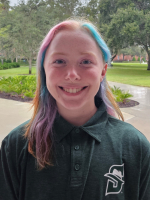 I am currently a sophomore majoring in environmental science. This is my first research experience; I work in collaboration with the East Central Florida Regional Planning Council to investigate the effectiveness of various adaptations to sea level rise. Our goal is to implement the widespread use of green infrastructure throughout the region. I am excited to help change perceptions of sustainability within our community.