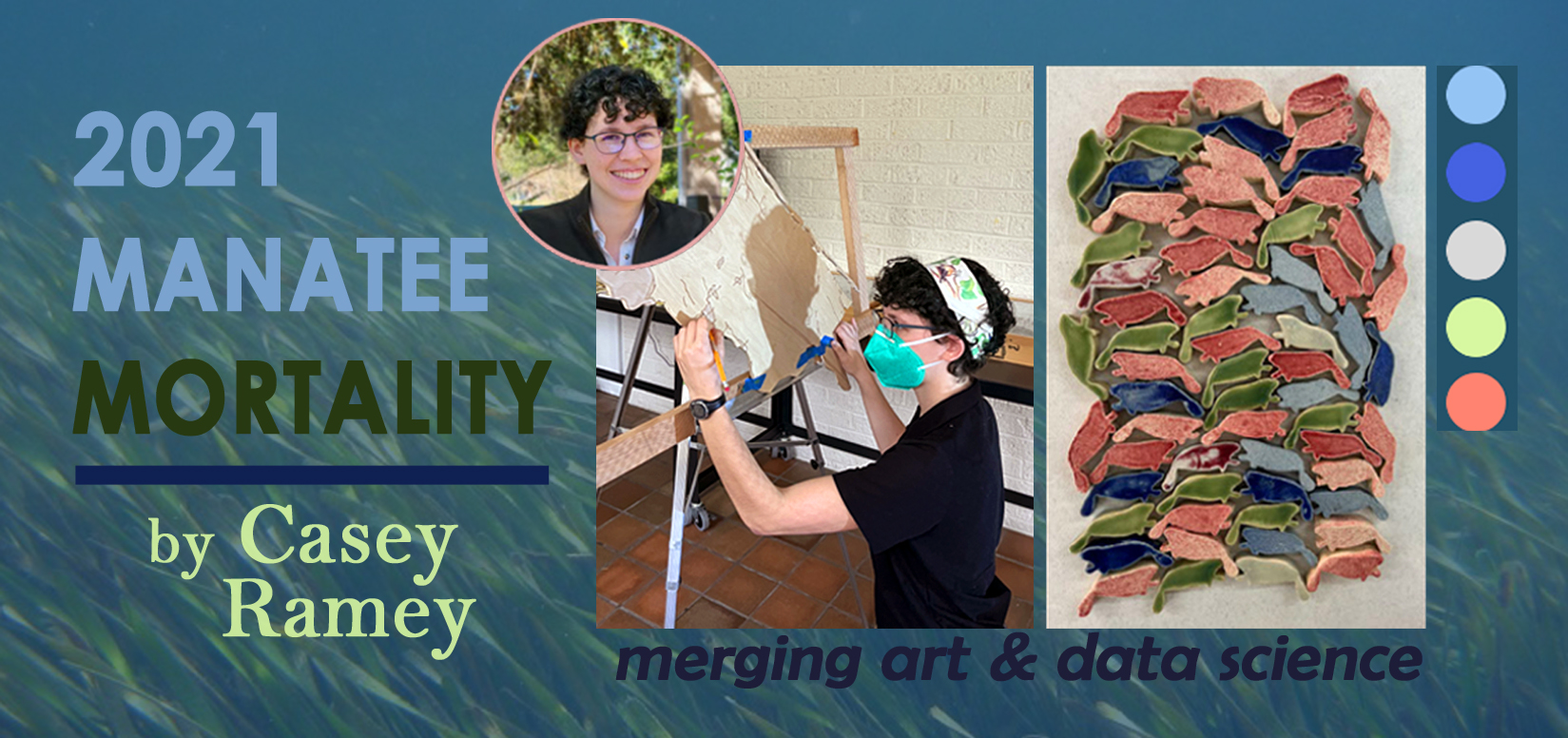 2021 Manatee Mortality in Volusia County
In 2021 the mortality of manatees in the state of Florida rose to 1101 deaths, 1.7 times the usual five-year average, resulting in what the Florida Fish and Wildlife Conservation Commission has identified as an "unusual mortality event" or UME. Casey Ramey's exhibit 2021 Manatee Mortality in Volusia County focuses on the plight of these large, slow-moving marine mammals in Volusia County, and the challenges of conservation efforts. This mixed-media ceramic and wood installation opened on February 10, 2022, with an outdoor reception and in-museum gallery talk. The piece will be on display through April 29, 2022--cultural credit available. (We ask that all museum visitors wear masks.)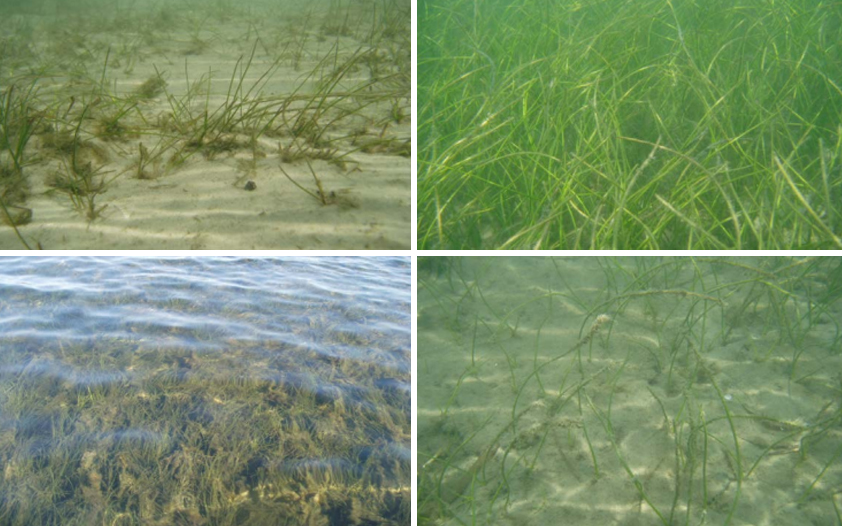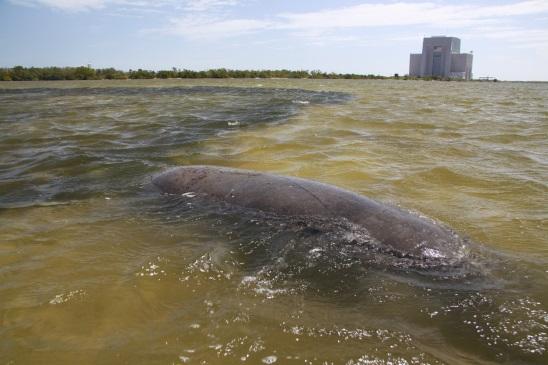 Indian River Lagoon seagrasses (NOAA images); manatee foraging on seagrass in the Indian River Lagoon (USGS image).
The record number of manatee deaths in 2021 is an estimated 10% of the total Florida population. In the past, the main threats to manatees have been collisions with boats, toxic algae, and cold weather. In 2021 starvation became a main factor, particularly in the Indian River Lagoon, a 150-mile-long saltwater estuary, where more than 90% of the seagrass, the Florida manatee's main food source, has died off in recent years. This loss of seagrass is due to complex water quality and ecological factors involving high nutrient loads going into coastal waters, causing harmful algae blooms and low water clarity that limits the light available for the growth of submerged plants. It is a complicated and challenging problem to solve, and while scientists seek both longterm solutions (like reducing runoff and other sources of area water pollution to help regenerate seagrass beds), and temporary fixes (such as feeding lettuce to localized winter manatee populations that now lack natural aquatic plant forage options), the survival of Florida's manatees hangs in the balance.
Watch the 8-minute PBS News Hour report In Peril--which aired on the night of Ramey's exhibit opening--to learn more about this ongoing crisis.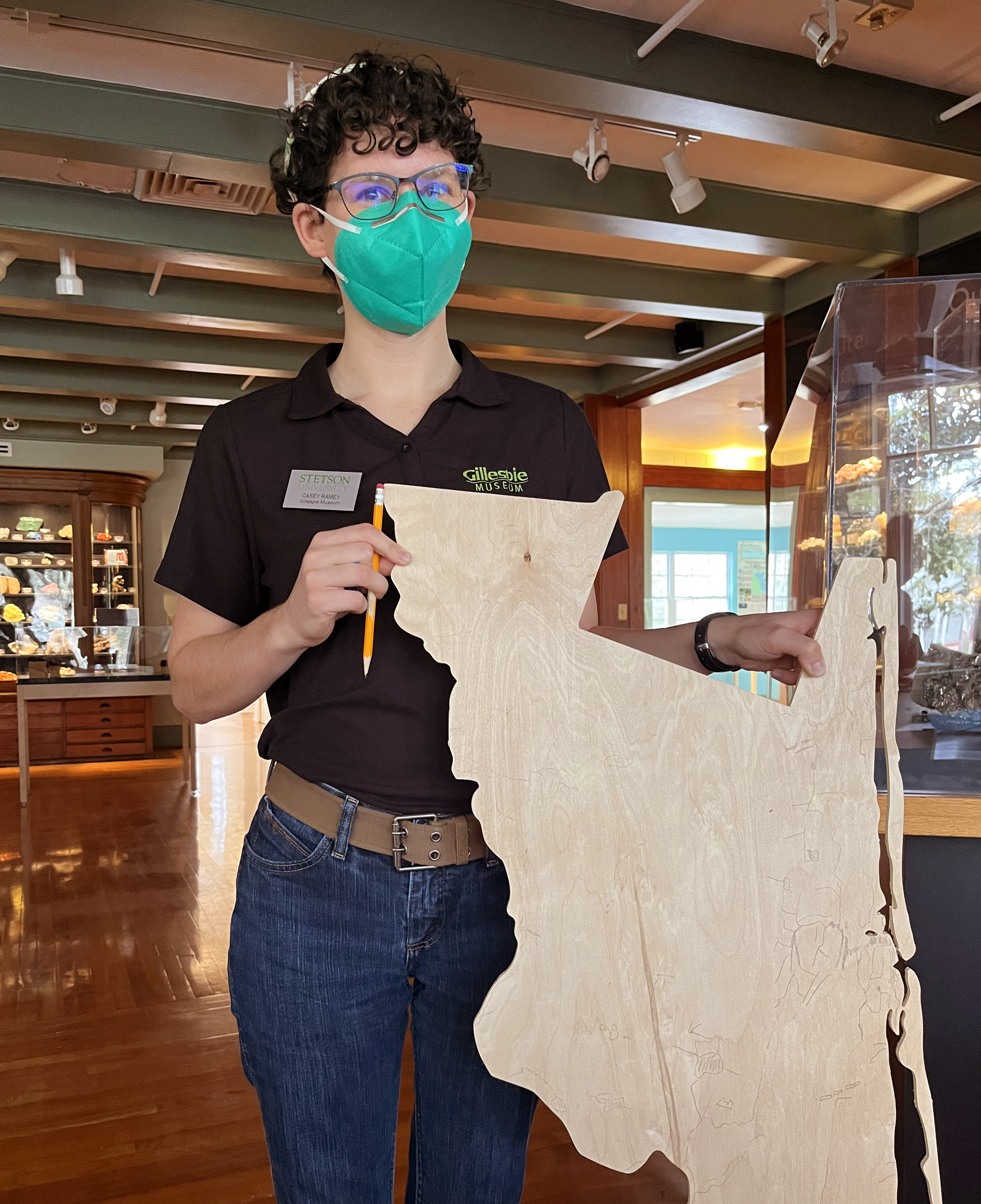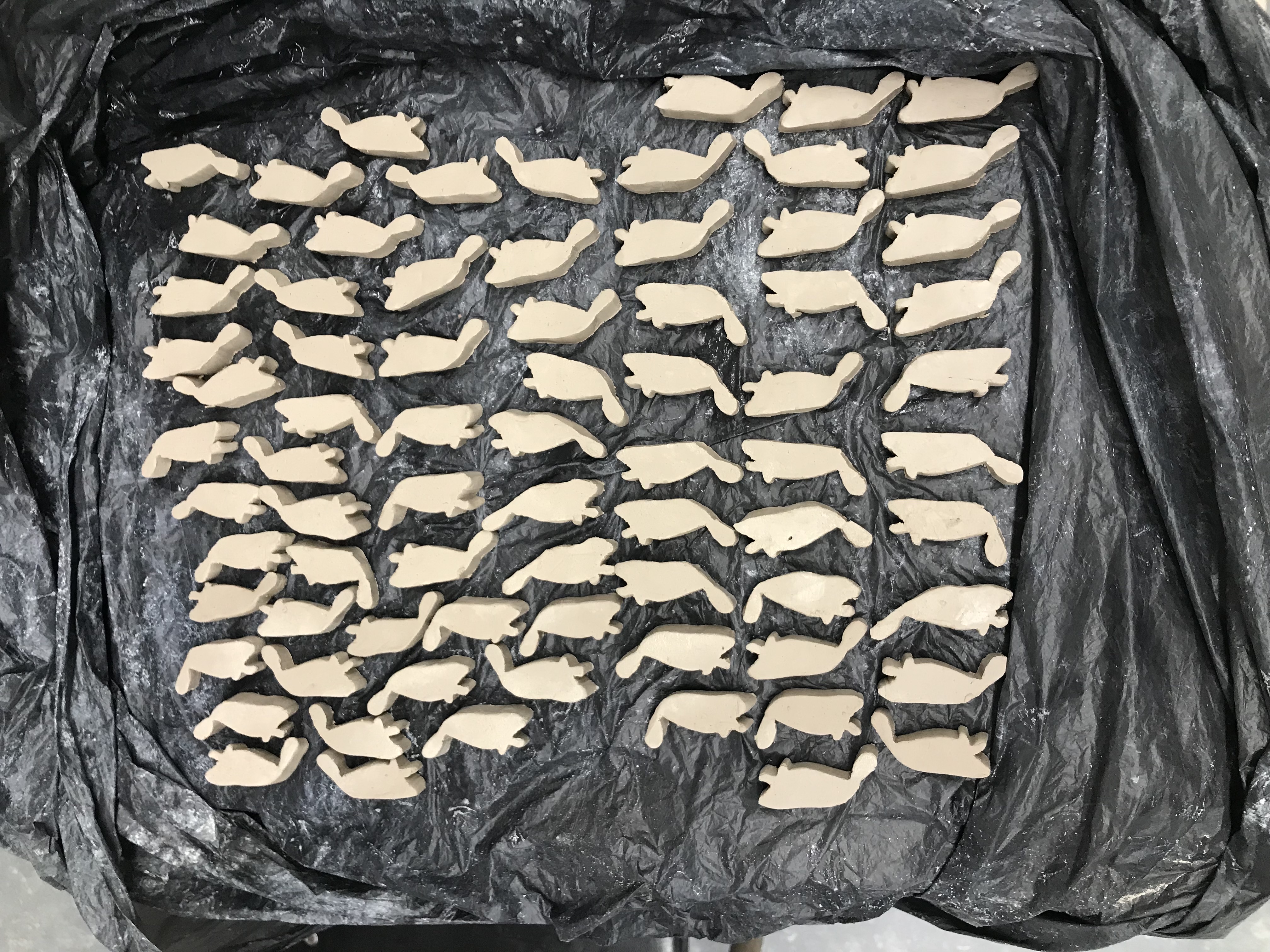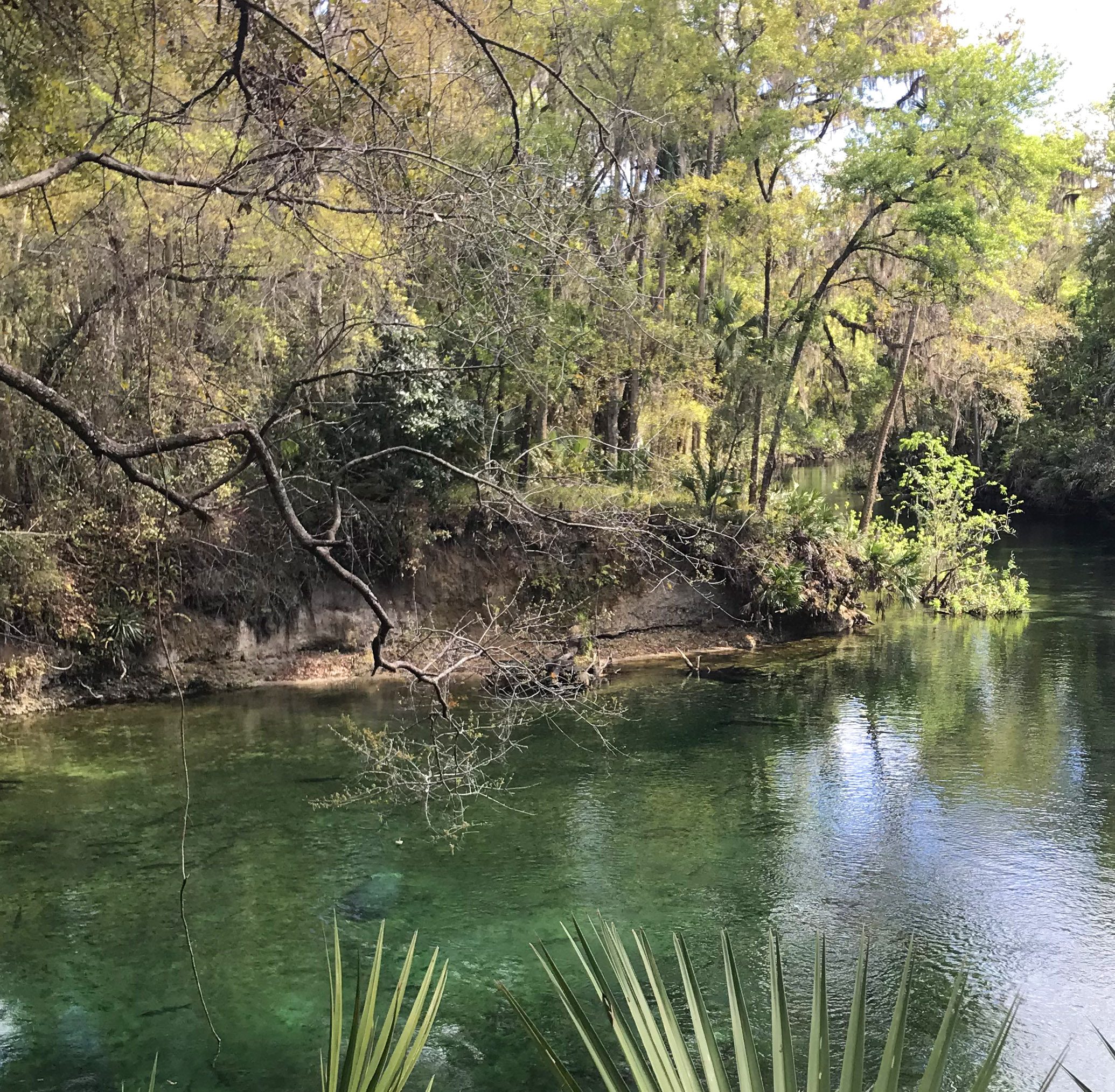 Wood & ceramic elements of Casey Ramey's 2021 Manatee Mortality exhibit in development; manatees at Blue Spring State Park (C. Ramey image).
Casey Ramey is a junior in environmental studies at Stetson, and a Gillespie Museum staff member, with a strong background in art. Passionate about manatees since childhood, Ramey examined manatee counts in Florida in a GIS mapping project in the spring of 2021. "I was thrilled to discover that manatees had been upgraded from an endangered species to a threatened species in 2017. I happily mapped this population growth, and where manatees liked to spend the winter." But by early summer of 2021, new data was showing massive declines in the Florida populations. "Hundreds of manatees were starving to death around me as I spent hours in the computer lab making manatee population maps."
Ramey remained focused on this environmental crisis in a fall 2021 ceramics studio course. "Now, I've turned to a much darker mapping topic," she explains. "Each ceramic manatee on this map represents one that used to sing cheerfully in Blue Springs, munch water plants in Lake Beresford, or swim beside kayakers in the Indian River Lagoon. The 76 ceramic manatees on this map are the 76 manatees that died in Volusia County in 2021." (For more on the project from Ramey, see her Artist Statement.) Though Volusia County casualties ranged in location from the St. Johns River along the county's western border to Atlantic coastal waters, the vast majority of area manatee deaths occurred in the northern Indian River Lagoon (including the Indian River and Mosquito Lagoon) and the Halifax River that shares a confluence with the Indian River at Ponce de Leon Inlet north of New Smyrna. And though FWC data describe a variety of causes of manatee mortality across the state, their researchers have largely attributed the 2021 UME in our region to "starvation due to the lack of seagrasses in the Indian River Lagoon."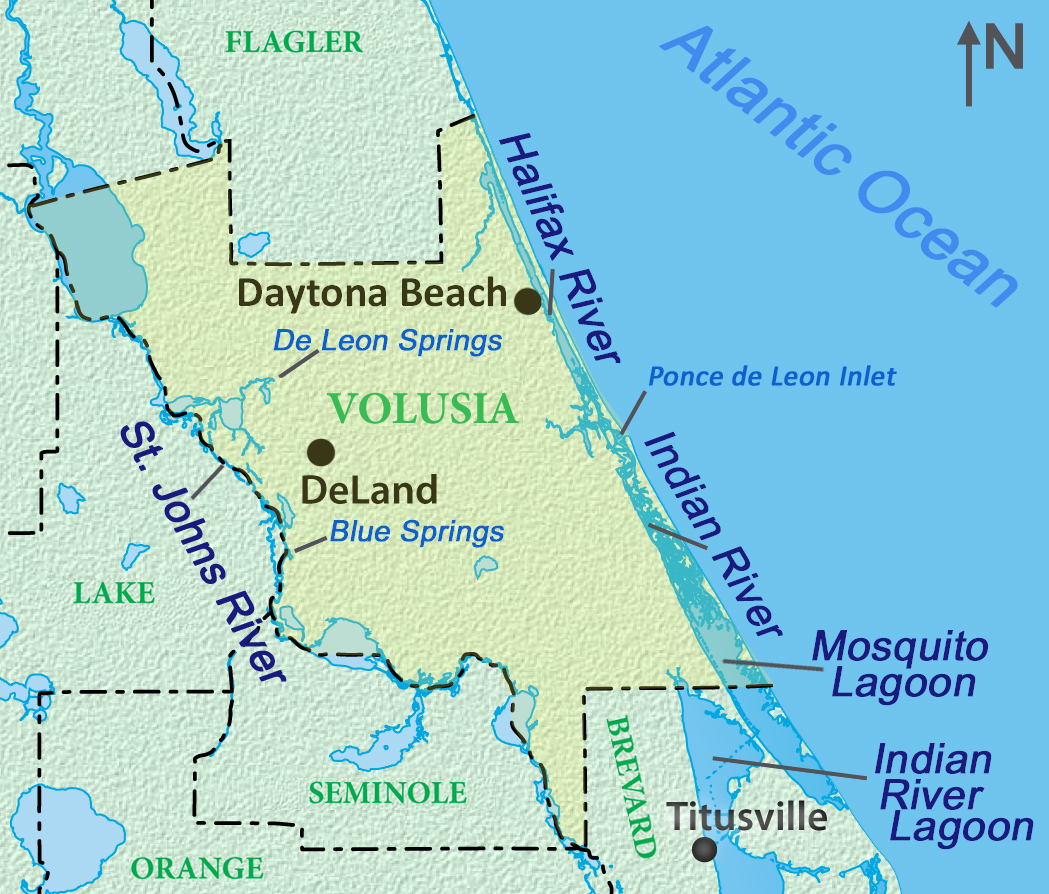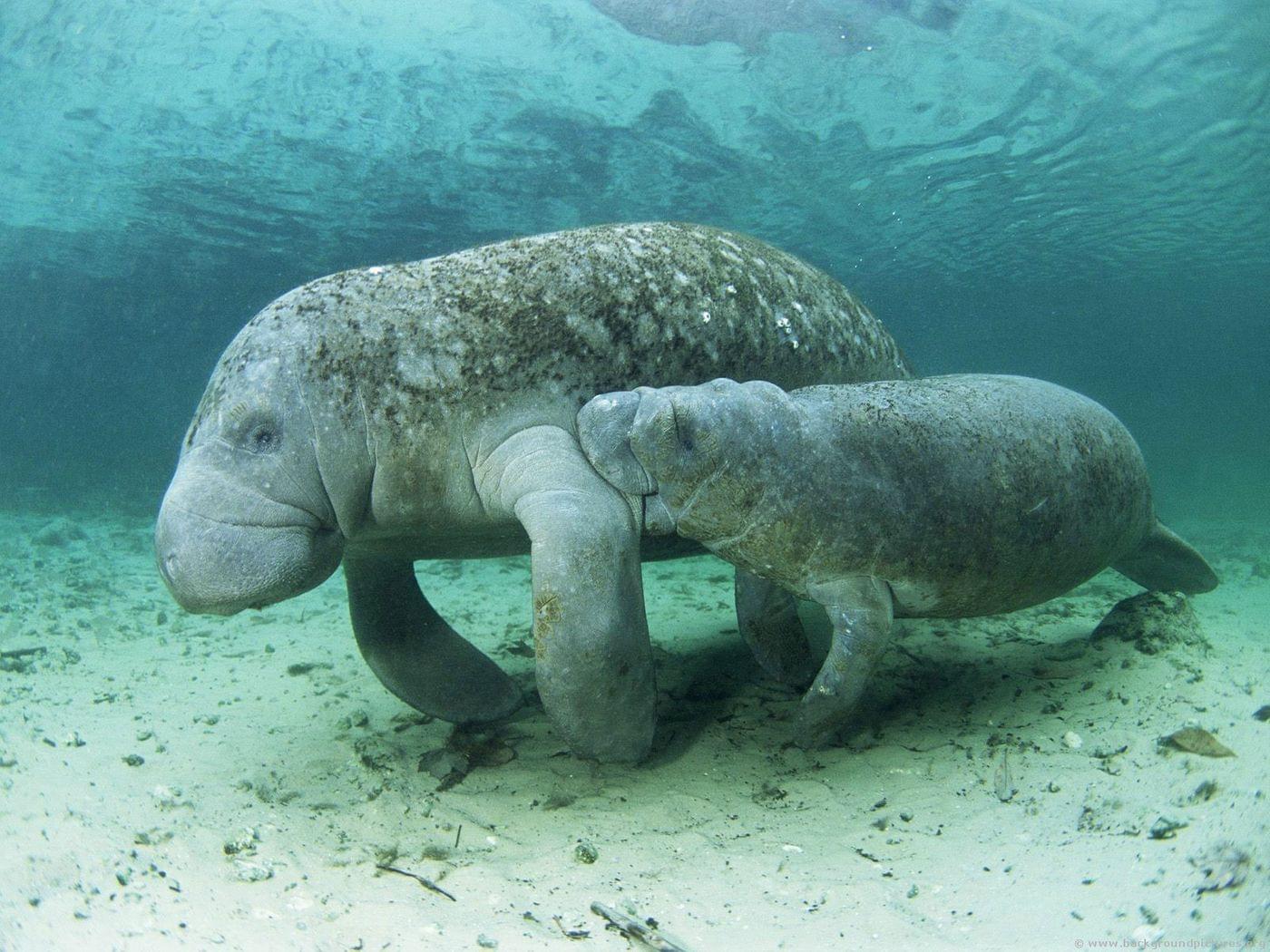 Map of Volusia County manatee waters (SJRWMD, modified); Florida manatee cow and calf (USFWS image).
"The Gillespie Museum is pleased to have Casey Ramey's thoughtful work on display," explains Karen Cole, PhD, director. "Visitors throughout the spring semester will learn about this human impact on our Florida ecosystem and, at the same time, will discover how scientific data can inform environmental art."
If you are interested in finding out more about Florida manatees (our state's subspecies of the West Indian manatee), including research and protection efforts in your area, and how you can help, visit the FWC's Florida Manatee Program website, FWC's Florida Manatee page, and the Save The Manatees website--which also operates live manatee webcams at Blue Spring State Park in Volusia County!
(Acknowledgements from the artist: I would like to thank Dr. Abbott and Dr. Mainali for their in-class guidance during the initial GIS mapping of manatee populations, as well as Katie Baczeski for her guidance throughout the creating of this piece. A special thanks to Dr. Cole and the Gillespie staff for help with publicity, logistics and constant encouragement. This would not have been possible without their support! --C. Ramey)