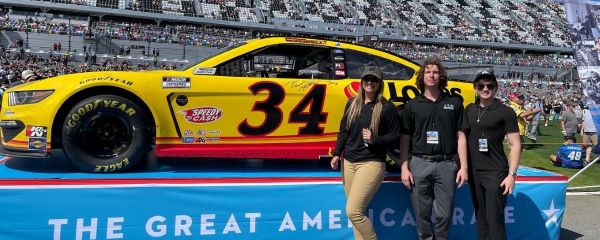 About Us
Centurion Sales Program
The world's economy is suffering from an absence of trained sales professionals. As sales needs evolve from transactional, boots on the ground models, salespeople require the tools to assess customer needs, forecast global and regional trends and partner to create comprehensive solutions.
The Centurion Sales Program meets this industry and economic need by providing advanced training in the field of professional sales to students and professionals, increasing the resources available to current sales professionals while simultaneously preparing the next generation.
Benefits and Strengths
Cutting-edge sales education uniquely designed to bridge the gap between the classroom and real-world business performance.
Courses that teach students to create value in complex environments and effectively engage in executive settings.
Faculty with over 25 years of sales experience at the executive level.
Partnerships with local businesses dedicated to the co-creation of sales knowledge.
Practical application of sales skills in the specialized sales training role-play labs.
A Student's Perspective on Centurion Sales
"The Centurion Sales program really helped shape who I am as a professional. The lessons learned, both academic and real-world, put me ahead of the curve and gave me an advantage over others vying for similar positions. I am able to hold genuine and confident conversations with top-level executives, identify the needs of our partners, and position solutions that are beneficial to everyone. Even if you are not interested in sales, the skills learned in the program are applicable to all areas of life." - Cedric Burkhardt, Class of 2020
About the Founder
The program was made possible by a donation from Stetson alumnus, Leopoldo Fernandez, in honor of his father, Genaro Fernandez Centurion. Leo Fernandez graduated in 1973 from the Stetson University School of Business Administration. He is the only entrepreneur in the Spanish market to lead two companies, Jazztel and Tele-Pizza, from start-up, or from near bankruptcy, into the IBEX 35.
"Any living entity needs to grow to survive, and business is no exception. What is most important to growing a business is growth in sales - it is the fuel to driving business forward."- Leopoldo Fernandez